Expecting to be burned by greenhouse gas legislation that will make electricity generated from coal costly, Indianapolis Power & Light is running for the river.

IPL is studying whether to buy power from two hydroelectric projects proposed for the Ohio River, near Evansville.

The generating stations contemplated on existing Army Corps of Engineers locks and dams would generate up to 150 megawatts, according to IPL. That's just 4.5 percent of IPL's current 3,353-megawatt generating capacity.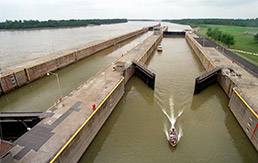 IPL is considering buying power from a 65-megawatt hydro plant planned at the Uniontown Locks and Dam on the Ohio River. (AP Photo)
But hydroelectric would be another layer of renewable, non-carbon-polluting energy on top of the 100 megawatts of wind energy it's committed to buy from the Hoosier Wind Park, in Benton County.

IPL also recently restarted a plan to buy another 200 megawatts of wind from the Lakefield Wind Park, which is being built in southwestern Minnesota by an affiliate of France-based EDF Energies Nouvelles.

"IPL is actively pursuing alternative and renewable energy sources to serve as the foundation to meet pending climate change legislation," the utility noted in a filing with the Indiana Utility Regulatory Commission late last year.

That legislation could well take the form of a federal "cap-and-trade" scheme that, effectively, amounts to a tax on carbon emissions. Customers of Midwestern utilities, which generate the majority of their power from relatively cheap and abundant coal, would bear the biggest rate increases under legislation boomeranging through Congress.

Compared to wind power, which in recent years has been the darling of coal-fired utilities in a quest to diversify supply, hydroelectric produces more power during peak periods, IPL says. The utility noted that U.S. Energy Secretary Steven Chu has been "an enthusiastic supporter" of new hydroelectric projects, citing an industrywide potential of 70,000 megawatts of additional capacity.

Wind power still has several advantages, however, including the ability to deploy it over a wider geographic area, faster permitting and construction time, and a larger federal tax credit for new projects.

The net cost comparison over the two forms of renewable generation isn't clear, as IPL blotted out the per-kilowatt-hour cost of installed hydro capacity from public versions of documents filed with the commission.



Nor does IPL elaborate on the two potential hydro projects. But it is likely they involve the two projects for the Evansville area put forth by an Idaho firm: a 65-megawatt hydro plant for the Uniontown Locks and Dam, on the Kentucky side of the Ohio, south of Mount Vernon, and a 68-megawatt unit proposed for the Newburgh Locks and Dam, east of Evansville, in Warrick County.

River power potential

Rigby, Idaho-based Symbiotics LLC two years ago began filing federal and state permits for the projects. Symbiotics officials did not return phone calls.

Two years ago, an executive of the firm told the Evansville Courier & Press that the proposed Ohio River generating stations were among 100 promising projects the firm had identified nationwide. At the time, Symbiotics hadn't signed up customers for the power that would be generated by the Ohio River units.

The proposal has raised concern among Evansville-area environmentalists, who worry a hydroelectric project could harm mussel beds downstream. Kentucky state officials had expressed environmental concerns as well, according to the Courier & Press.

The Newburgh Locks and Dam has been operating since 1969.

IPL told the commission the process of evaluation through the Federal Energy Regulatory Commission could take several years, estimating the soonest the hydro stations could come online is 2015.

IPL will decide whether to proceed after it sees results of an engineering study to validate budget and performance assumptions. A feasibility study "is still in progress. As with everything that IPL does, the balance between the cost and the benefit to our customers must be considered," IPL spokeswoman Crystal Livers Powers said in a statement.

Hydroelectric generation is not an entirely novel concept for electric utilities in the region.

Charlotte, N.C.-based Duke Energy has for years operated an 81-megawatt hydroelectric station at the U.S. Army Corps of Engineers' Markland Locks and Dam on the Ohio River, near Vevay.

Duke is exploring whether to upgrade the generating facility to boost its electric output. It previously hired a consulting firm to look at the facility's environmental effects, which could well be subject to even greater scrutiny given how regulations have evolved over the years.

The U.S. Fish and Wildlife Service has already listed four species of interest in the area of the Markland dam: clubshell mussel, buffalo clover, the Indiana bat and the "white wartyback pearly mussel," according to a 2007 report from a consulting firm hired by Duke.

Duke has not yet applied for approvals from FERC or the IURC, said utility spokeswoman Angeline Protogere.

Weaning off coal?

Alternatives to coal generation such as hydro and wind at least have some fairly predictable capital costs, as opposed to newer coal-generating technologies utilities are investing in, said Grant Smith, executive director of Indianapolis-based Citizens Action Coalition.

"It's better than burning things … You're probably not going to get into 200 percent cost overruns as at Edwardsport," Smith said, in a swipe at Duke Energy's Edwardsport coal gasification generation plant, under construction.

Costs at Edwardsport haven't risen by quite that high of a percentage, but they have soared—to $2.9 billion from an initial estimate of $1.3 billion. Rather than burning pulverized coal, the plant will convert coal to a gas and instead burn the gas, which produces less pollutants and is said to result in a more efficient electric output over conventional units they replace.

But CAC and others have criticized such investments in coal generation and instead argue that energy-efficiency measures and renewable generating sources such as wind are a more sound long-term investment.

Cambridge, Mass.-based Synapse Energy Economics, in a recent report, said that by 2050 the United States could retire its fleet of coal-fired generation using such an approach. The costs over the long run would be mitigated by factors such as tens of billions of dollars in avoided pollution-control equipment for coal-fired plants, according to Synapse.

IPL contemplates its demand could be reduced by nearly 150 megawatts over the next three years as the result of so-called demand-side management programs, such as helping customers become more efficient electric users. IPL and Duke have proposed a number of new programs to reduce usage, such as lighting and appliance replacement programs and technologies that can better control usage by cycling power-hungry appliances on and off during peak load periods.

CAC argues utilities should be doing much more to stimulate efficiency.•