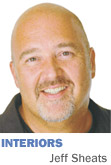 Interesting wall treat-ments can turn an ordinary room into an extraordinary room. This can be accomplished with a simple coat of paint, the application of wall coverings, decorative faux treatments, or custom wall decals or murals. The possibilities are endless.
Wall treatment history
Ever since humans began to make markings on cave walls by crushing earth and other natural materials like vegetable and insect matter to produce colors, man has embellished his walls.
The oldest known cave paintings are at the Chauvet Cave in France, claimed to be around 32,000 years old. They are engraved and painted using red ochre and black pigment and illustrate horses, rhinoceros, lions, buffalo, mammoth or humans often hunting. The Egyptians were the first to truly appreciate the full impact of color by crushing minerals to detail their interiors on elements such as columns and wall frescos with extravagant hieroglyphic artwork. Later, Roman interiors were also highly decorated with bold images covering the majority of interior surfaces.
The story of wallpaper itself began in ancient China after the Chinese invented paper. They glued rice paper onto their walls as early as 200 B.C. and adorned these paper panels with hand-painted birds, flowers, religious symbols and regional landscapes.
High impact, low cost
Walls, ceilings and trim are obvious outlets for designers and homeowners to express color with the least expensive interior magic: paint. Today's paint market is wider and more dynamic than ever. With alkyds quickly being replaced by latex-based acrylics and many paints being reformulated for fewer environmental concerns, it makes for an often-overwhelming array of choices for the consumer.
When buying paint, go with the best one you can afford. Top-of-the-line products make for best results and a happy painter.
Carefully consider sheen when specifying paint. Keep in mind the higher the gloss, the more durable the paint. Woodwork gets repainted the least often, so use a minimum of semi-gloss or full-gloss products. I continue to recommend a classic sheen combination: Flat ceilings, egg shell walls and semi-gloss trim.
The best paint job always starts with careful preparation of all surfaces. Correct primers must still be used in most cases.
• When applying color to interiors, try tinted ceilings—it's not all about white ceilings anymore, even in traditional environments.
• Create single-accent walls in a bold or deep color to draw you in or anchor a wall in a space.
• Use darker colors in bedrooms to convey serenity, and keep baths light for function
• In contemporary environments, consider painting walls, trim and ceilings in the same color for the cleanest backdrops
Wallcoverings fresh again
Wallpaper can be a cost-effective way to achieve a highly artistic look on your walls. They can add texture and depth to a space. Even the most subtle texture or pattern can add warmth and visual interest that a simple coat of paint cannot achieve. They can make your room become the artwork.
Some may be scared off by wallpaper, inundated with bygone ideas of tacky, plastic-looking floral patterns, but some of the freshest trends in wallpapers can be a great component to decorating your home.
Today, there are endless patterns that can enhance an interior. Well-chosen wallpaper can uplift, inspire and bring a sense of peace and tranquility or vibrancy and excitement to a space.
Papers can be embossed or flocked and produced from paper, vinyl, fabric, grass or burlap. There are companies that specialize in hand printing gorgeous wallpapers for a unique and custom look.
For a wallpaper project to be successful, prepping the walls properly is crucial. Hiring a professional wallpaper installer is a minimal investment well worth the price unless you are very skilled in this trade.
Since wallpaper fell out of fashion in the late 1980's, sourcing quality wallpaper at a local, well-booked dealer can be difficult. A professional interior designer has access to the widest selection of material samples and can guide you through the daunting process of specifying and installing just the right ones.
Limitless wall treatments
There are endless and unique possibilities surrounding what some call "faux finishes" for walls. What we think of in today's decorative wall finishes actually originated in Mesopotamia with plaster and stucco finishes over 5,000 years ago.
Some popular decorative treatments today can actually be applied to walls, mouldings, cabinets or even furniture. They include wood graining, marbling, trompe l'oeil, glazing, stippling, strié, color washes, ragging, distressing, stenciling, and plaster finishes.
When wallpaper became unfashionable in the last 20 years, many homeowners took it upon themselves to learn faux finishing techniques. Learning to execute simple wall finishes can be an inexpensive option to creating bold statements.
Local artisans who create these finishes say current trends include metallic finishes with subtle textures, evidence that homeowners are enjoying reflective elements to add excitement and glamour to their rooms.
Murals can make the room
Murals take home decoration to a new level and not only do they help completely transform the look of the room, they are relatively inexpensive when compared to any major home alteration.
Private mural art commissions can be requested for dining rooms, bathrooms, living rooms or, as is often the case, children's bedrooms. A child's room can be transformed into the "fantasy world" with a race track or scene from a movie, encouraging imaginative play and an awareness of art.
Wall treatments in today's decorative market are limited only by budget and imagination. The possibilities are endless.•
__________
Jeff Sheats is the Principal Interior Designer of Jeff Sheats Designs Inc., a high-end residential interior design firm based in Indianapolis. Views expressed here are the writer's.

Please enable JavaScript to view this content.