A Cincinnati-based homebuilder's expansion into Indianapolis marks the second time in six months a builder from the Queen City has carved out space in the metropolitan area.

Potterhill Homes Ltd. announced earlier this month that it plans to build in the Village of Heritage Hill development straddling Avon and Brownsburg.

Potterhill's entrance in the central Indiana market follows a similar move by Fischer Homes Inc., which arrived in January from its base in the Cincinnati suburb of Crestview Hills, Ky.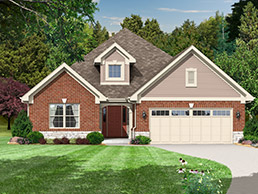 Potterhill plans to price its houses between $190,000 and $350,000. The Cincinnati company is building in Heritage Hill, which straddles Avon and Brownsburg. (Photo courtesy Potterhill Homes)
Fischer already is building in 17 locations that included Avon, Carmel, Westfield, Zionsville and the Geist area. The company has an ambitious goal of selling as many as 200 homes this year.

Potterhill is taking a more cautious approach. It will gain a foothold in the local market by building 34 homes in Heritage Hill and then seek additional opportunities as its first project progresses.

Yet, that two builders have established a presence in the city this year illustrates the viability of the local homebuilding market despite the industry's widespread troubles, said Steve Lains, CEO of the Builders Association of Greater Indianapolis.

"Even though we have hit a tough spot in the marketplace, we still have stayed relatively stable," he said. "Home prices haven't fluctuated like they have in other places, so that makes [the area] attractive to those national companies."

Potterhill homes in the Indianapolis area will be priced from $190,000 to about $350,000. Fischer's range is broader—$140,000 to $650,000.

In April, the inventory of homes available in the $175,000 to $250,000 range in the metropolitan area would take 9.7 months to sell, according to the most recent statistics from the Metropolitan Indianapolis Board of Realtors.

That timeframe expands to 11.2 months for homes in the $250,000 to $350,000 range and to 16.1 months for those priced from $350,000 to $500,000.

The amount of time is much longer for more expensive homes: 38.8 months for homes priced at $750,000 to $1 million and 46.8 months for homes priced above $1 million.

A nearly four-year inventory of homes may seem like a lot. But it pales in comparison to the more than seven-year supply of $1 million homes on the market in April 2009.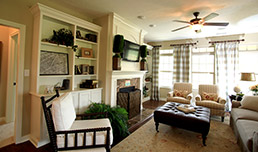 Moderately priced homes like Potterhill's are continuing to sell in a tough housing market. It plans to build 34 homes in Heritage Hill and will explore other opportunities later. (Photo courtesy Potterhill Homes)
To that end, Potterhill's modestly priced houses in Heritage Hill should attract buyers, company President Carolyn Rolfes said.

"We got affected [by the economic downturn], don't get me wrong," Rolfes said. "But a lot of the guys that went out of business were custom builders that were in the $500,000 to $1 million price point that I think got hit a lot harder."

Still, several large, less-expensive players in the central Indiana residential market folded in the past few years. They include Hansen & Horn Group Inc. this year, and Davis Homes Inc. and CP Morgan Communities, in 2009. National player KB Home exited the market in 2007.

Figures from BAGI show the number of building permits filed in the nine-county area in 2009 fell 21 percent from the previous year.

Through May 2010, the number of permits filed has increased 35 percent from the year-ago period, which could show the local housing market is rebounding. The figure likely was bolstered, though, by federal homebuyer tax credits that expired April 30.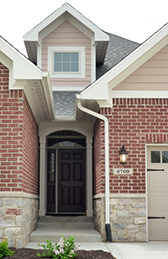 Potterhill's homes in Heritage Hill will be built in the Villas section, geared toward young professionals and empty-nesters. (Photo courtesy Potterhill Homes)
Fischer Homes entered the Indianapolis market with an eye toward long-term growth, said Tim McMahon, the company's senior vice president of operations.

"Indianapolis is a very strong, viable housing market," he said. "It may be a little challenged today, but our expectation is that 2011, 2012 will be headed in the right direction."

Meanwhile, Potterhill's foray into Indianapolis stems from its purchase of the land upon which Heritage Hill in Hendricks County is being developed.

Potterhill homes there start at about $190,000, with an average price of $245,000. The company is the exclusive builder in what is known as the Villas section, the least expensive area of the development. The Villas is geared toward young professionals and empty-nesters—lawn mowing and snow removal are taken care of by the homeowners' association.

The first phase of Heritage Hill includes a total of 100 lots, 66 of which have been snapped up by Carmel-based Estridge Custom Galleries and Kentucky-based Drees Homes.

Potterhill plans to build in fewer than five developments in the metropolitan area during the next few years.

"We're trying to position ourselves to take advantage of that growth that we know is coming," Rolfes said.

Overall, Potterhill expects to build about 150 homes this year. It's the fifth-largest builder by volume in Cincinnati. The company's entry into Indianapolis represents its only presence outside of Cincinnati.

Rolfes, 35, founded the company with her father in 2002.•