Amos Brown stood at the back of a crowd at the Central Library listening to Mayor Greg Ballard and leaders for the 2012 Super Bowl host committee unveil community initiatives.

Hardly noticed by the masses at this feel-good event last January, Brown took in the details of a plan to make the 2012 game the most environmentally friendly Super Bowl ever, and to involve more than 160 Indiana high school sophomores in championing the cause.

When host committee members asked for questions, Brown launched a fastball. Why, he asked, were no predominantly black schools on the initiative's list? Before they had a chance to respond, he called it "embarrassing" that no schools in Indianapolis Public Schools or Pike Township were among the 1st & Green participants.

"We're talking about diversity and inclusion here," Brown said.

It was quintessential Amos Brown, whose penchant for asking tough questions has made him one of Indianapolis' most influential community activists and made his daily radio show—"Afternoons with Amos"—one of the city's most popular talk shows.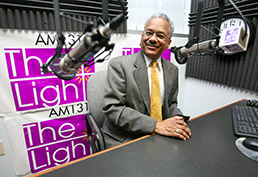 Amos Brown says a mentor taught him the importance of using radio to effect change. (IBJ Photo/ Perry Reichanadter)
Those who know the 59-year-old Chicago transplant weren't surprised to find him in the middle of another controversy. Brown—a WTLC-AM 1310 personality who is one of the few liberals with a large radio following in conservative Indianapolis—has been challenging the city's power structure for decades.

"He's never been afraid to bring up issues no one else will," said Bruce Bryant, president of locally based Promotus Advertising. "He's a champion for what he thinks is right, no matter what."

Brown usually has the attention of community leaders. And for good reason.

His 25-percent share of black listeners age 35 and older is the highest audience share in any U.S. market for a black-oriented radio talk show, according to New York-based Arbitron Inc.

Brown's audience share tops black broadcasting icons such as Joe Madison in Washington, D.C., Mildred Gaddis in Detroit, Cliff Kelley in Chicago, and Rev. Al Sharpton in New York.

"Afternoons with Amos," which launched in 2004 and runs 1-3 p.m. weekdays, outdraws all news-talk radio shows in Indianapolis except Rush Limbaugh's nationally syndicated show, a local conservative show hosted by Greg Garrison, and an afternoon drive-time show now hosted by Ed Wenck but formerly overseen by Steve Simpson. All are on WIBC-FM 93.1, which has a much broader audience than WTLC's gospel format.

Mold breaker

Visitors to Radio One's offices on St. Joseph Street on the north edge of downtown see little evidence of Brown's broadcasting achievements, such as his 2007 induction into the Indiana Broadcasters Hall of Fame.



Brown, who's been a fixture of Indianapolis radio since 1975, sometimes crams up to a dozen guests into his humble 14-foot-by-14-foot studio.

In addition to preparing for and hosting his show, Brown serves as Radio One's Indianapolis director of strategic research. His days are frenetic and include everything from making public service announcements to filing program logs.

Most days, Brown dresses simply in slacks and a collared shirt. When he's not on the air, he comes across as soft-spoken—something that might surprise guests who've been recipients of his verbal jabs. Guests on his show have ranged from residents of local housing projects to Barack Obama and Larry Bird.

"There is no mold for a guy like Amos Brown," said longtime local TV and radio broadcaster Tom Cochrun. "He's an activist, a thinker, catalyst and a power player. He's not a captain of industry, not a political leader and not a preacher, yet has the influence, the swath of clout and the chutzpah of all of those."

While Cochrun said Brown's sometimes in-your-face approach has gained some detractors, he added that Brown never has hidden his agenda.

"He can perform, intimidate and provoke, and he makes no apology for that," Cochrun said. "One thing with Amos, he's not deceptive. He is who he is."

While Brown agrees his show can be provocative, he insists it's not about him. Nor is it ambush journalism.

"If the show is all about the host, then the host isn't listening," Brown said. "My show is not about 'gotcha.' It's about getting information to the people."

And Brown said he's mellowed over the years.

"When I was younger, I was hyper, quick to react, even hot-tempered at times," Brown said. "I may have come across as arrogant. As I've gotten older, I've gotten calmer and more reflective before I respond."

Brown credits his maturation to working for Dr. Frank Lloyd, a surgeon who once owned WTLC and later became president of Methodist Hospital.

"Dr. Lloyd told me he sometimes left the operating room to re-scrub his hands," Brown recalled. "He told me that wasn't because his hands needed cleaning. He told me, 'It's OK to walk around the block before you make a decision.' That advice stuck with me."

In demand

Radio One management says the bond Brown has built with listeners translates into strong revenue for the station.

"This is what we know about Amos Brown's show: It sells. There is a great demand by advertisers to be on his show," said Chuck Williams, Radio One's Indianapolis market manager.

Longtime local media buyer Bill Perkins said Brown has the most coveted characteristic advertisers want in a broadcaster.

"Simply put, his audience trusts him," said Perkins, president of Perkins Nichols Media. "That's what any advertiser looks for in a broadcaster—trust. He connects with his audience in a unique way."

Bryant thinks Brown would be even bigger if he were on a station with a bigger audience. WTLC-AM generally ranks from No. 17 to No. 20 among all listeners 12 and over, according to Arbitron.

"I think in many ways, the brand of Amos Brown is bigger than the station he's on," added Cochrun, now retired and living in California. "He's so active in the community from the Riley [Children's Hospital] telethon to any other number of events and causes, that his brand supersedes the station's. Wherever he goes, people—especially those in the African-American community—know who he is."

Career path

After graduating from Northwestern University, Brown joined WTLC as an advertising sales representative. He figured he'd stick around Indianapolis no more than two years.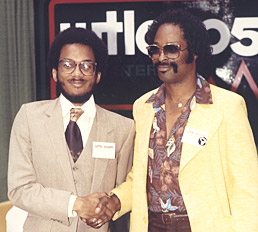 Amos Brown, left, seen here with WTLC-FM disc jockey Jerry Walker in the 1980s, has been a fixture of the city's radio scene since 1975. (Photo Courtesy Amos Brown)
But he soon began climbing the career ladder. He graduated to assistant station manager and then, in 1981, to station manager.

He changed course in 1994, becoming director of strategic research for station owner Hoosier Radio and TV, which was owned by Bill Shirk and Bill Mays. He kept the same job after Maryland-based Radio One purchased WTLC and other Indiana properties in 2000.

Brown said that at times he would have considered going back to a general manager role, but not now.

"The job I have now allows me to be on-air, which I truly enjoy," Brown said. "It also allows me to take on a role of coach, guide and counselor that provides advice and expertise."

Brown began his on-air career in 1976, producing and hosting several TV and radio shows. In 1992, Brown created Indianapolis' first black-oriented radio talk show, "The Noon Show." From 1997 to 2005, he hosted "The Amos Brown Show," Indianapolis' only daytime TV talk show.

From 1995-1997, Brown created and hosted "Six Thirty PM," Indianapolis' first nightly TV magazine show in a decade.

Brown gained a reputation for tackling racial, political and socio-economic issues, and had little problem getting power brokers to come on his shows.

For 15 years, Brown hosted "Morning with the Mayor," a drive-time call-in show on WTLC-AM that spanned the administrations of Bill Hudnut and Stephen Goldsmith.

Bully pulpit

Brown never has been afraid to use his radio show as a bully pulpit when he feels it's necessary.

During a recent show, Brown pounded on his desk—one of his trademark moves—imploring local black residents to fill out their census forms.

Brown also waded into one of this year's biggest police-related controversies—the May 16 beating of 15-year-old Brandon Johnson by several Indianapolis Metropolitan Police Department officers.

Brown was outraged when he was contacted on air by the victim's sister three days after the beating, and there had not yet been any coverage of the incident in the mainstream media.

After exploring what happened, and touring the neighborhood where the event occurred, Brown pulled together black community leaders to discuss the issue. He also hosted police and other public officials on his show to discuss the incident and how people should interact with police officers.

While Brown admits to being a lightning rod, he said he doesn't take up every issue some in the black community think he should.

Promotus' Bryant said Brown's stance on conflicts between police and attendees of Indiana Black Expo several years ago is one example. Brown ridiculed police officers under then-Mayor Bart Peterson for "rude" behavior, but also said police weren't solely to blame.

"Amos was calling for parents to control their kids, not to let their youth and teens run loose on the streets," Bryant said.

Brown said his activist streak wasn't forced on him by his dad, an optometrist, or his stay-at-home mom.

"Sometimes [the activism] was for business reasons, such as the census," Brown explained. "Advertisers were always telling me African-Americans don't buy this or that, and I wanted to prove them wrong.

"Sometimes it was because of a pitch, as was the case with my involvement in the black infant mortality rate. And sometimes it was simply to do good in the 'hood," Brown said.

The latter is partly a legacy of Dr. Lloyd, who died in 2002.

"It was the vision of Dr. Lloyd that these radio properties do good," Brown said. "He put it into my mind that these [minority-oriented] stations could help effect positive change. And that it was important to be a servant-leader. I bought into that vision. And I try to reflect that mission every day."•