Central Indiana might be in line to tap hundreds of millions of dollars in federal grants and loan guarantees to energize the rollout of plug-in electric cars and trucks.

Both chambers of Congress are considering measures that would require the Department of Energy to select up to 15 cities nationwide to participate in a national electric vehicle deployment program.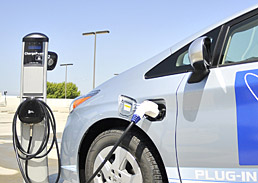 A prototype plug-in Prius gets a charge. (Photo courtesy Coulomb Technologies)
The aim is to expedite the market penetration of all-electric vehicles. The first to hit the streets, late this year, will be Nissan's Leaf. The five-passenger car is to go up to 100 miles on a charge of its lithium-ion batteries. The base price—before dealer markups and after a $7,500 federal tax credit—will be around $25,300.

The pending bills would give early adopters of such vehicles an additional subsidy—about $2,000—on top of existing federal tax credits. The bills would also help fund the deployment of charging stations in public places and could spur additional research and component manufacturing.

Paul Mitchell, the CEO of Indiana's 15-month-old clean-tech initiative, Energy Systems Network, likes the odds of the legislation—and of central Indiana's chances of being one of the chosen cities.

Mitchell and representatives from private industry and government this fall plan to kick off Project Plug-in. It includes placing 300 charging stations in the metro area and lassoing 100 plug-in vehicles for fleets to demonstrate their viability. ESN was founded with more than $1.5 million in private and institutional funding and is receiving in-kind contributions of goods and services from several of its partners.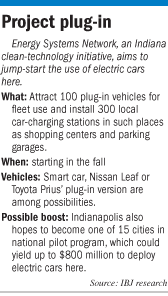 ESN's Project Plug-in was under way well before the bills surfaced in Congress and is to begin this year regardless of their fate.

ESN, an arm of the Central Indiana Corporate Partnership, has built a coalition that includes automakers, utility companies and the Department of Energy. Some of the notable players are Bright Automotive, Cummins, Delphi, Duke Energy, EnerDel and Purdue University.

"Our chances are excellent. We're on anybody's short list of communities leading the way in transportation electrification," Mitchell said.

The legislation, which has bipartisan support, could allocate to a participating community up to $800 million under the House's Electric Drive Vehicle Deployment Act.

The Senate version, the Electric Vehicle Deployment Act, whose sponsors include Sen. Lamar Alexander, R-Tenn., would give each community up to $250 million in assistance.

A big chunk of the money would be allocated to charging-infrastructure construction bonds. The legislation also calls for loan guarantees for the purchase of stationary batteries for use in charging stations.

Mitchell said the loan guarantees could be of particular benefit to companies in Indiana, such as EnerDel, which makes lithium-ion batteries for use in hybrid cars. The result of that program would be the creation of a secondary market for used batteries.

As a battery ages, it loses efficiency and can no longer adequately power a hybrid. Rather than disposing of them, the batteries could instead be used at charging stations to store electricity purchased from the electric grid at non-peak rates.

"[Station application] will make a huge difference for companies like EnerDel," said Mitchell, former policy director for economic development, work-force and energy under Gov. Mitch Daniels.

Mitchell said the proposed legislation focuses on two critical cost issues: the high price of the vehicles and the need for infrastructure to make them practical.

"I think these bills recognize you can't invest in one or the other," Mitchell added.

Short-circuiting market?

Whether taxpayers need to be subsidizing plug-in hybrids is a matter of debate, however, particularly as Washington struggles with record deficits.

Those who say market forces should ultimately determine whether electric vehicles are viable note that a handful of cities, such as Indianapolis, have already launched their own public-private initiatives to pave the way for electrics.

Also, they note that as Nissan prepares to sell plug-in cars, other manufacturers are preparing competing vehicles, including Toyota, with a plug-in version of its gasoline-electric Prius. Daimler AG has built a plug-in version of its Smart car.
IBJ.COM EXTRA
For more information on the Smart plug-in model
Click here.
"I remain skeptical that plug-in hybrids deserve any subsidies," said Randal O'Toole, a senior fellow at the Cato Institute.

Also up for debate is whether plug-ins will be cost-effective in the long run as Congress is under pressure to enact greenhouse gas limits that will make electricity generated by coal more expensive.

O'Toole said he doesn't believe the government can predict the future well enough to assess what the best technology will be. Once it opens the spigot to subsidies, it's hard to turn off.

"Even if you find out that you are subsidizing the wrong technology, you have created a constituency that depends on and lobbies for more subsidies. We've seen this with ethanol," O'Toole said.

Mitchell counters that government funding is necessary at this stage, saying it is crucial in driving "scale and speed" of plug-in deployment.

Accessing federal loan guarantees and other sources contemplated in the legislation will help what he said is still essentially "an industry-driven market approach to vehicle electrification" by helping spread the risk involved in new technology.

"Everything has to work absolutely perfectly to do it [entirely] with private investment," he said.

Market potential?

Perhaps the bigger question is, will motorists opt to buy something with limited range of about 100 miles, at least for now, at a price considerably higher than a comparably sized conventional vehicle?

Many consumers say they will, according to Linda Pettenaro, principal of Smart Center Indianapolis and co-owner of local Mercedes Benz retailer World Wide Motors.

Not long after she opened her Smart store three years ago, customers began asking when a diesel or electric version of the two-seater would be released.

"I know if we sent a blast out, an e-mail blast, we'd have dozens and dozens of people responding" about a plug-in Smart car.

Daimler is considering selling an electric Smart in the United States in 2012. Electric drive versions have been tested in European cities since 2007, and in October Pettenaro's Indianapolis store will be among the first five in the United States to begin offering the electric version for fleet use as a precursor to selling to the general public. It's estimated that at least 250 of the cars will be built for Indianapolis, Dallas, Orlando, San Diego and Portland, Ore.

Hybrid enthusiasts have criticized Smart for waiting so long for retail rollout, noting Nissan will have beat it to market by at least a year.

Pettenaro said she believes Daimler is sitting back and watching, in part to let battery technology advance a bit more and to pare a bit more of the vehicle's price, which has not been announced. And, she added, "There's this whole [charging] infrastructure that has to be built."

Pettenaro has been working with Mitchell and ESN on plans to put several of the vehicles into fleet use this fall.

"We're well on our way to have a successful Project Plug-in that will make Indianapolis a leader in vehicle electrification," Mitchell said.

Other regions are also gunning to electrify, however, most notably California. That virtually bankrupt state is spending upwards of $200 million a year on low/no emissions vehicle projects, including the installation of 5,000 charging stations.•