It's a role for Christine Burd that she likely never envisioned before Nov. 10, 2009.

That's when her husband, Richard, with whom she operated Burd Ford, in Lawrence, committed suicide. He was 43.

Burd, who is president of Burd Ford, a mother of four, and a fixture on television commercials for the dealership, has become an advocate for mental health. She recently was appointed to the board of Mental Health America of Indiana, the state's oldest and largest health and addiction network.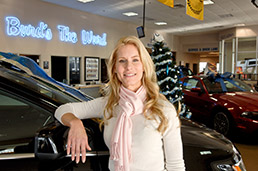 Christine Burd has become a mental health advocate. The owner of Burd Ford lost her husband to suicide last year. (IBJ File Photo)
"Her family's personal story of courage will bring a new perspective to our board and help thousands of Hoosiers better understand our mission and the importance of suicide prevention," said Stephen McCaffrey, president and CEO of MHAI.

Last month, at a mental health symposium at Union Station, Burd made her first public comments about her loss. Burd said she and Richard, who were high school sweethearts, spent upward of $8 million on a new store, which is among the largest in the region. But it opened soon before the economy collapsed. The couple saw their $1.2 million nest egg disappear in 18 months.

Burd said her husband was a devoted father, sacrificing time he could have spent with friends to be with his children. He mistakenly thought suicide was the only way out to continue to provide for them.

"He truly believed he was doing what was right for us," she told the audience. "I wish he would have understood we needed him, not the money."

Burd and her sons have carried on the business with help from friends and employees who've rallied to their support.

"I am anxious to begin advocating on behalf of Hoosiers to ensure that they receive the education, support and emotional help that they need," she said.