West Coast Tacos is making waves in Indianapolis.
Selling tasty tortillas from a tricked out delivery truck instead of a traditional brick-and-mortar eatery is a concept the
three co-owners discovered while living in Los Angeles.
Since officially launching their mobile startup about a month ago, the trio typically can be found most evenings in what
has become their home base—the Cardinal Fitness parking lot in Broad Ripple.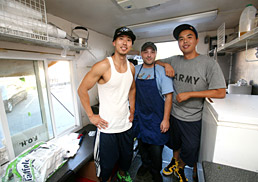 West Coast Tacos owners John Ban, left, Trent Davis and Arnold Park park their food truck in the
Cardinal Fitness parking lot in Broad Ripple most evenings and are experimenting with a downtown local during the day. (IBJ
Photo/ Perry Reichanadter)
The trendy neighborhood is proving to be the ideal setting to entice hungry bar patrons with $2 steak and chicken tacos,
or three for $5, as they're winding down an evening of clubbing. They typically serve from 7 p.m. to 10 p.m. Monday
and Tuesday and from 7 p.m. to 3 a.m. Wednesday through Saturday.
In fact, the three recently split a $3,000 profit after one particularly successful night, said Arnold Park, whose entry
into entrepreneurship typifies the so-called "American dream."
"I sold my car to raise money and we just moved out here," he said. "The crazy thing is, we have no experience
with food."
Park, 28, is a Los Angeles native and former U.S. Army infantryman who left the military in 2006. While attending Pepperdine
University, he got a job as a financial adviser at Boston-based John Hancock Financial.
But his epiphany, if you will, came last year at—where else—a taco truck in Los Angeles. That's where he
met Indianapolis native John Ban, who spent three years on the West Coast pursuing a music career.
Ban, 31, was better known as "DJ Sonic" during his eight years at WHHH-FM 96.3, also known as Hot 96.
The two struck up a conversation, and Park ultimately shared his idea of starting his own taco stand, but in Korea, where
he was born. Ban instead convinced him to come to Indianapolis.
Before arriving in April, Park had never been to the Circle City before. His lone connection was the Indianapolis Colts,
his favorite football team. Why? Because of Peyton Manning, of course.
The pair recruited Trent Davis, 30, Ban's boyhood friend who quit his job in Los Angeles as a registered nurse to also
return to Indianapolis.
A test run at the Indianapolis 500 that resulted in the sale of about 2,000 tacos helped to bolster their confidence in the
business model.  
Their investment so far includes $20,000 they spent to purchase a truck in Ohio and an additional $4,000 to fix up the delivery-type
vehicle to meet their standards.
With nearly no overhead expenses except for the food they serve, the three think they can make $400,000 in profit their first
year in business, Park said.
They benefited from an Indiana law stating that a veteran honorably discharged from the armed forces of the United States
is exempt from paying for a $750 transient merchant license.
The steak and chicken for the tacos is prepared in the kitchens of Indy Anna's Catering on East 32nd Street near Shadeland
Avenue.
Tacos are served in a four-inch corn tortilla filled with Korean marinated steak or herbed-and-spiced chicken that can fit
in the palm of a hand. They're layered with spicy onion, cilantro and hot sauce.
"This recipe is a Korean barbecue recipe that is almost 4,000 years old that has been passed on from my mom,"
said Park, who serves as the chef.     
Park is leaving July 8 for Los Angeles to learn to prepare tempura fish and spicy pork, as well as a milder salsa, which
likely will be added to the menu.
Plans include purchasing a second truck within the next few months and possibly opening actual stores in college towns as
soon as next year.
For now, the three partners are content with the lease agreement they have with Cardinal Fitness and a weekly trip downtown
to feed the business lunch crowd.
That can be tricky, though, as they discovered on a recent Wednesday. The plan to park at the corner of Illinois and Ohio
streets was scuttled when they couldn't find enough empty parking spaces to accommodate their large truck. They instead
opted for a location near Illinois and Vermont streets, where they plan to be again on Friday.
Social media outlets Facebook and Twitter are the preferred means of advertising for West Coast Tacos, but perhaps the most
effective method to get attention has been word-of-mouth.
Angie's List trainer Kelsey Taylor discovered West Coast Tacos while working out at Cardinal Fitness in Broad Ripple.
That led Taylor, who coordinates the local ratings service's health and fitness programs, to bring the mobile restaurant
to its corporate campus on East Washington Street.
West Coast Tacos serves lunch there once a week as a perk for employees, Angie's List spokeswoman Cheryl Reed said.
"We wouldn't probably bring in a national chain," she said. "We like to help local businesses get
started."
Please enable JavaScript to view this content.