A plan to build a 28-acre sports complex on the city's southeast side is sparking hopes that the polluted parcel across
the street that formerly housed the Citizens coke plant can be brought back to life as a retail and industrial center.
Play Ball Indiana, a 29-year-old not-for-profit, announced plans this month for a facility costing up to $6 million that
will include two lighted baseball diamonds, two lighted softball diamonds, a "challenger" diamond for those with
disabilities, indoor batting cages, training facilities and locker rooms, concession stands and administrative offices on
the former home of the Twin Aire Drive-In, which closed 15 years ago.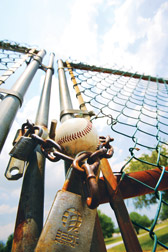 Ex-drive-in site sits vacant. (IBJ Photo/ Perry Reichanadter)
Long-term plans for the complex also include soccer, and track and field—and possibly tennis and ice skating—facilities.
Citizens Energy Group purchased the former drive-in property at the corner of Keystone and Southeastern avenues to create
a buffer between its 101-year-old coke plant and nearby residential areas. Once Citizens closed the plant in 2007, company
officials began looking for ways to redevelop both sites.
"This is the answer to our prayers," said Rachel Cooper, president of the Southeast Community Organization. "We
think the Play Ball Indiana development is the most critical component of this whole redevelopment plan for the larger site.
We think this will show great progress and a real valuable amenity we can use to lure other development."
Citizens put out a call last year for not-for-profits in need of land to submit development plans. Company officials liked
the pitch they got from PBI, said Citizens spokesman Dan Considine.
"Play Ball Indiana's plans met all the goals of the people in the community that we have heard from," Considine
said. "We looked at all kinds of different options for this parcel. But the people who live here wanted green space
and a recreational area."

The complex will be completed in three phases, explained PBI Executive Director Mike Lennox.
The first phase will include the five diamonds, two of which will be expandable to Major League Baseball size. Parking and
concession stands will also be part of the $1.2 million first phase.
Phase two, which is scheduled to begin next summer, will add a 6,000-square-foot indoor training facility, including batting
cages and locker rooms, as well as administrative offices and additional parking.
Phase three, which is set for 2012 and 2013, includes soccer and track-and-field facilities. Milt Thompson, a local sports
marketer and founder of Play Ball Indiana, said phase three could also include tennis courts and skating rinks. Play Ball
Indiana has had preliminary discussions with the Indianapolis Tennis Center about moving to the new complex from its soon-to-be-demolished
facility on the IUPUI campus.
Indianapolis Public Schools has expressed interest in using the facilities and the Indiana World Skating Academy also might
have interest, Thompson said.
Hope for coke site
Now that there are firm plans to redevelop the former drive-in, Citizens officials will begin promoting redevelopment
of the parcel directly to the south that formerly housed the coke plant and has since been designated a brownfield by the
Indiana Department of Environmental Management.
The dirt and groundwater on the site have been found to be contaminated with petroleum-related chemicals that were byproducts
of baking coal into coke. The coke plant closed due to competition from Chinese firms.
That closing was seen as a "win-lose," Cooper said.
"There were constant fears of pollution and water contamination and the potential for explosions with that plant,"
she said. "But a lot of people who lived here had jobs at the plant, and we hated to see those people lose their jobs."
Citizens' coke plant employed 325 when it closed and as many as 400 as recently as 2000, company officials said.
"We need jobs here, so we're hoping there's some business development at the former coke site," Cooper
said.
Citizens is currently decommissioning the equipment at the former plant, planning to demolish the remaining buildings on
the site and rehabilitating the land, Considine said. He said it will likely be another three years before redevelopment starts.
"The Play Ball site should be going really strong by then and will serve as a foundation for developing the larger
site," Considine said.
Quiet player
Though PBI is little known here outside of baseball circles, Considine said the stability of the organization and
its stable of supporters were key factors in the decision to go with its plan.
"We've been told by a number of people, we're the best-kept secret in this community," Thompson said.
"We've spent the majority of our history working with players, coaches and the schools. But we've grown
to the point where we feel we need our own facility. And it's time to take our message to the broader community."
Citizens will contribute the land at no charge, but PBI will have to raise the funds for the project, which carries an estimated
cost of $3 million to $6 million. Though there are no firm financial commitments in hand, PBI officials think they'll
have enough money raised to start construction by early October, with youth-league play beginning at the new facility next
spring.
"We wouldn't be going forward with this project if we didn't have strong backing," said Thompson,
who formerly played baseball at North Central High School and had an All-American career at Wittenberg University. "Our
feasibility study showed us the financial backing is there for this. Everyone we talked to in this community strongly supported
the idea of this project."
PBI, which has been operating from the Marian University campus and has an annual budget of $400,000, has had some heavy
hitters in its corner since its inception. The program, which includes an inner-city outreach component as well as baseball
and softball programs for players ranging from beginners to all-stars, has been financially backed by the Lilly Foundation,
Indianapolis Foundation, Major League Baseball and the Cincinnati Reds.
"I think this program has a lot of support because it's an ideal way to get kids off the streets and into a program
that serves to open doors for them to focus on larger life issues such as discipline, character building and the importance
of staying in school," said Butler University President Bobby Fong, who also serves on the Indianapolis Indians board.
"I'm deeply enthusiastic about this development."
Officials in the Mayor's Office said the development has Mayor Greg Ballard's support and the backing of IndyParks.
Thompson said he first got the idea for the project from an inner-city tennis outreach program run by tennis star Arthur
Ashe. While he was working in the Prosecutor's Office in the early 1980s, Thompson said, he was challenged by a Center
Township judge to launch a baseball outreach program. Play Ball Indiana later became affiliated with Major League Baseball's
Reviving Baseball in the Inner Cities campaign.
"We wanted to get kids stealing bases instead of cars," Thompson said. "Since then, we've grown from
a backyard program to one that touches thousands of kids' lives."
Thompson said his sports marketing firm, Grand Slam Cos., was an outgrowth of his work with up-and-coming baseball players
in the Play Ball Indiana program.
Thompson and Lennox think the new facility is a way to reach even more kids with sports like soccer and track and field.
"That's a big part of the vision of the people in this neighborhood and a big reason we partnered with [Play
Ball Indiana]," said Citizens' Considine. "We want this land to be used to reach out to the people with
as many recreational opportunities as possible."•
Please enable JavaScript to view this content.