The Children's Museum of Indianapolis is about to expand its role in urban redevelopment.

The museum, which has already invested more than $1 million in the half-dozen blocks around its campus on North Meridian Street, now will help create a comprehensive plan for an area that encompasses six nearby neighborhoods.

The plan is intended to spur new investment in the area, which is roughly a triangle with points at Crown Hill Cemetery, Interstate 65 at Fall Creek Parkway, and 38th Street at the parkway. Revitalization also would help the museum, which decided about a decade ago to stay in a declining neighborhood and try to turn it around.

"We can't just be the 800-pound gorilla in the neighborhood," CEO Jeffrey Patchen said.
Patchen
With its $253 million endowment and 14 acres of land, the Children's Museum is like any number of large institutions, especially universities, that take an interest in surrounding neighborhoods to protect their own assets.

Often, that means buying land and holding it for future expansion, but some universities have also played developer in an effort to improve neighborhoods, said Eugene Tempel, president of the IU Foundation and a professor of philanthropic studies.

With huge investments in their land and buildings, Tempel said, "They can't afford to let the value of that physical plant be impacted."

The Children's Museum has used both strategies. It owns lots around its neighbor to the north, the long-vacant Winona Memorial Hospital, and would like to build an outdoor attraction on the site, which the city owns through tax liens. By funding the Near North Development Corp., the museum also plays a major role in housing redevelopment in the area.

The museum's latest move was to propose a "Quality of Life Plan" for the area under the Great Indy Neighborhoods Initiative. The museum will be a "neutral convener," working with residents, Ivy Tech Community College and local churches, said Anthony Bridgeman, the museum's director of community initiatives. The Near North and Mapleton-Fall Creek CDCs also have spots on the steering committee.

"We have an agenda, and our agenda is for the neighborhood to be strong and viable," he said.

The plan will cover six neighborhoods: Crown Hill, Historic Meridian Park, Highland Vicinity, Meridian Highland, Mapleton-Fall Creek and Watson-McCord.

The idea is for the neighborhoods to agree on a clear vision that will attract outside investment, said Bill Taft, executive director of the Local Initiatives Support Corp., or LISC, which partners with the city on Great Indy Neighborhoods.

Great Indy Neighborhoods' success story so far is the near-east side, which drew the attention of the NFL's 2012 Super Bowl host committee for a "legacy project" that involves rehabbing or building 300 housing units.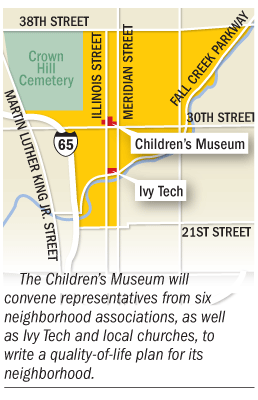 The newest plan will likely address the quality of housing and businesses, but could also touch on education, crime or any number of topics. Bridgeman said the Children's Museum would like to see the plan recognize North Meridian Street, which is also home to a number of schools, as an education corridor.

The Children's Museum will use a $45,000 grant from LISC to hire a temporary staff member who will work full time with the plan's steering committee. The group's work kicks off in August and is expected to take a year.

Once the plan is adopted, the museum will help oversee the follow-through, Bridgeman said.

"It's a big undertaking, but I'm really excited about it," he said.

Doug Day, president of the Historic Meridian Park association, said he's glad the museum took on the planning project. It's something his group of about 220 homes could never tackle on its own.

"We're darn good at putting on a summer barbecue," he said.

Financing renewal

Patchen credits former board member Mark Boyce, an executive with homebuilder C.P. Morgan who later moved to Charlotte, N.C., with pushing the museum to become involved in neighborhood revitalization.

When Patchen arrived in 1999, the board was weighing whether to stay at 3000 N. Meridian St., or move to a site in White River State Park, he said. The museum decided to stay, and later set aside $3 million to spruce up its surroundings.

That money has been spent in the so-called "Children's Museum District," bounded by I-65 and Illinois Street on the west and east and by 34th and 28th streets on the north and south.

The museum designated $1 million in gap financing for various projects, including the streetscape improvements that greet drivers exiting I-65 at 30th Street.

A $2 million revolving fund provides zero-interest loans, which the Near North Development Corp. uses to acquire residential lots or help cover demolition and construction costs. The loans are repaid when Near North sells a new house.

Currently, the organization has $299,700 in loans outstanding, President Michael Osborne said. About half that money is in completed houses, and the other half was drawn in small amounts to buy derelict property, he said.

Near North is in the midst of a push to repair occupied homes, or demolish vacant property and rebuild—all in six square blocks west of the Children's Museum's Illinois Street parking garage. The area is from 30th to 33rd streets on Capitol and Kenwood avenues.

"What we're doing in terms of housing revitalization is four to five times the scale of what was done in the past," Osborne said.

With the museum's revolving fund, plus federal stimulus and other grants, Osborne hopes to work on at least one-third of the area's 150 parcels by 2013. With current funding, Near North aims to build 24 new units and repair 24 others.

Activity in the area is already noticeable. Three spec houses on Kenwood Avenue are for sale, and more lots sport signs advertising the opportunity for custom homes. The new houses, which are priced at less than $90,000, sit next to aging buildings in a variety of conditions.

From her newly built front porch, Juanita Simmons has a view of a boarded-up, two-story house and the back side of the museum's brick parking garage.

Simmons is a fan of the garage. After she moved to Kenwood Avenue in December, she found out that the watchful eye of the museum's security camera could see her house as well.

"That was nice to know," Simmons said.•