Several new restaurants have filed plans to open around Indianapolis.
The Ripple Inn, a concept developed by local investors Troy Smith and Jason Tipton, is poised to take the former home of
Broad Ripple Steakhouse. Ripple Inn is named for the hotel that once occupied the building at 929 E. Westfield Blvd. The restaurant,
slated to open in the next two to three months, will feature steak and seafood entrees with a modern twist, along with lower-priced
offerings, including a Ripple Burger and crab-cake sandwiches.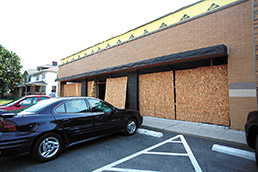 A new restaurant and watering hole is moving into the former Steck Plumbing. (IBJ Photo/ Perry Reichanadter)

The Sinking Ship, a restaurant and bar, is under construction in the former home of Steck Plumbing at 4923 N. College Ave.
The Meridian-Kessler Neighborhood Association is hosting a meeting at 7:30 p.m. July 27 at Bethlehem Lutheran Church so neighbors
can learn more about plans for the lunch, dinner and drinks spot. The registered agent for the restaurant is Andrew Hamaker.
Longhorn Steakhouse is opening a restaurant in front of Castleton Square Mall in a former Smokey Bones location. The Darden
Restaurants concept has locations along West 86th Street, East Washington Street and at Interstate 65 and Southport Road,
along with restaurants in Avon and Carmel. The new location is slated to open in November.
Buffalo Wild Wings plans to open in the former home of a dance studio in Brownsburg. The restaurant is taking 6,400 square
feet at 1551 N. Green St., in the same center as Boulder Creek Dining Co. and Pizza King. The chain has 14 Indianapolis-area
locations.
Please enable JavaScript to view this content.