Late last September, the Indianapolis Indians stared down the barrel of financial disaster.
Following the 2009 season, three-fourths of the team's sponsorship deals expired, giving the Indians a tough challenge
in an economic climate that's enough to make just about any sports business administrator hit the panic button.
But Indians officials stood in the batter's box, dug in their cleats, and didn't blink. Instead, the team's
front office rolled up their sleeves and went to work.
The Indians re-signed the vast majority of those sponsors and enough new ones to increase sponsorship sales $200,000 over
last year, an increase of more than 10 percent. New sponsors include Firestone, Mike's Express Car Wash, Buffalo Wings
& Rings, Frito-Lay and Sharp Business Solutions.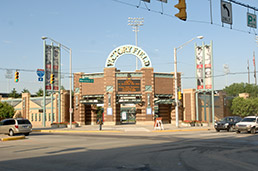 With a string of home games coming up in August, the Indianapolis Indians could push their total attendance to
600,000 for the season. (IBJ file photo)
One of the driving forces in sponsorship sales has been a $600,000 video board the Indians installed on the left-field wall,
said Indians General Manager Cal Burleson.
"The video board is so eye-catching," Burleson said. "It gives sponsors another way to reach out to our
fans, and it's given us another element in our advertising packages to sell."
The video board, which is 120 feet long and 6-1/2 feet tall, also has been a big hit with fans. The video board carries static
and moving video messages.
"We put a lot of information on that board as well as sponsorship messages, and the people attending our games have
really enjoyed it," Burleson said. "There's definitely an entertainment component to it. The positive feedback
has been overwhelming."
At this rate, the video board will pay for itself in three years.
"That's smart business," said Rick Horrow, president of Horrow Sports Ventures, a Miami-based sports marketing
consultancy. "That's how smart sports business operators are making it in this economy. Not only making cuts where
needed, but making strategic investments that will pay real dividends."
Attendance also is on the rise for the local AAA minor-league baseball team, up nearly 30,000 through July 20 compared with
the same period last year. In 2009, the Indians drew 549,522, down slightly from the near-record 606,166 in 2008.
With total attendance at 348,339 through July 20 and with 25 home games remaining, Burleson thinks the team has a shot at
hitting 600,000 visitors this year.
"We have a stretch of good home games coming up, and we have a history of doing very well in late July and August,"
Burleson said.
The Indians raised their ticket prices $1 this season—the first increase in three years—which should mean a sizable
bump in ticket revenue. The franchise, which has a decades-long profitability streak, should be in the black again this fiscal
year.
 Indians profit declined from $1.23 million in 2008 to $459,603 in 2009, but sports business experts expect profitability
to be above $1 million again this year.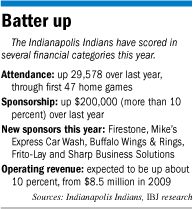 Burleson said a better year weather-wise, a more competitive team and a lengthy list
of weekly and special promotions has helped keep the turnstile whirling. He said many of the Indians promotions revolve around
offering fans a "special value." Such deals include Monday games where many concession items are $1, and Fazoli's
restaurant coupons on tickets for Tuesday games.
Larry DeGaris, director of academic sports marketing programs at the University of Indianapolis, isn't surprised by
the Indians' success.
"The Indians are at the right price point, like Target and Wal-Mart, and they offer exceptional value," DeGaris
said. "That applies to their sponsors, ticket sales and group sales. I'm sure right now, corporate entertaining
at the picnic area at Victory Field is pretty attractive."
DeGaris also gives the team's front office a high grade.
"They've chosen to emphasize the right things," DeGaris said. "They've done a great job of
creating an inventory that sells."
The Indians are riding a high tide for minor-league baseball nationwide.
Minor-league baseball set an attendance record in 2008 of 43.2 million fans, and brought in nearly 42 million fans last season.
Minor League Baseball President Pat O'Conner said he is expecting near-record attendance this season.
According to a Minor League Baseball survey, nationally it costs an average of $57.70 to take a family of four to a minor-league
ballgame. The average price to take a family of four to a Major League Baseball game is $194.98, according to Team Marketing
Report.
"As long as they continue to offer the sort of value that they do and fans can enjoy the setting of Victory Field,"
DeGaris said, "I'm sure they'll continue to do more than fine."•
Please enable JavaScript to view this content.