The latest project at The Mind Trust, the Indianapolis educational venture capital fund, aims to extend its reach to cities around the country.

The Mind Trust founded a national network of cities and city-based organizations last month in a meeting at the Kauffman Foundation in Kansas City, Mo.

The network, called the CEE-Trust, is being funded by $330,000 in grants from the Carnegie Corporation of New York and the Chicago-based Joyce Foundation. CEE stands for Cities for Education Entrepreneurship.

The goal of the network is to help replicate the kind of work The Mind Trust has done in Indianapolis since its 2006 founding. It was started by former Indianapolis Mayor Bart Peterson and his director of charter schools, David Harris, and has raised $12.3 million.
Harris

The Mind Trust used its money to lure national reform programs like Teach for America to the city and to fund education entrepreneurship fellows to launch innovative programs for schoolchildren in Indianapolis, with the idea of replicating them in other cities around the country.

Harris, who is CEO of The Mind Trust, said he wants to keep his organization focused on Indianapolis. But collaborating with other cities could help the organization improve its programs and broaden its influence.

"We want to see the education reform efforts thrive," Harris said, adding, "We just genuinely believe that community-based organizations are an underutilized resource for scaling the education ventures that we support in Indianapolis."

For example, The Mind Trust has been funding the Summer Advantage USA program launched last year by Earl Martin Phalen, one of the Indianapolis organization's entrepreneurship fellows. Phalen attended the CEE-Trust meeting in Kansas City, where he met representatives of a Denver foundation that would like to launch his program in that city.

"We see it as being helpful to our fellows as they look to expand around the country," Harris said of the CEE-Trust. "The more they can be successful, the more it helps the program."

The CEE-Trust network so far has 12 cities and two states in it. Nashville, Tenn.; Sacramento, Calif.; and St. Louis are represented by their mayor's offices. The others have not-for-profit foundations or education reform groups participating.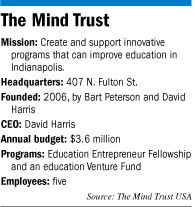 The other participants are Delaware; Rhode Island; Dayton, Ohio; Newark, N.J.; Denver; Detroit; Kansas City; Memphis; New Orleans; New York; and Phoenix.

Harris thinks the network could expand quickly, but he said the initial focus is to figure out the projects on which the communities will work together. Some possibilities on the table include an incubator for new charter schools and joint fundraising to bring Teach for America and similar programs to the network cities.

In addition, Harris thinks the Mind Trust's education entrepreneur fellowship program can become a kind of clearinghouse for talented people and ideas that cities in the network could try. Since the fellowship started in 2008, the Mind Trust has received more than 1,000 applications from 24 countries but has selected only six fellows.

That means many great ideas and talented innovators are going without funding. Cities in the network are free to create their own education entrepreneur competitions, but Harris thinks it makes more sense for them to piggyback on the system and branding The Mind Trust already has built up.

Community organizations could help, not only by fundraising, but even more so by helping education entrepreneurs navigate the local community to get their programs launched, Harris said.

The CEE-Trust got going after several cities contacted The Mind Trust seeking to mimic some of its strategies. For example, Sacramento Mayor Kevin Johnson launched an education initiative in 2009 with funding from the Bill and Melinda Gates Foundation, among others.

Like the Mind Trust did, Johnson is trying to tap national school reform programs to help improve Sacramento's public schools.

"As Mayor, he is committed to working with area school districts, parents and community leaders to bring proven entrepreneurial education models such as Teach for America and City Year to the city," wrote Dana Gonzalez, Johnson's education advisor, in an e-mail. "He is pleased to be a part of CEE-Trust and believes participation in network provides an excellent opportunity to link with leaders in cities across the country to learn from their experiences in education innovation as well as partner in reform efforts."•