With the first baby boomers set to turn 65 in six months, investments in senior housing are heating up.
A group of Indianapolis-area professionals have banded together to launch three senior housing projects around the state,
spending $49 million and looking to do more. Their Plainfield campus, Sugar Grove Senior Living, opened three weeks ago.
Meanwhile, the 30-year-old Marquette retirement village in Indianapolis is shoveling $55 million into a renovation and expansion
of its campus to keep up with increased competition from other high-end communities.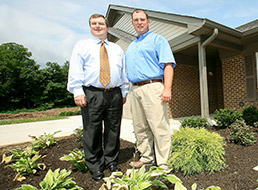 Mark Waterfill (left) and Tony Schantz are part-owners in the 164-unit Sugar Grove Retirement Community in Plainfield.
(IBJ Photo/ Perry Reichanadter)
Those projects helped push up first-quarter new construction in Indianapolis 40 percent faster than the average in the nation's
30 largest metro areas, according to data from the National Investment Center for the Seniors Housing & Care Industry.
"The numbers just knock your socks off," said Mark Waterfill, an Indianapolis attorney at Benesch Dann Pecar
who is an investor in the Sugar Grove community in Plainfield and its management company, Indianapolis-based TDM Management.
The number of Americans age 65 and older will explode by 76 percent over the next 20 years, according to a 2008 projection
by the U.S. Census Bureau. The number of senior Hoosiers should grow by 52 percent in that same time span.
That growth will take seniors from being one in every seven people now, to one in every five.
Waterfill and his partners in TDM—Tony Schantz, Dan Hollis and Mike Murphy—think senior housing is both a short-
and long-term winner.
In the short term, they are betting that communities with too little senior housing could be profitably served by one of
their communities. Then, once retiring baby boomers start to actually leave their homes and move in to senior housing—which
analysts expect is still five to 15 years away—demographics will drive the dollars.
That pitch was enough to raise $1.5 million for the Sugar Grove project from the clients of Indianapolis-based David A. Noyes
& Co., which handled the private placement for Sugar Grove. The project also raised several hundred thousand dollars from
Plainfield residents who wanted to contribute to the community.
"My approach was, 'OK, let's drum up local investors so you've got that local ownership that really
cares about the community,'" said Schantz, TDM's managing member. "We have a different ownership group
in each town that we go in."
TDM's projects, two of which are under way in Fort Wayne and Bloomington, are a mix of independent apartments, assisted-living
units that have nurses on hand, and acute care wings for dementia patients. Sugar Grove in Plainfield has 164 units, as well
as a restaurant that will be open to the public, an amphitheatre capable of hosting 600 people, a putting green, a fishing
pond, and an asphalt walking path that winds through the 18-acre campus.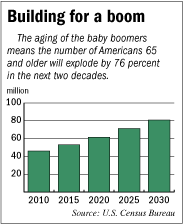 At Marquette's campus near the St. Vincent Indianapolis Hospital, construction workers
are adding 48 independent-living apartments as well as refurbishing the facility's dining, fitness and social amenities.
It now boasts 10,000 square feet of fitness space, a "Starbucksy" coffee shop and a 250-person theater that will
host chamber ensembles and an Elvis impersonator.
The updates cater to the more active lifestyle today's seniors prefer—and which they now can find at recently
opened communities like The Barrington and The Stratford at WestClay, both in Carmel.
"We were fearful that competition would come in to the market and take our traditional customer," said Jonathan
Cook, executive director of Marquette, which will boost its number of residents above 550 after its expansion.
The projects at Sugar Grove and Marquette are the type of investments Tim Wang is counseling his clients to pursue. Wang,
a senior vice president at ING Clarion Partners, recommends projects with strong local characteristics: high-income levels
or few competitors or both.
"I think local projects are the best way to go right now," he said, as opposed to massive developments in Florida
or Arizona that draw out-of-state residents.
Investors have become a little cooler toward senior housing since the crash in residential and commercial real estate.
That's because occupancy dipped at most communities, as many seniors could not sell their homes in order to pay the
hefty upfront fees most retirement communities charge.
But the long-term demographic story is still just as strong as it was before the recession, Wang said. It just might take
five years or more to really hit.
Mike Hargrave, vice president of data and analysis services at the National Investment Center for senior housing, agreed.
"The demographics are still growing. People are living longer," Hargrave said from the center's office
in Annapolis, Md. "But the reality is that, from a customer standpoint, the baby boom generation is still at least a
decade away."
Seniors often resist retirement communities as long as they can, noted Cook at Marquette. Senior housing communities must
convince seniors they'll be safer and less lonely than in their own homes.
"Our biggest competition is the resident in their own home," Cook said. That's why, he added, "There
has been a pretty aggressive shift in our market to provide a resort and lifestyle experience."
TDM Management is trying to appeal to a broader range of customers by keeping its buy-in fees down to about $1,000. The monthly
rents of independent and assisted-living apartments range from about $1,000 a month up to $2,800 a month—similar to
those at Marquette.
Sugar Grove is aiming for mostly private pay residents. It will, however, accept those who qualify for the assisted-living
waiver program run by Indiana Medicaid.
"We want to be able to sell to all income levels," Schantz said.•
Please enable JavaScript to view this content.