Don't blame Dr. Ben Park for feeling a bit of déjà vu.

When Park joined Anthem Blue Cross and Blue Shield in 1993 to start a large group of primary care physicians, the reason was a health reform push by the federal government to institute a concept called managed care.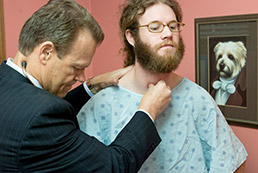 Dr. Ben Park examines Patrick Antrobus at the Lebanon office of American Health Network. The 200-doctor practice likes its chances under the new health reform law. (IBJ Photo/ Eric Learned)
Today, Park is still leading that group of physicians—called American Health Network—which is now independent from Anthem but still well-positioned to take advantage of a concept in the new health reform law called accountable care.

What's the difference between managed care and accountable care? Little to nothing.

"They formed us to be their accountable care organization," said Park, referring to Anthem, the Indianapolis-based health insurer, which in 1993 was known as the Associated Group. "So from the get-go we had ingrained in us that quality health care costs less, because people who are healthy use less resources."

That's the common idea behind both managed care and accountable care. Under the new health reform law, the federal Medicare program would pay doctors a set amount to take care of patients. If they keep them healthy, those patients will need fewer of the really expensive medical procedures (read: hospitalizations) and therefore cost less money.

Managed care never got a boost from the federal government, since the Clinton health reform effort failed. Its prevalence waned after consumers rebelled against its restrictions on choice.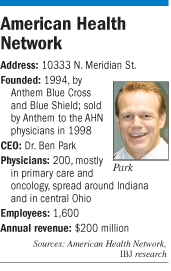 Under the new health reform law, if accountable care organizations can document both the quality of their care and the savings it produces, Medicare will split the savings with the doctors.

That's a very different approach from the current way Medicare—and most private health insurers, as well—pay for health care. They either set or negotiate a fee for each service a doctor or hospital performs. Whoever performs the most services gets the most money—regardless of whether patients' overall health is good or bad.

"What's my incentive to not keep raising charges as high as I can possibly do it?" Ice Miller health care attorney Greg Pemberton said of the current system. "But if you're focused on keeping someone out of the hospital, that's a different kettle of fish."

Many of the details of how these shared-savings contracts will work have yet to be worked out by federal regulators. So Park is waiting until the details are final before he makes a decision on American Health Network's formally becoming an accountable care organization. But at this time, he doesn't see any reasons not to.

"It's certainly on our radar screen," Park said, reclining in a chair in his office, which overlooks the intersection of 103rd and Meridian streets. "It's possible."

Park and his management team at American Health also expect private health insurers to adopt the accountable care concept, at least in part.

"At this point, our contracting with commercial payers has not changed," said Don Stumpp, American Health's manager of payer contracting. But, speaking of the Medicare shared-savings contracts, he added, "If this reduces costs, I don't see why commercial payers would not follow."

Does size matter?

One key question is whether American Health has the resources to compete with the other local health care providers looking to form accountable care organizations—the Indianapolis-area hospital systems.

American Health is the largest physician network in central Indiana, employing 200 doctors in Indiana and Ohio and another 1,400 support staff. It pulls in revenue each year of $200 million.

But that's nothing compared with Community Health Network's $1.2 billion in revenue, or the $2 billion earned each year by St. Vincent Health and the Sisters of St. Francis Health Services, or Clarian Health's revenue of nearly $3.8 billion.

All those hospital systems are moving toward forming accountable care organizations, in large part by acquiring and affiliating with physician practices around the state.

Bob Cimasi, president of Health Capital Consultants in St. Louis, thinks independent physician practices with roughly 100 doctors will be large enough to compete as accountable care organizations.

At that size, they can spread out the costs of electronic medical record systems needed for reporting data to Medicare, as well as the extra legal costs and administrative duties required to manage the risk put on doctors' practices by the accountable care concept.

The idea gives a strong disincentive to sending patients to inpatient facilities, where procedures are reimbursed at much higher rates than when identical procedures are performed at outpatient centers.

But since hospitals already have so much money tied up in their inpatient hospitals, they can't simply stop using them.

"These ACOs are very much primary care—but they're also outpatient-focused," Cimasi said. He added, "Physician groups, they're in the best position to do this stuff."

Indeed, the accountable care concept has been tested by the federal Medicare program, not with hospitals, but with large physician group practices.

Managing chronic disease

Park thinks American Health is prepped for the accountable care concept because it has always collected data about its physicians' dealings with the most expensive patients—those with chronic diseases.

Every American Health physician who wins recognition from the National Committee for Quality Assurance for diabetes and heart stroke care gets a bonus.

American Health claims 18 of the 26 physicians in Indiana who have achieved that recognition for heart care, as well as 49 of 78 physicians in Indiana who have achieved that recognition for diabetes care.

Over the past five years, American Health has invested in an electronic medical record system that now allows its doctors to see their quality rankings updated every day.

"That tends to be a pretty powerful motivator," Park said.

The bonus payments and data reporting also have helped American Health show savings on chronic disease care.

For instance, it found that by pushing asthma patients to actually take all the medicines they were prescribed, as often as prescribed, it doubled spending on medications but also reduced hospitalizations 98 percent. The net savings were $1,000 per patient.

In another case, by collecting medication spending for American Health's 55,000 diabetic patients, the practice found that those taking expensive medications did no better—and perhaps a little worse—than those taking cheap generic pills, such as metformin.

Just publicizing that data to all American Health physicians led to a $24 per patient decline in one year.

American Health's ability to use financial incentives and a sophisticated electronic medical record system gives Park hope that accountable care can succeed where managed care did not—reducing the cost of health care while improving its quality.

"The thing that's different this time around is that we have much better tools for managing chronic disease," he said.•