Brandon Gaudin will be the new radio voice of Butler University men's basketball. Gaudin will take over the play-by-play
position formerly held by Butler director of corporate sponsorships Joe Gentry, who is stepping down to take on additional
duties in his full-time position with the Bulldogs.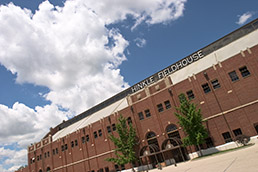 In June, Butler chose local sports/talk radio station WFNI-AM 1070 as its new broadcast partner. (Photo Courtesy Butler
University)
"With the growth we've seen over the last four years we are excited about this strategic move," said Mike
Freeman, Butler associate athletic director for external operations. "Joe has done an outstanding job tripling our corporate
partnership program, calling the action as our play-by-play voice and developing our media partnerships with [WFNI-AM 1070]
and WISH/WNDY-TV."
Gaudin, a 2006 Butler graduate, has spent the past two years as the voice of the Evansville Aces.
Gaudin was selected by Greg Gumbel of CBS as winner of a nationwide "You Call The Action" broadcasting contest,
which led to a live appearance on the CBS set during halftime of the 2005 NCAA National Championship game.
Please enable JavaScript to view this content.