You know the outlook for Eli Lilly and Co. is bad when its own executives try to reassure investors by promising that profits
will fall no more than 30 percent in the next five years.
The Indianapolis-based drugmaker faces such an unprecedented string of patent expirations and an unheard-of loss of revenue
that it's hard to picture what the company will look like in five years.
Wall Street analysts—whom investors pay handsomely to predict the future—are all over the map on Lilly's
sales and profits at the end of 2014.
The most bearish one says $4.3 billion will disappear from Lilly's books, driving its sales down 20 percent and cutting
its profits in half. That would leave Lilly with $17.5 billion in annual revenue and $2.2 billion in yearly profits.
Lechleiter
The most bullish—who is one of only two analysts telling investors to buy Lilly shares—thinks the company's
sales and profits each will grow 8 percent—to $23.6 billion and $4.7 billion, respectively.
Neither forecast portends a doomsday for Lilly, though plunging sales could jeopardize Lilly's abilities to invest
in the research, development and marketing needed to launch new drugs, which it eventually must do to survive. Many analysts
and investors say Lilly must make a bold acquisition in order to fill its looming revenue gap.
So far, Lilly has eschewed big deals in favor of small acquisitions. But it has embarked on an unprecedented downsizing,
trimming out $1 billion in annual expenses, mainly by dismissing 5,500 of its 40,000 workers worldwide.
Here's Lilly's predicament in a nutshell: Between now and 2014, U.S. patents will expire on five drugs that are
currently producing $12.4 billion a year in sales. That's a whopping 57 percent of Lilly's total revenue.
That's the bad news—and it's certain. And any offsetting good news is iffy. Lilly has 69 experimental drugs
in human testing, but nothing that could launch any earlier than 2013.
The most promising drugs are two trying to be the first to reverse the progression of Alzheimer's disease. Analysts
say either one, if successful, could single-handedly reverse Lilly's fortunes.
Lilly also has several promising cancer drugs obtained through its $6.5 billion purchase of New York-based
ImClone Systems two years ago. It also has a biotech version of its best-seller Zyprexa that does not have the antipsychotic's
side effect of weight gain.
But sales of a new drug are never sure. For instance, Lilly's latest offering—the blood thinner Effient—produced
laughable sales in its first year of $59 million—with an "m." That's 0.3 percent of Lilly's
total revenue.
Lean years ahead
Lilly executives have tried to assure investors—as well as employees and retirees—that the record profits
the company is posting today will be enough to sustain it through the lean years of patent expirations.
"As we go forward into these years where we're going to have patent expirations," CEO John Lechleiter told
investors in July, "we're going to be first and foremost paying attention to at least maintaining our dividend,
making sure that we've got the cash—as we're confident that we do—to run our business, to make capital
investments, and then to also pursue licensing opportunities."
That message of sustainability may be calming to many, but it does little to inspire anyone to put more money into Lilly.
Investors generally prefer growth, not merely sustainability, Barclays Capital analyst Tony Butler said.
"Declining revenue and declining [profit] margin are not themes on which investors wish to invest," he said.
The thing Lechleiter insists will reignite Lilly's growth is a raft of new drugs on the market. But no one—not
even Lechleiter—can be sure how successful Lilly will be at turning its pipeline into profitable products.
It's on that issue that analysts' opinions diverge.
Dr. Tim Anderson of Bernstein Research counts on Lilly's pipeline producing a paltry $432 million in sales by 2014.
That's why he comes up with the bearish outlook mentioned above.
It's also why he predicts Lilly will need to take radical action to protect investors from a major drop-off in revenue
and profits.
"With its longer-term earnings profile, we see [Lilly] possibly being forced into doing one or more fairly sizable
acquisitions to fill in its longer-term earnings gaps," Anderson wrote in a July 23 note to his investor clients.
By contrast, Bert Hazlett of BMO Capital Markets tells investors to bank on Lilly's pipeline producing $2.1 billion
in annual revenue by 2014. Those new drugs, combined with rising sales for other Lilly medicines, are enough to fuel the company's
continued growth, he said.
Lilly's products whose patents don't expire until 2016 or later include anti-impotence pill Cialis and lung cancer
drug Alimta.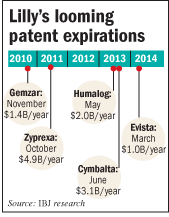 "The strength of these products, combined with upcoming progress in the clinic with both existing
and late-stage experimental therapies, should lead to solid [profit] and revenue growth post the Zyprexa patent expiry in
2011," Hazlett wrote in a July 23 research note.
Zyprexa, which brings in nearly $5 billion a year to Lilly, will lose both its U.S. and European patent protection in the
fall of 2011.
The other drugs that will see their patents expire by 2014 are the cancer drug Gemzar (November), the insulin Humalog (May
2013), the antidepressant Cymbalta (June 2013), and the osteoporosis treatment Evista (March 2014).
Murky outlook
Between the extremes of Anderson and Hazlett lie most other Wall Street analysts. Some don't give Lilly's
pipeline as much credit as Hazlett does. Others do, but don't think Lilly's other products will grow as much as
he does.
But on the whole, other analysts are sure Lilly's revenue and profits will take a big hit.
Even Lilly admits this is true. In its own forecast for the years 2012 to 2014, company officials say revenue won't
dip below $20 billion a year, which is 8 percent lower than last year's total. Profits, Lilly promises, won't
fall below $3 billion a year—30 percent less than Lilly earned last year.
But investors should feel good about those minimums, Lilly Chief Financial Officer Derica Rice said during a conference call
last month.
"That allows us to have the cash flow, as you've seen here in the first part of this year, to fund our pipeline
of almost 70 molecules," Rice said, "and also to pursue the business development opportunities that we think will
enhance our longer-term prospects." ·
Please enable JavaScript to view this content.