The latest fitness craze has nothing to do with yoga, Pilates or Sweatin' to the Oldies.
It's all about walking.
More particularly, walking while wearing oddly shaped shoes with an unstable sole that throws off your balance—thereby
helping you burn calories, improve posture and firm up the buttocks, thighs and calves.
Or at least that's what shoe companies including Sketchers, armed with their own studies and consumer reviews, claim.
But there are plenty of detractors who say the so-called toning shoes are just the latest unproven quick-fix fitness solution
consumers have eagerly embraced.
Despite the controversy, toning shoes—a category created from thin air just a few years ago—are flying off store
shelves and on pace to ring up almost $1 billion in revenue this year. Six of the 10 top-selling shoes in the United States
in a recent survey reside in the toning category.
Locally based athletic retailer The Finish Line Inc. is a prime beneficiary. The company does not break out sales of toning
shoes but investment bank Morgan Stanley estimates the shoes could generate $70 million in revenue for Finish Line in fiscal
2011. That would work out to about 6 percent of the company's revenue.
Sales are soaring even as members of the medical establishment scoff. The American Council on Exercise recently found that
women wearing the shoes in a treadmill test achieved the same amount of "exercise response" and "muscle
activation" as those who wore traditional shoes.
"There is simply no evidence to support the claims that these shoes will help wearers exercise more intensely, burn
more calories or improve muscle strength and tone," the study concluded.
Still, the group suggested the toning craze doesn't hurt if it spurs couch potatoes to get up and walk more often.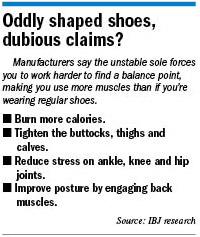 Finish Line carries the pioneers of toning, including Sketchers Shape-Ups and Reebok EasyTones, along
with newer toner entries from Avia, New Balance and Bass. Nike, caught flat-footed on the toning trend, is working on its
own line of what it is calling "wellness" shoes for a November debut.
The toning category was an "important contributor" to Finish Line's 11-percent jump in same-store sales
for the fiscal first quarter, Finish Line's president and chief merchandising officer, Sam Sato, wrote in a response
to questions from IBJ. The shoes generally cost at least $100 a pair.
"The toning category is a big success at Finish Line," Sato said in an e-mail. "We see all of our key vendor
partners participating in this category—whether they label it as fitness, training or toning. Their involvement gives
us confidence in the long-term sustainability."
Most of the buyers at Finish Line are women of all ages and older men, he said.
Women were twice as likely to own a pair of toning shoes as men at the end of 2009, according to data from NPD Group, a consumer
and retail research firm based in Port Washington, N.Y.
One reason is that 62 percent of women are aware of the new type of shoes, while just 37 percent of men have heard about
toners. NPD reported that once men wake up to the trend, they own them at about the same rate as women.
Not everyone is sold on the hot-selling shoes. Local chain The Running Co., which has stores in Broad Ripple, Fishers, Carmel
and Greenwood, isn't carrying them.
Bob Kennedy, who co-owns the stores with Ashley Johnson, said he likes to evaluate the effectiveness of products before selling
them. So far, he's not sold.
"Our business relies heavily on authenticity and trust with our customers and we just don't necessarily believe
in the long-term benefit of the products," Kennedy said. "We've just seen study after study that shows no
appreciable activity with toning versus normal shoe."
Perhaps all the advertisements should carry a warning label: Models did not achieve their buns and calves simply by walking
in funny-looking shoes.
The gimmick factor is part of the reason Nike has been slow to produce its own entrant in the category, to the detriment
of its athletic-shoe market share.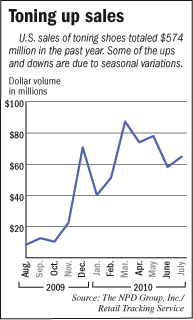 A Nike spokesman told Reuters recently that "the best way to tone is to train.
There are no shortcuts."
Added Foot Locker CEO Ken Hicks, in an interview with Bloomberg Businessweek: "The American consumer is always looking
for an easy way to lose weight, and this proves it."
The key to sustaining the toner category is evolving the product line and making the shoes more fashion-oriented, said Camilo
Lyon, an analyst who covers Finish Line for Wedbush Securities.
Finish Line's Sato is encouraged by progress on the fashion front, as the newest shoes are doing more to disguise toning
features.
"Aesthetics are evolving in a positive direction," Sato said. "New brands are coming out fast and furious
and Finish Line will be at the forefront trying different brands, different platforms."
Fashion is not yet a top concern for buyers of toning shoes, unlike running shoes, the top athletic-shoe seller in recent
years. Only about 10 percent of running-shoe buyers actually use them for the stated purpose, opting to buy them instead as
an everyday performance shoe, said Lyon, who has an outperform rating on Finish Line and a 12-month price target of $21 on
the shares. The stock traded recently around $13.50.
Lyon has a pair of toning shoes and believes they work.
"I definitely feel sore afterward," Lyon said. "I think they are an element to improving your health regimen.
Again, it's a piece of the puzzle, not a solution."•
Please enable JavaScript to view this content.