Henry C. Ulen knew a thing or two about keeping folks in suspense.


Henry Ulen
When the Lebanon native returned back home to Indiana in the 1920s after amassing a fortune in business, he built an estate for himself as the centerpiece for the tiny town of Ulen—a model community the engineering tycoon envisioned as a mini-Utopia inside the Lebanon city limits.

Determined to heighten anticipation for the project, Ulen put up a massive barn-like structure around the construction site, then tore it down for the home's dramatic 1929 unveiling. The event garnered significant media coverage for its day, with considerable buzz surrounding Ulen's plans to relocate his New York-based firm and its entire staff to the Midwest.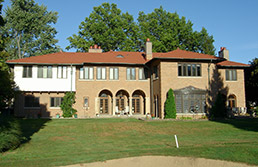 Ulen's former estate today (Photo courtesy Jennifer Jones-Katona)
Photos from the event show teams of workers lowering the barn walls to reveal the house, while invited guests took in the spectacle from a special viewing platform.

The talk of the town back then, the Mediterranean-style house at 118 Ulen Blvd. is now simply home for husband and wife Gary Katona and Jennifer Jones-Katona, former Indianapolis city dwel-lers who retreated to the quiet "town within a town" 15 years ago.

Small-town appeal

The Katonas enjoy the benefits of the short commute to Indianapolis along with the charm of small-town life.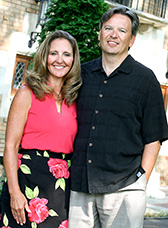 Jennifer Jones-Katona and Gary Katona, current home owners (IBJ Photo/ Perry Reichanadter)
"During a fresh winter snow, the town comes to life as if it came straight from a Norman Rockwell picture," said Jennifer, noting that except for more mature trees and an influx of children, Ulen has changed little over the years.

Just off the ninth green of the Ulen Country Club golf course, the couple now resides where Henry Ulen once hosted politicians and captains of industry. Original features throughout the house—from the extensive woodwork to the vast hand-woven rug on the library floor—anchor the home firmly in the past. At the same time, modern updates in the kitchen and bathrooms make it a comfortable and convenient place to call home for the Katonas and their two dogs.

Childhood familiarity

Though she spent many years living in a condominium in Indianapolis, the Ulen house wasn't as big as a move as it would seem for Jennifer, who actually grew up next door to the mansion in a Tudor-style home.

She had played in the house as a child but had few memories of it. When visiting her parents one year for Thanksgiving, she noticed the home was for sale by the owners who had purchased it in 1989 from the Ulen family.

"We decided to come over and take a look. We fell in love with it," said Jennifer, co-owner of Indianapolis-based Royal Title Services. Gary, a South Bend native, works out of the house running his own promotional business and managing the couple's personal investments.

The 6,672-square-foot house offers ample room for the couple. Each of the four bedrooms has its own large cedar-lined closet and attached bath, a unique feature for the late 1920s and an example of Ulen's vision.

"Henry was a rather modern-type of person and a very interesting person," said Charlie Jones, Jennifer's father and a Ulen resident for 51 years. "He was a man of influence and loved to entertain."

A unique history

Having grown up in Lebanon and dropping out of school in the fifth grade, Ulen lived the very definition of the American dream. According to a 1930 Time magazine article, the troubled teenager worked in railroad dining cars and railroad stations before turning to the practice of law. When a client of his was unable to complete a construction project, Ulen took over the job and thus began a successful career as an engineering contractor.

By the time he returned to Lebanon in his late 50s to establish his eponymous town, Ulen & Co. was one of the nation's largest engineering and contracting companies with projects around the world. Among them were the 18-mile Shandaken Tunnel in New York; an aqueduct system in Athens, Greece; dams in Chile; and the Trans-Iranian Railway across the Persian desert.

Ulen's vision for his model town was ahead of its time. Such features as underground utilities and green space were meant to impress the 25 or so executives and their families he intended to transplant from the East Coast.

The Ulen home became a gathering place for those executives and other VIPs, who were greeted by stately surroundings. The large library, situated just across the foyer from the front door, was covered entirely in original black walnut panels, shelves and molding.

Every bit of that wood work remains intact today. In the summer, the Katonas like the room for its direct view of the golf course—a bit of a hazard for the leaded-glass windows—while it makes an ideal spot to enjoy a fire other parts of the year.

"We absolutely love this room in the winter," said Jennifer. "It's incredibly cozy."

Their other main living area is the once-formal living room, a bright, airy space on the end of the house that the couple uses for casual gathering and billiards games. Every May, they host a large Indianapolis 500 party there before taking buses down to the race.

Opposite the living room is the kitchen, which the Katonas took on as their first renovation project in 1995. Though neither of them cook much, the room offers the look and convenience of an updated space, with cherry cabinets, granite countertops and stainless steel appliances. As a nod to the past, one wall of the kitchen features exposed brick where a trash incinerator was once installed.

Upstairs, the couple uses portions of the old servants' quarters as home offices, while remaining bedrooms are dedicated to guests.

The uniqueness of their home—and the riveting life story of its original owner, who remained in Lebanon until he died in 1963 at age 91—aren't lost on the Katonas.

"We feel very blessed to be able to live here and enjoy the beauty of this house," Jennifer said. "You could never reconstruct this."•