The seven-year legal saga that saw Conseco Inc. chase down its former top brass to recover unpaid debts is ending with an ironic twist.
The last man to settle up with Conseco is now being sued for—you guessed it—not paying his bill. But this time the people suing him are the attorneys who spent six years arguing that he didn't have to pay his debt to Conseco.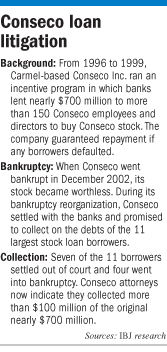 The Indianapolis law firm of Price Waicukauski & Riley LLC claims in a lawsuit that Dennis E. Murray Sr., an Ohio trial attorney and former Conseco director, has failed to pay nearly $128,000 in legal fees racked up fighting Conseco. The lawsuit was filed Aug. 24 in federal court in Indianapolis.
Conseco, a Carmel-based life insurer that is now called CNO Financial Group Inc., launched a legal war in 2003 against 11 of its former officers and directors, including Murray. They had borrowed more than $670 million to finance purchases of Conseco stock before it became worthless in Conseco's 2002 bankruptcy.
Reed Oslan, the lead attorney on the Conseco litigation blitz, won't say precisely how much the company recovered. He had predicted in 2004 that Conseco would net "in excess of $100 million."
When asked about that prediction now, Oslan wrote in an e-mail, "Conseco far exceeded its expected collections and views the litigation effort as an enormous success."
Conseco's recoveries were hampered by its inability to sell the mansion of former Conseco CEO Stephen Hilbert. Placed on the market five years ago with an asking price of $20 million, the Carmel estate dubbed "Le Chateau Renaissance" is still unsold. It drew a few offers in a sealed-bid auction late last month.
Conseco is also still trying to sell one piece of commercial real estate that once belonged to one of the stock loan borrowers.
Huge amounts of the recoveries have been eaten up by the legal fees charged by Oslan's firm, Chicago-based Kirkland & Ellis, and other attorneys.
The fees have never been publicly disclosed. However, in one scenario, Oslan's team agreed to work for a bankruptcy court to pursue money transferred by former Conseco director James D. Massey to his wife—if it got to keep 40 percent of the take.
Oslan's team secured a judgment for $4.45 million against Margaret Massey—netting it a cool $1.78 million.
According to an August securities filing by CNO Financial, the company has received a total of $44 million from Kirkland & Ellis' recovery efforts. The company expects to receive $5 million more from the sale of the Hilbert mansion and the piece of commercial real estate.
Murray borrowed the second-largest amount under the stock loan program, which was offered as an incentive to more than 150 Conseco employees or directors in the late 1990s.
Conseco alleged in 2003 that he owed $137.5 million, compared with Hilbert's debt of $218 million.
Murray and his attorneys—Henry Price and Ron Waicukauski—advanced a host of legal arguments for why he did not have to repay those loans. Even after many of those arguments failed in Hilbert's case—and most other borrowers settled—Murray and his counsel kept fighting.
At one point in the case, federal Judge Larry J. McKinney and his magistrate Jane Magnus-Stinson gave Murray a tongue-lashing for deliberately stalling Conseco's requests for his family financial documents.
The two sides settled for undisclosed terms in September 2009.
The litigation was clearly racking up a large bill for Murray. A 2003 letter included in Price Waicukauski's lawsuits indicate that Henry Price was charging $350 an hour, and Ron Waicukauski was charging $275 an hour. There were lower-level attorneys, as well as paralegals and clerks, working on the case, charging rates of $80 to $185 an hour.
In one month's statement in August 2009, Price Waicukauski billed Murray nearly $151,000. And that's the bill that never got paid in full, according to the lawsuit. Murray stopped even making payments on the bill at the first of this year.
Murray, 71, told IBJ the law firm's attorneys are "personally very nice people." However, he added, "I'll simply have to be exploring the accounting and the accountability later on in this matter."
Calls to Price Waicukauski were not returned. But in the lawsuit, their attorneys made the same breach-of-contract claim Conseco had made against Murray for six years.
Referring to their firm by its initials they wrote, "By failing to pay the amounts owed for services rendered by PWR, the Murrays … have breached their agreement with PWR."•
Please enable JavaScript to view this content.