Two years ago, Dan Dakich wasn't sure where his professional career was headed.

He had been interim coach of Indiana University's basketball team at the end of the 2008 season, but when Tom Crean was hired as IU's coach that April, Dakich had little beyond a one-year severance package and a coaching career that was bouncing aimlessly.

Today, the former IU basketball player and coach is one of the hottest sports broadcasters in the Midwest, and he's about to take his act national.

Earlier this year, Dakich signed a multiyear deal with ESPN to be a studio analyst and color commentator for Big Ten basketball games the cable network airs.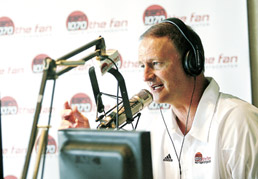 In less than two years on the air, IU basketball alum Dan Dakich has become one of the market's most popular talk show hosts. (IBJ Photo/ Perry Reichanadter)
Dakich, 48, seems as surprised as anyone by his fast-break broadcasting success. And in spite of his new ESPN contract, he says he has no intention of departing his job at WFNI-AM 1070, where he anchors a local sports talk radio show from noon to 3 p.m. Monday through Friday.

Broadcasting sources said ESPN pays Dakich a handsome six-figure annual sum, even more than he makes at his full-time job with WFNI. The jobs combined pay him what a top mid-major hoops coach would make.

Kent Sterling, who hired Dakich for WFNI while Sterling was program director for the Emmis Communications Corp.-owned station, thinks there's potential for Dakich's radio show to be syndicated—at least in the Midwest—and that could lead to more income.

Hoops ties tough to cut

Dakich has come a long way since the fall of 2008, when he took the job with WFNI as he weighed his future coaching options.

Dakich started as a fill-in host before he started full time in October. He became more committed to broadcasting then, but admitted he still eyed a return to coaching.

His basketball roots, dating back to his playing days at Andrean High School in Merrillville, run deep.

Dakich played under legendary IU Coach Bob Knight from 1981-1985, then was an IU assistant from 1985-1997. He later became head coach at Bowling Green State University, where he had an up-and-down career, before returning to Indiana in 2007 to serve as an assistant under Kelvin Sampson. Then Dakich took over temporarily after Sampson was fired for committing NCAA infractions.

Dakich now appears on a clear career path, and for the first time in 25 years, it doesn't include coaching basketball.

"Broadcasting is not only what I am doing, it's what I want to do. I really enjoy it," Dakich said. "I think this is my future. I never imagined the success I would have [in broadcasting] would happen so quickly."

About the only coaching Dakich plans to do is for his 16-year-old son's AAU team. But is that career door closed forever?

"One thing I've learned over the last three years, nothing is ever closed," said Dakich, who coaches more than 60 games annually on the AAU circuit.

For now, basketball's loss is broadcasting's gain.

"The way Dan frames arguments, and his unique perspective, makes him ideal to do sports-talk radio and broadcasting," said Sterling, who met Dakich during IU alumni functions more than two decades ago. "He thinks like an attorney in terms of arguments. He frames issues in a clear, coherent perspective."

Dakich detractors

The hiring of Dakich at WFNI, also known as The Fan, wasn't universally embraced.

"People were concerned that he didn't know enough about other sports outside of basketball, he was too much of an IU guy, and that he lacked any experience in broadcasting," said Sterling, who departed Emmis in January.

But with the backing of the late Tom Severino, who was Emmis' Indianapolis market manager at the time, Sterling took a shot on the guy who could win almost any argument over a glass of beer and bag of chips.



Quickly, Emmis realized it had something special with Dakich. At first, Emmis officials thought his growing following was mostly due to his ties to IU and Knight. But within six months, Sterling was fielding calls from producers of national sports radio and television shows inquiring about Dakich's services.

Ratings for Dakich's early-afternoon radio show were running equal to or outperforming drive-time shows in the same genre, both on WFNI and at the station's chief sports-talk rival, WNDE-AM 1260.

"Pretty quickly, his show got the attention of radio advertisers, especially those seeking a male audience," said Bill Perkins, a longtime local media buyer and president of Perkins Nichols Media.

Today, Dakich's show ranks No. 5 with men 25 to 54 during its time slot, despite going up against several popular nationally syndicated and local talk shows. His show draws about 8,500 listeners per average quarter hour, according to New York-based Arbitron Inc. Dakich's numbers largely outperform other sports talk shows in this market, including ESPN's "Mike & Mike in the Morning" and "The Ride with JMV," both of which air during drive time on WFNI, and Mark Patrick's afternoon drive-time show on WNDE.

During the same time slot, Dakich draws more than twice the number of listeners as the nationally syndicated Jim Rome show on WNDE.

In 2009, Dakich took a job doing color commentary and in-studio analysis for The Big Ten Network.

New boss impressed

By the time Charlie Morgan took over as Emmis' local market manager in October 2009, Dakich was well on his way.

"I was smart enough to get out of his way, and let him do his thing," said Morgan, a 25-year industry veteran. "He has a natural authenticity about him that's a real draw. He has opinions and reactions that he shares without filters."

Dakich was a telecommunications major at IU, but Morgan said, "It's safe to say he didn't get his job because of the degree he had."

"He came with a lot of raw talent that set him up to be successful," Morgan said. "But it would be unfair to say he hasn't worked hard."

Dakich's background as an athlete and coach gave him the ideal work ethic to quickly close the learning curve.

"As an athlete and coach, he knows how to prepare," Sterling said. "He puts a lot of time in so he is well-versed on all the topics of the day."

Dakich laughs when he thinks about his first weeks at WFNI.

"People said I over-prepared. I came in with pages and pages of notes and they were spread all over the place," he said. "I didn't know if I was coming or going. Now I just focus on the guests we're having on the show, and what we're going to be talking about. And I try to be myself."

Dakich said he still pours over numerous websites, newspapers and other sports publications after his wife and two kids go to bed and before they get up in the morning.

"I don't sleep a whole lot, maybe four or five hours a night, so it's no big deal," Dakich said.

There is still much to overcome, he said. He's still getting used to sitting in a room virtually alone and talking into a microphone.

"Sometimes there's this lonely feeling, like I'm having a conversation with no one," he said. And he hates the sound of his own voice.

Being himself, at times no-nonsense and at times the Hoosier jokester, is what makes him so popular, Sterling said. And there's something else.

"He's become a much better interviewer," Sterling said. "He's learned to get unique, insightful information out of sources, and that's not always easy. One thing with Dan, whether you have an 18-second hole to fill, or 42 seconds or two minutes, you know he's going to fill it with something unique and captivating."

A bounce from basketball

Perhaps Dakich's biggest claim to fame outside of his now-burgeoning broadcast career was his stellar defense against Michael Jordan in the 1984 East Regional Semifinal, a game IU won.

Always quick with self-deprecating humor, Dakich readily explains how he threw up in his hotel room after Knight informed him that he would be defending Jordan.

As an athlete, Dakich learned to take direction. Sterling said that was no different at Emmis, where he described Dakich as a "willing and eager learner."

"That flies in the face of the status quo in broadcasting," Sterling added.

Dakich sought out a number of broadcasting mentors, but said he leaned especially hard on longtime locals Mark Boyle, who made a name for himself calling Indiana Pacers games, and Don Fischer, longtime IU play-by-play announcer.

One piece of advice Dakich listened to: not taking on a partner because it could potentially dilute his show and brand. One warning he took a pass on: not taking too many, or any, listener calls.

"Sometimes, unfortunately, I have to cut the callers a little short," Dakich said. "But for the most part, I love talking to the people. That's why I do what I do."•