A Warsaw-based bank will join the growing ranks of financial institutions establishing a foothold in the lucrative Hamilton County market as it moves forward with opening a massive branch in southern Carmel next year.

Lake City Bank has filed zoning documents with the city of Carmel to build a 12,000-square-foot office at the bustling intersection of 96th and Meridian streets.

The goal is to break ground next spring and open the branch next fall. The project is expected to cost $4 million to $5 million.

The bank's leaders hope the prominent location in a growing area will aid in their effort to add services such as wealth management and retail banking to the commercial lending services they now provide in the Indianapolis area.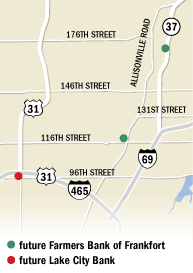 It's another twist on a strategy that banks have been deploying in recent years to locate in the affluent county north of Indianapolis. Twenty-one banks—from large outfits such as Milwaukee-based M&I to community institutions—have branches in Hamilton County. In the last three years, four new banks have joined the market, boosting the number of branches in the county to 116.

The draw, experts say, is obvious. The county is fast-growing, with a population that ballooned from 182,740 in 2000 to 279,287 as of the 2009 Census estimate. And people who live there have money to invest; the median household income was $85,234 in 2008, according to data from the most recent Census American Community Survey.

"The demographics are spectacular between household income and net worth," said John Reed, president of David A. Noyes & Co.'s investment banking group and a banking specialist. "It's a very fast-growing market, which means people are building things. It's prime turf for banks."

It's also logical terrain for northern Indiana banks such as Lake City, which has 43 branches across 13 northeastern counties including St. Joseph, Allen and Elkhart.

The bank, which focuses on lending to midsize commercial and industrial companies, dipped its toe in the Indianapolis market in 2006, when it set up a loan-production office in Carmel.

The 96th Street site will be the next major step in a plan to extend Lake City's reach into the Indianapolis market. David Findlay, the bank's president, said the approach here and in other cities has been to establish a major site and add a branch or two a year in the market.

The bank also has brought in two prominent Indianapolis executives—Centerfield Capital Partners co-founder Thomas Hiatt and Clarian Health CEO Dan Evans—to serve on its board.

Putting the first major site along a populated commercial corridor in Hamilton County makes sense, Findlay said.

"It will be convenient for retail and commercial customers and give us high visibility in the next important market to Lake City Bank," Findlay said. "The most important part of the process for us was visibility to make a statement as to our arrival."

Locating in high-traffic spots also is part of the plan for The Farmers Bank, based in Frankfort, which plans to open two branches in former Hamilton County Donatos Pizza locations in November. One will be at East 116th Street and Allisonville Road in Fishers, and the other will be off State Road 37 in Noblesville.

Farmers has had a north-side Indianapolis office since 1997. It also has a branch in Lebanon in Boone County and one in the northern Hamilton County town of Sheridan.

"Our retail niche is people who really want to have a relationship with their banker," President Karen I. Miller said. "We're excited about growing and feel like we have an oasis for people who are dealing with large banks and don't really like the service they're getting."

But being part of a trend also means Lake City and Farmers will face steep competition from other inhabitants of the crowded market. That has caused some banks to struggle and forced others to exit.

For example, Fort Wayne-based Tower Bank & Trust Co. in 2007 put off plans indefinitely to open a community bank in Carmel in part because competition had become so tough.

But Reed and others say there's still plenty of demand for services.

M&I, for instance, added two branches to its existing six in Hamilton County last year: one at the Hamilton Town Center in Noblesville and the other at East 116th Street and Brooks School Road in Fishers.

Ken Miller, M&I's senior vice president and regional retail manager for Indiana, said the bank also is exploring additional locations.

"In Hamilton County, there's still a lot of upside in terms of growth for all banks," Miller said. "Service still is the big differentiator—how we treat customers when they're on the phone or walk into that branch."•