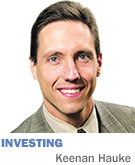 I love to work out. I know keeping fit is important to my family and my business, but I take it a little further. OK, maybe a lot further.
I swim a lot (sometimes as much as 12 miles a week), watch what I eat, and go to bed early on Friday nights so I can get up early Saturday and work out. Some people might call it an obsession, and you know what? I'm not alone.
Despite reports of how overweight and out of shape Americans are, there are thousands of us who are addicted to working out. We fill gyms all across the land. The major marathons such as New York and Chicago have more than 35,000 people running. You can travel to the most remote places on earth and find people going out for a jog. Thirty years ago, you could never imagine that anyone would want to swim 2.4 miles, bike 112 and run 26.1, all in one day. Today, triathlons are one of the fastest-growing sports around. My sister just completed the Lake Placid Iron Man, and she's actually alive to tell us about it.
In addition to being good for our health, this exercise craze is big business. Nike started from a few people running track for the University of Oregon. Now, it is a multibillion-dollar operation. Apparel sales are through the roof and you would choke if you knew how much some of my friends are willing to pay for the latest, fastest swim suit. USA Triathlon, which is the official governing body of the sport, boasts almost 150,000 members. That doesn't even come close to the number of people who actually participate in at least one triathlon a year. You think those people are buying a few bottles of Gatorade?
There are a lot of ways to cash in on the alternative sporting lifestyle. Get clearance from your local town and host an event. These things seem to sell out almost instantly, especially if you combine them with a major charitable cause. You can come up with a new twist on the tried and true. Add a mud crawl and a gross eating component. I think you will see a lot more of these events in the next few years.
The stock market also offers a lot of opportunities. Nike is obviously the largest, but it's not the only game around. My wife belongs to a gym called Lifetime Fitness. Picture Costco, but for fitness. They have about 90 centers around the country doing about $1 billion a year in annual revenue. The places offer everything from hardcore weights to rock climbing. If Lifetime can't satisfy your workout Jones, you really do have a problem.
I realize that an outsider might view America as a conflict in culture. How can we be so sports crazy and at the same time a nation of fatties? Maybe it has something to do with what you find after stripping away the confusion. Our culture, at its core, is either balls out or lights out! We take things to the extreme, and that applies just as powerfully to the person who is addicted to fitness as to someone who avoids a workout at all costs. There are a lot of individuals who spend tons of money on their hobby, but as a country we are spending unheard of amounts of cash on health care for people who suffer from diseases that might not be as severe if they worked out a little earlier in life. It's interesting.
The stock market has traditionally gone up after midterm elections and the current case will probably move up as well. It looks like there is some front-running going on, however, as the markets have risen quite a bit over the last few weeks. Things seem a little overdone in the short term, but I would stick to the same message I have been repeating the last five months: The general trend of the market remains up, and I would add to positions on any bouts of weakness.•
__________
Hauke is the CEO of Samex Capital Advisors, a locally based money manager. His column appears every other week. Views expressed here are the writer's. Hauke can be reached at 203-3365 or at keenan@samexcapital.com.
Please enable JavaScript to view this content.