It doesn't open until Feb. 4, but downtown's JW Marriott hotel has already booked 100,000 room nights for 2011—more than any other local hotel—an achievement drawing both praise and concern from others in the hospitality industry.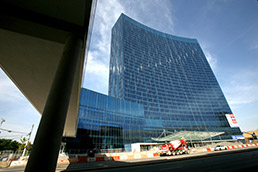 The JW Marriott on the west edge of downtown has already booked nearly one-third of its 2011 inventory.(IBJ Photo/ Perry Reichanadter)
The JW is 5 to 10 percentage points ahead of most existing central Indiana hotels in terms of rooms filled for 2011, according to local hotel experts.

Indianapolis Convention & Visitors Association spokesman Chris Gahl called JW Marriott's pre-opening room bookings "unheard of."

"Booking 100,000 room nights for 2011 this early would be good for any hotel in any city in this economy," Gahl said. "For a new hotel, that's a very sizable chunk of rooms. We think this is great news for the city as a whole."

A hotel's annual room nights available equals its number of rooms multiplied by the number of nights in a year.
"Considering we're still very much in a down economy and the JW only has 11 months on its 2011 calendar, I'd say those numbers are an extremely good sign," said Mark Eble, a hotel consultant and Midwest regional vice president for San Francisco-based PKF Consulting Corp.

The 1,005-room JW Marriott is the centerpiece of the $450 million Marriott Place, a collection of four Marriott hotels at Washington and West streets that will total 1,626 rooms when the JW opens.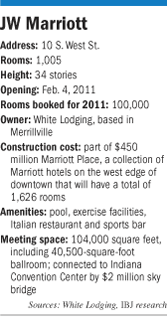 The Marriott complex increases the number of downtown hotel rooms 30 percent. Such a large influx of rooms could depress occupancy at competing hotels, at least in the short run. And the JW's fast start might ratchet up competitors' fears.

"With that much more inventory coming online at one time, of course hotel operators have some concerns," said Glenn Brooks, vice president of General Hotels Corp., which operates 13 hotels from Terre Haute to Indianapolis, including the Crowne Plaza hotels at the airport and downtown.

"We need the conventions to back that up, and we won't see that in 2011. But the ICVA is working darned hard and we have high hopes for 2012 and 2013."

Ready for recovery

Hoteliers are crossing their fingers the ICVA's work will pay off.

Indianapolis-area hotels have seen a double-digit occupancy decline since 2007, according to Tennessee-based Smith Travel Research. In the last year alone, hotel occupancy declined 9 percent nationwide, and Smith Travel Research is projecting only a 3-percent to 4-percent rebound in 2010 and 2011.

Central Indiana has seen its hotel occupancy decline from 58 percent in 2008 to 53 percent last year, according to Smith Travel Research. Downtown hotels have fared better, but are still down from 70 percent to 66.6 percent.

The local market is faring about the same as other Midwestern markets, according to Smith Travel Research. St. Louis this year has hotel occupancy of 55 percent and Cincinnati is at 52 percent.

"There's real concern that the first year or two the JW is open will be a bit softer for existing hotels," Eble said. "The harsh economic climate magnifies those worries. Corporate travel budgets are still down and convention business is still down."

ICVA officials are promising the addition of the 34-story hotel and the rest of the Marriott Place complex—along with a big jump in convention space—will increase business for area hotels in the long run.

The Indiana Convention Center's $275 million, 420,000-square-foot expansion, which opens in January, puts Indianapolis in competition with much larger convention cities for bigger conventions. Including Lucas Oil Stadium, the city will have 747,000 square feet of exhibit space, almost double the 400,000 square feet it had with the Convention Center and RCA Dome.

"The Marriott hotel complex is key to helping us attract larger conventions," Gahl said. "I think hoteliers here understand that."

2012 and beyond

The hotel market should see improvement in 2012, when Lucas Oil Stadium hosts the Super Bowl. Before that, the outlook isn't so bright.

The total number of Indianapolis hotel room nights booked is expected to grow from 488,993 in 2010 to 536,321 in 2011. But the improved 2011 numbers would still be down from 543,388 in 2009—before the Convention Center expansion work slowed visitor traffic.

With the Super Bowl in 2012, the numbers will jump considerably. The number of hotel room nights booked that year is already at 638,820. ICVA officials expect to book almost the same amount in 2013, even without the Super Bowl.

By then, the city will start to realize the advantages of more hotel and convention space—and recover from the short-term pain caused by construction.

Plans for the Convention Center expansion weren't finalized until 2008, so that was the ICVA's first opportunity to sell it.

"2013 is the first year that we'll really show the impact the Indiana Convention Center and JW Marriott has had on this city in terms of hotel room bookings," Gahl said.

Any sizable convention will book at least three or four years in advance, Gahl said, and the biggest conventions book as many as eight years in advance.

"While the Super Bowl should help, we think we're going to see a much bigger spike in hotel business in 2013 and 2014," said General Hotel's Brooks. "That's when we think convention and event business will really take off."

Quick off the blocks

Cory Chambers, JW Marriott director of sales and marketing, credits strong convention and meeting business for the hotel's fast start.

The JW gets a big boost during its first month, with two large conventions scheduled that will attract more than 40,000 attendees to Indianapolis, some of which will use the new hotel.

"Our first large group event is scheduled to visit when we open, and we look forward to welcoming them as our first guests," Chambers said.

Greg Tinsley, general manager for the Conrad Indianapolis, said hotel developments should be embraced rather than feared.

"If there is a necessity for additional hotel rooms, that means [ICVA officials] were successful in acquiring additional business to the city," Tinsley said. "Everyone benefits from it."

Indianapolis' convention and tourism officials, Eble said, have a history of growing occupancy across all hotels when a new hotel opens.

Eble pointed out that when the 573-room Westin on Capitol Avenue opened in 1989, it represented a 22-percent growth in available downtown hotel rooms. In the short term, it depressed occupancy, but longer term, it helped.

"In 1989, we saw an 18 percent jump in rooms sold, which meant total occupancy went down a bit," Eble said. "But by 1990 and 1991, occupancy rates were at or above where they were before."

The ICVA is in the midst of a marketing full-court press to repeat that success. To bring in new business, the ICVA is touting the city's new airport terminal, Lucas Oil Stadium, the Convention Center expansion, new hotels and the sky walks that connect many of the venues.

ICVA CEO Don Welsh is so convinced the city's convention strategy will work and grow business for area hotels, he's already talking about the need for another 1,000-room hotel downtown in the next five years.

That talk makes current hoteliers a bit nervous.

"Let's catch ourselves up with what we've got, and at some point down the road, let's talk," Brooks said. "I have confidence in what the ICVA is doing, but they have their work cut out for them with more immediate goals."•