Near-east-side residents were mad. They were tired of the skyrocketing foreclosure rates in their pocket of town and frustrated by feelings of being ignored by city leaders. They wanted to take their neighborhood back.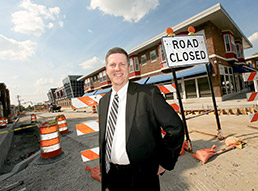 Community leader James Taylor standing along 10th Street, where much of the transformation is taking place. (IBJ Photo/ Perry Reichanadter)
That was in 2004.
Six years later, residents and community leaders in the area just east of downtown have raised more than $100 million to improve the neighborhood. The deployment of so many resources to one area is almost unprecedented in Indianapolis; only the $97 million Fall Creek Place neighborhood revitalization compares.
And the near-east side is nearing an important benchmark. It has raised all but $1 million of the $11.2 million needed for a community center that will provide programming for area residents. The center will include an NFL-sponsored Youth Education Town, one of 13 facilities geared toward youth outreach in Super Bowl host cities across the country.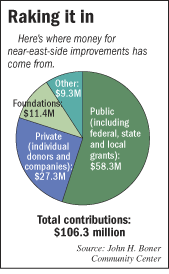 It is, in many ways, the marquee component of a broader effort to improve the 40,000-person tract through road projects, sewer improvements, housing rehab and improved community venues.
Involvement from the Super Bowl organizers and NFL sponsors has played a role in propelling the neighborhood from one extreme to the other. But the community's success has been driven by more basic ingredients: creating a strategy and bringing together neighborhood residents and community movers and shakers to execute it.
What's happened as a result, many hope, will provide a model for other Indianapolis neighborhoods—and cities across the United States—to achieve similar things.
"I feel better about the future of our neighborhood now than I ever have," said Ruth Shaw, a 36-year resident and a longtime neighborhood leader. "Finally, people know we exist. They're listening to us and are doing it our way."
Progress after adversity
The neighborhood discontent that surged to the surface in 2004 had been brewing for years.
It was triggered in part by the implosion of Eastside Community Investments, a not-for-profit developer in the area that overextended itself.
When it failed in the mid-1990s, the group left behind neglected and abandoned rental properties.
"There was a lot of neighborhood frustration built up," said Bill Taft, executive director of the Local Initiatives Support Corp., which provides resources to not-for-profit developers across the city and has been instrumental in the revitalization effort. "It took a while for people to pick up the pieces from that."
As residents struggled to do so, foreclosure rates in the area were rising, as were crime rates and instances of mortgage fraud. Some neighborhood groups, such as the East 10th Street Civic Association, had been working to improve the neighborhood in other ways, but the housing issues seemed too overwhelming to tackle at the time.
As conditions worsened, residents lost patience. James Taylor, CEO of the John H. Boner Community Center, which has been at the center of the revitalization efforts, recalled a town hall meeting in 2004 attended by city officials.
In no uncertain terms, residents let the leaders know how they felt: The neighborhood had been passed over.
That meeting planted the seed for the formation of a resident-driven group called the Near Eastside Collaborative Task Force. Today, the group remains instrumental in the changes taking place.
Its members began to mobilize. They worked with city leaders to establish a tax-increment financing district, in which property tax revenue from development could be channeled toward improvement projects.
Then in 2006, the neighborhood was one of six selected for an initiative facilitated by Taft's group to get residents to formulate "quality-of-life plans" for revitalizing their hard-hit parts of town.
About 400 residents turned out to a meeting one Saturday morning in June 2007 at Arsenal Technical High School. They spent five hours talking about areas of concern in the neighborhood and formed committees to tackle them.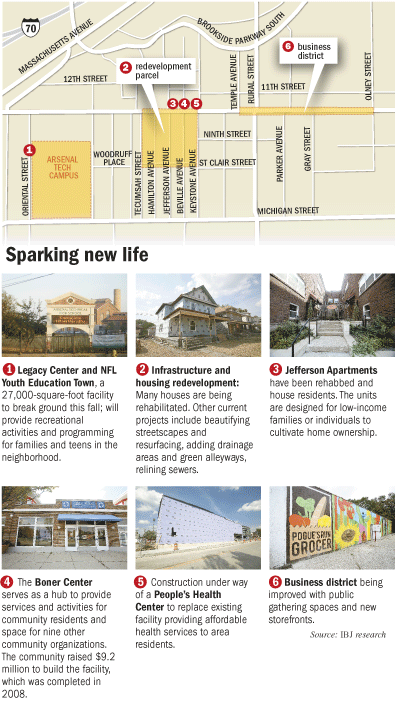 Shaw said there was lingering skepticism among neighbors that the meeting would be a hollow effort. But residents were hungry for change.
"We'd heard all the complaints," Shaw said. "That day, we didn't want to hear the complaints. We wanted to talk about solutions."
Over the next six months, the committees met every two weeks to put together an ambitious strategy that included 150 objectives.
As residents formulated their plan, the neighborhood began scouring for money to fund it. Goals included basics such as improving sewers and renovating buildings. Also on the wish list were a neighborhood welcome center and housing developments.
Early help came from not-for-profit groups such as LISC, which gave tens of thousands of dollars in grants, and architecture students at Ball State University, who came up with plans to redevelop the neighborhood's housing and business corridor.
Eventually, the community began scoring bigger contributions: $10 million in local dollars from the tax-increment financing district, $3.3 million through a partnership with JPMorgan Chase, $2.4 million from United Way of Central Indiana.
Tina Walters, vice president of the JPMorgan Chase Foundation in Indiana, said her group was impressed by the neighborhood's aggressive planning and leadership.
"Not only was that on the ground at the resident level. They had other stakeholders such as city leaders and the strong nonprofit leaders [involved]," Walters said. "All of those components are really key to moving a plan that they had forward."
Several groups were doing their own part to chip away at the effort, Taylor said, but they all had the same plan in front of them.
"It all starts with having citizens come together with a consensus on vision and a plan," Taylor said. "Too many initiatives have skipped that step."
By mid-2008, the neighborhood had about $45 million in hand or in the pipeline. Then the Super Bowl stepped in.
Super Bowl boost
In early 2008, Super Bowl Host Committee Chairman Mark Miles was looking for a community project that could accompany the Super Bowl—a world-class sculpture, maybe, or an art center. Then Taft approached him about helping the neighborhood complete its quality-of-life plan.
After Miles learned more, he was sold. He talked to Taylor and others in the neighborhood a couple of weeks before the city presented its bid for the 2012 game in May 2008.
"Our philosophy about it has been, we're trying to harness the excitement of the Super Bowl to encourage the broader Indianapolis community to access resources and talent, so the neighborhood can get further faster in their plan," Miles said.
That's just what has happened. The monetary contributions of the Super Bowl have been small compared with the overall fundraising effort. The host committee kicked in $782,000 to pay salaries for three staff members to execute the neighborhood-revitalization effort. The NFL has contributed $1 million for the Youth Education Town in the Legacy Center, a 27,000-square-foot facility on Tech's campus that will host groups such as the Indianapolis Symphony Orchestra and provide activities for area residents.
But the bigger impact is less tangible. The Super Bowl has brought name recognition, Taylor said, that has made the neighborhood more competitive for certain federal grants, such as the $9 million received earlier this year to make homes more energy-efficient.
The host committee's involvement has brought together some of the city's powerful elite, who have used connections to grease the wheels and secure sponsorships from M&I Bank, State Farm Insurance and other companies.
"You can't put a price on those relationships," said Anne Marie Hanlon, a 30-year neighborhood resident who leads the collaborative task force. "Any other time, we would struggle months and months to try to get the right people to talk to us and understand what we were and [were] talking about. Now they're coming to us and saying, 'How can we help?'"
Leaders are hoping the strategy will play out in other struggling communities across the city, and even the nation. Neighborhood advocates as close by as Martindale-Brightwood and as far away as San Diego are taking notice. One of the staffers working on the local project spoke at a neighborhood-leader conference in the California city about how Indianapolis pulled it off.
"People at the end of the day will say, 'We could have done this without the Super Bowl,'" Taft said. "You create partnerships and expectations that this kind of thing will happen over and over again. There's no reason why it can't."•
Please enable JavaScript to view this content.