Work is under way on the $12.5 million transformation of a three-block stretch of Georgia Street downtown into a pedestrian-friendly corridor.
Crews have started burying utilities, a task that must be complete by December, said Larry Jones, deputy director of transportation for the city's Department of Public Works. This week, the city also posted its notice seeking bids for construction work expected to begin in January.
The goal is to wrap up the project, which will make the street more pedestrian- and event-friendly, by next fall.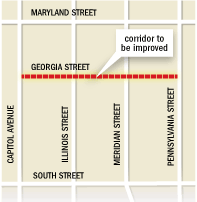 The revamped stretch between the expanded Indiana Convention Center, near Capitol and Georgia streets, and Conseco Fieldhouse, near Georgia and Pennsylvania streets, will still accommodate cars but will be designed such that it can easily be converted to an outdoor event space.
The bulk of the project will be covered by federal transportation grants, but the city must come up with $3.5 million of the total cost.
Michael Huber, the city's deputy mayor for economic development, said the city's contribution could come from the $35 million the city would get upfront from a proposed 50-year lease of its parking meters. But if that deal does not get City-County Council approval, Huber said, other money could cover the cost.
Another potential source of funds is the first chunk of the roughly $450 million the city will receive from the sale of its water and sewer utilities to Citizens Energy. That deal is awaiting approval from state regulators.
Please enable JavaScript to view this content.