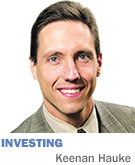 I've written a lot of columns over the last nine years and I would excuse even the most loyal readers for not having read every word, except my mother, of course. I make diligent attempts to bring you useful stock market information, but a lot of it is shorter term in nature.
Today, however, I need you to sit up and pay attention. I am going to put something out there that has the potential to change your life for the next few years, possibly for the next decade.
It is part of the historical record that the analytical tools I rely on accurately predicted the major stock market tops in 2000 and in 2007. I used that information to sidestep the horrific losses most investors experienced in addition to something equally important. I spent the bear market periods positioning myself for the next bull market. These strategies have been largely responsible for helping me grow my business during a 10-year period that the media has dubbed "The Lost Decade."
These 10 years of market no-growth have taken a serious toll on the average Americans and the way they view the world. Including reinvested dividends, the Dow Jones industrial average is down about 1 percent per year since early 2000. Unemployment is at its highest level since the Great Depression. Global governments are strapped with unprecedented amounts of debt.
Surveys were released late last month that capture the amount of doom and gloom most people seem to be feeling. The monthly consumer confidence index fell to 48.5, down from 53.2. During a good, old-fashioned American economy, the index stays at 90 or above! That's gloom.
A survey of CEOs of large corporations also shows major pessimistic levels. CEOs are usually optimistic about the future of their operations, and the positive thinkers are still in the majority, but barely. About 65 percent of them believe better times are coming. That number usually hangs around 85 percent. That's doom.
Whether it is formal surveys or casual conversations, I get the sense that most people are walking around with their glasses half empty. There is uncertainty about our future, and this is strongly demonstrating itself in the investing world.
I talk to business owners all over America and they all sound like Eeyore. If there is one thing experts, economists, business owners and workers can agree on, it's this—we are heading into a double-dip recession.
OK, so here comes the bomb: All this doom and gloom—it's too much. The negativity and bearishness are way overdone.
The low consumer confidence, the grumpy CEOs. It's enough to make you want to cry. We can't change the past, so we might as well learn from it, though, right? Powerful bull markets are the result of powerful bear markets.
The bear market in the 1970s that capped the Dow at 1,000 eventually gave way to an equity bull market that tore the roof off of even the most positive expectations. While I doubt the Dow has a 20-year run in front of it now like it did in 1980 (that would mean the index will hit 100,000 by 2030), I strongly believe we are on the verge of something extraordinary.
I think the Dow will eclipse the 2007 high and reach 20,000 by 2020. The 10 years we've lost is the exact fuel we need to blast off again. I think the worst is behind us and we may not see conditions as bad as late 2009 again for years, possibly even much longer.
The days when you want to hide in your bunker are over. Shed the lost decade like an old snakeskin. I see 20,000 by 2020. Can you dig it?•
__________
Hauke is the CEO of Samex Capital Advisors, a locally based money manager. His column appears every other week. Views expressed here are the writer's. Hauke can be reached at 203-3365 or at keenan@samexcapital.com.
Please enable JavaScript to view this content.