Like everything else in the recession, downtown Indianapolis has taken a hit.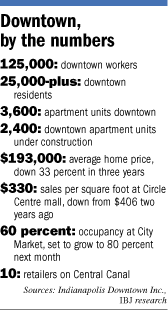 Sales at Circle Centre mall tumbled nearly 20 percent in the last two years, sales prices on downtown homes swooned 33 percent, a wave of vendor departures at City Market drove occupancy below 50 percent.
Those numbers point up why city leaders have long wanted to stabilize downtown's economy with a larger population of residents.
It's never been easy, but the past decade has seen important strides: roughly 5,000 more residents live downtown now than in 2000, wooed by new condos and apartments within walking distance of growing retail and cultural attractions. There are now 25,000 downtown residents—but still a long way from the 40,000 city leaders want by the end of the next decade.
"Overlying all those things [we tried to do downtown] was to build a residential community in downtown Indianapolis," said Steve Goldsmith, who was mayor of Indianapolis in the 1990s and now is a deputy mayor in New York City.

Indianapolis leaders continue to try to improve downtown, with projects like the Cultural Trail, a walking and biking path linking many of downtown's amenities. The trail sparked the national network of urban leaders, CEOs for Cities, to choose Indianapolis to host a conference this month on urban "livability," which the group defines as daily access to "art, nature and beauty."
But simple access won't be enough to double the pace of downtown residential growth in the next decade. City leaders past and present say that, for Indianapolis to have any shot at reaching its goal—and to give a sustaining base of patrons to downtown's institutions—the city must continue to add new attractions, remove barriers and perhaps even reach out to a huge group of people who have largely shunned downtown living: families with children.
Brainstorming sessions
CEOs for Cities will bring six national urban experts to work over 2-1/2 days with a core group of six local leaders to develop ideas and strategies for enhancing Indianapolis' livability even more. The session is designed to generate ideas that could also help other U.S. cities increase livability, and results from the Indianapolis meeting will be distributed through a book and website.
"It's really about creating the agenda and charting the path for how we take access to our art, beauty and nature to the next level," said Brian Payne, president of the Central Indiana Community Foundation and creator of the Cultural Trail. He and Tamara Zahn, president of Indianapolis Downtown Inc., are among the local leaders participating in the event.
Access to beauty, art and nature is seen as key to attracting college-educated professionals that economic development officials believe are the driving force of business growth in the information age. A study commissioned by CEOs for Cities two years ago concluded that raising the college-educated population in U.S. cities just 1 percentage point would raise average incomes $763 per person.
The ideas for improving Indianapolis' livability extend well beyond downtown. Among them are a makeover of Monument Circle, beautification of the international food retail area along West 38th Street, connecting the Cultural Trail to existing trails in Indianapolis, requesting that commercial developers include public art in their projects, commissioning public art for residential neighborhoods, increasing street-food vendors downtown, and making the Central Canal and White River State Park year-round destinations.
The national figures who will offer their thoughts include Adrian Benepe, commissioner of parks and recreation in New York City; Will Rogers, president of the Trust for Public Land in San Francisco; and Don Carter, a professor of urban planning at Carnegie Mellon University in Pittsburgh.
In addition, more than 100 local "influentials" will attend a cocktail party at the Indiana Repertory Theatre to add their input.
Constantly increasing downtown's attractiveness is imperative, said Bill Hudnut, a former four-term mayor of Indianapolis who consults with city leaders around the country.
"The way to increase demand [for downtown living] is to increase amenities and the attractiveness of downtown," Hudnut said, adding, "I don't know whether we're going to reach 40,000 in the next 10 years, but as they say, a man's reach should exceed his grasp. It's good to have ambitious goals."
Overcoming obstacles
But simply having amenities is not enough, if you ask Joanna Taft, who has lived for 18 years in the Herron Morton neighborhood just north of downtown proper.
That's because huge barriers—both real and perceived—make the suburbs the place of choice for most families. Those barriers include fears of crime and lack of school options for kids.
Taft, director of the Harrison Center for the Arts, has already tried to address the education problem by launching Herron High School, a charter school, in 2006. The school has since been recognized as one of the best in the state at improving student test scores.
Other charter schools, as well as some of the best K-8 schools in the Indianapolis Public Schools system, are in or near downtown.
But Taft thinks people won't move downtown (or neighborhoods on the edge of downtown) until they have a place to go to learn about it—and to meet people who are already living downtown. That's why in March she's launching an urban living center, which will have a café-like front door at 15th and Delaware streets.
The center will serve coffee and have information about downtown housing options. Taft also plans to launch an online "matchmaking" tool to help interested residents find the neighborhoods that fit them best. She also hopes to host and help support grass-roots events that would connect people interested in downtown living with current residents.
"We need density; we need people," Taft said. "The more people that move in to our neighborhoods and fill vacant properties, those are all opportunities for buyers and patrons and customers for our downtown businesses."
Others have Taft's same focus on attracting more families with kids, or at least attracting couples without kids and keeping them downtown once they start having families.
One strategy for doing that, noted Payne, would be to add playgrounds on some green spaces downtown. He expects the "kid-friendly" strategy to come up at the CEOs for Cities meeting, although it will face on uphill battle: Nearly every city that has successfully repopulated its downtown has done so by attracting young professionals and empty-nesters—not families with kids.
Attracting retailers
One further problem for attracting more residents downtown is the chicken-and-egg problem of retail. Retail follows rooftops, but potential downtown residents want retail that meets the common needs of life.
"Downtown needs a more diverse shopping experience, so one doesn't have to get into the car for so many things, especially everyday things like you'd get at a Wal-Mart or Target," noted George Tikijian, principal of the apartment brokerage Tikijian Associates.
Indianapolis Mayor Greg Ballard is hoping retailers flock to the $150 million North of South development planned between Eli Lilly and Co. and Anthem Blue Cross and Blue Shield office campuses. The city is providing an $86 million taxpayer-backed loan for the mixed-use project, which is slated to have 40,000 square feet of restaurant and retail space.
But some existing downtown retail establishments are struggling. City Market is trying to be a daily food source for downtown residents by bringing in five new vendors next month, including one produce stand, and many others selling Indiana-grown food items.
Market leaders want it to be a destination on evenings and weekends—not just for weekday lunches. But to keep those food vendors viable, City Market needs the 40,000 residents city leaders are hoping for, said architect Wayne Schmidt, president of the board of City Market.
"Where's the tipping point? I think it's at least 40," Schmidt said. "What we're trying to do is create that urban experience. And the urban experience takes a lot more people."•
Please enable JavaScript to view this content.