Banking veteran Gary Hentschel is a pretty competitive fellow.

As president of Cleveland-based KeyBank's central Indiana district, he goes toe-to-toe with several larger rivals and a number of smaller ones, too.

But rather than blow off a little steam on the golf course, like a lot of executives, the 52-year-old often competes in what are known as sprint triathlons. The grueling races of endurance typically consist of a 500-meter swim, a 10- to 20-mile bike ride and a 5K run.

He's achieved his goal of finishing in one hour, 20 minutes, and now has his sights set on the one-hour, 15-minute mark.

Simultaneously, he's striving to elevate KeyBank's presence in central Indiana by adding more branches. The bank, which has 42 outlets, has added eight locations in the past 18 months, including one that opened Sept. 27 at East 10th Street and Euclid Avenue.

A Brownsburg branch is set to open Oct. 18. Another at East 86th Street and Westfield Boulevard in Nora should open in February, followed by one at Rockville Road and Lynhurst Avenue in March. Plans call for three more to open in 2011.

KeyBank is the eighth-largest bank in the Indianapolis area based on number of employees (292), according to the most recent IBJ statistics.

"What we see here is a very good growth opportunity," Hentschel said. "We have a good market share, [but] not great."

The ultimate goal is to double the bank's deposit share of about 5 percent. Adding branches is one way to accomplish the objective; the other is to take business from competitors.

As of June 30, 2009, the most recent statistics available from the Federal Deposit Insurance Corp., KeyBank had $1.3 billion in deposits, compared with $1 billion during the same month in 2007, before Hentschel's arrival as president of KeyBank's Central Indiana District.

The figure likely will continue to grow as the bank adds branches. Still, Mike Renninger, a Carmel-based banking consultant, acknowledged KeyBank's challenge in building its central Indiana presence.

"There's already heavy competition here," he said, "but there are pockets of growth."

Among the larger banks with more branches are New York-based Chase, Pittsburgh-based PNC Bank, Cincinnati-based Fifth Third Bank, Evansville-based Old National Bank, and Columbus, Ohio-based Huntington National Bank.

Though KeyBank also is an out-of-state bank, Hentschel takes pride in promoting its community-bank atmosphere, citing KeyBank as the only bank in 2009 to make BusinessWeek's top-25 "Customer Service Champs" list.

Hentschel grew up in West Lafayette, the son of a longtime treasurer of the Purdue Research Foundation. He earned a business degree, with majors in economics and marketing, from Miami University in Oxford, Ohio, in 1980, then an MBA from Butler University in 1987.

With banking in his bloodlines, he landed in the Commercial Banking Division at the former Indiana National Bank, or INB.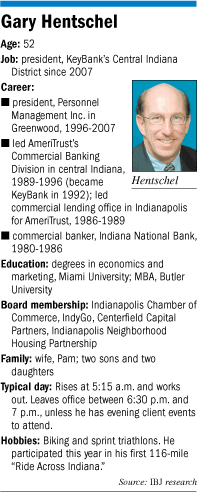 There, he worked with Morris Maurer, now president and CEO of the National Bank of Indianapolis. He and Michael S. Maurer, who co-owns IBJ Media, founded the bank.

"Gary is a good, sound banker and a credit to the industry," Morris Maurer said. "For me, that's high praise, because I don't have that many buddies in the banking business."

Hentschel remained at INB until 1986, when state banking laws deregulated Indiana's banking industry and allowed out-of-state competitors to operate in the Hoosier state.

The former AmeriTrust in Cleveland recruited him to open its commercial loan production office in Indianapolis. AmeriTrust was acquired in 1989 by the former Society Bank, which merged with KeyBank in 1992.

In the meantime, Hentschel had been tagged in 1989 to lead AmeriTrust's commercial banking division in central Indiana. His seven-year run ended in 1996 upon his accepting an offer from client Personnel Management Inc. in Greenwood to become president and chief operating officer of the publicly traded staffing agency.

The company sold in 1998 to a private equity firm in Cleveland, which retained Hentschel until it unloaded the firm in 2007.

Coincidentally, KeyBank's former president, Scott Brown, had left upon his purchase of a small distribution company, which created an opportunity for Hentschel to return to the bank. He took the helm in November 2007.

"It says a lot about KeyBank that they wanted to take a different direction with someone not [currently] in banking," Hentschel said.

His return to the banking sector coincided with the worsening economic conditions and tightening of credit.

"Obviously, my timing was perfect," he quipped.

But Hentschel said KeyBank has continued to lend, maintaining that soft demand for commercial loans is as much to blame for the fickle lending environment as any bank's unwillingness to loan money.

Hentschel declined to provide specifics, but said lending activity is increasing in the second half of the year.

In any event, Hentschel said, banks are beginning to see signs of an economic rebound, particularly within small-business loan volume.

Much of Hentschel's days are spent meeting with clients and employees at the bank's branches. Two to three nights a week might be devoted to invites he receives to some type of client event.

He typically rises at 5:15 a.m. for an early-morning workout and, when he has no evening commitments, leaves the office between 6:30 p.m. and 7 p.m.

His return to KeyBank has been enjoyable, he said, particularly because of the bank's effort to grow.

"I always try to hire people that are smarter than I am, and that's not hard to do," he said. "It's certainly not about me. It's an incredible team here."•