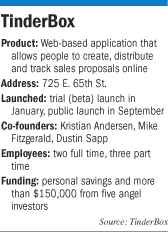 It started with a mutual dilemma.
Local entrepreneurs Kristian Andersen, Mike Fitzgerald and Dustin Sapp all had been frustrated by the process of sending sales proposals.
They typically spent a few hours writing the pitches, starting off each time with a daunting blank screen. They would e-mail the documents to prospective clients. And, despite follow-up calls and e-mails, they often would wait weeks before finding out if the recipients even had read their plans.
Together, they came up with a solution: a Web-based application that ups the technological sophistication of the proposal-sending process. Backed with more than $150,000 from angel investors, the trio started a website, TinderBox, in January and quietly began attracting users. They launched the product publicly late last month.
The site allows users to create and save sales proposals online, adding features such as logos and video. Recipients access the proposals online by logging in with a password. They can submit questions and feedback about the proposals and accept or reject them on the site.
Those sending the proposals then can track who is viewing the documents, which parts they're examining and for how long.
"We were looking at what kind of problem we could solve," Andersen said. "This was something that kept coming up over and over again. The process by which we deliver proposals has remained unchanged since the stone and chisel."
In its short existence, the website has drawn more than 200 users testing the free subscription, which allows them to create three proposals. About 25 paying customers have signed up with plans ranging from a few hundred to a few thousand dollars per month, depending on factors such as volume and enhancing features.
Mike Bloxham, insight and research director at Ball State University's Center for Media Design, said e-mail has remained standard for sending sales proposals, but a product such as TinderBox could change that.
"More and more business services are moving out onto the cloud," Bloxham said, referring to information accessible from anywhere online as opposed to viewable from a specific device.
From the start, the founders of TinderBox focused on making the site well-designed and customer-friendly—priorities they attribute to their own backgrounds.
Sapp, 31, is a computer engineer who helped start his first company, a Web application provider for the medical-device industry, while in college. Andersen, 36, owns his own management and design consultancy. And Fitzgerald, 40, has entrepreneurial experience from companies as large as Roche Diagnostics to a half-dozen smaller startups.
After the founders got TinderBox up and running, they began tapping the local startup community to try it.
The official debut came last month at Chicago's MidVentures Launch, the Midwest's largest startup conference. TinderBox was among 75 companies chosen from 200 to appear at the conference and landed in a more select group of 14 to present.
"What they've done for proposals is what Freshbooks has done for billing," MidVentures President Brian Mayer said, referring to the online timekeeping and billing service. "It's using a turnkey solution to save time."
While the appeal of TinderBox for selling appears obvious, it's not as clear whether recipients of sales proposals will embrace senders' tracking their viewership.
So far, though, that hasn't appeared to be a problem. The owners said they've received interest in the product from companies that have received TinderBox proposals, each of which has a line at the bottom that says, "Powered by TinderBox."
Bloxham of Ball State says that bodes well for the company's future.
"The big question to answer is, 'Could I see myself using it?'" he said. "If enough people say yes, you've got yourself a good product."•
Please enable JavaScript to view this content.