Lakeside living evokes images of cozy log cabins, plaid blankets and rustic furnishings. Throw in some antlers over the fireplace and the image is complete.

For Paul and Julie Sundstrom, however, their version of picture-perfect life by the lake meant something a little different.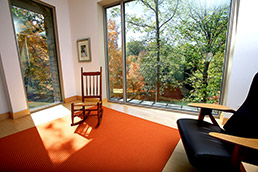 The Sundstrom home is filled with large windows to let in an abundance of natural light and let dwellers view the surrounding scenery. (IBJ Photo/ Perry Reichanadter)
Three years ago, they completed renovations on their slice of waterfront heaven—a 4,000-square-foot European contemporary home on Lamb Lake in Johnson County—and left their long-time home on Indianapolis' far northeast side.

Sparse interiors, vast windows and thoughtfully placed artwork define the look and feel of the Sundstrom home. Their minimalist approach gives top billing to the view and natural surroundings that originally persuaded the couple to relocate.

"We wanted to bring the outside in," said Paul Sundstrom, owner of Indianapolis-based Oak Tree Homes. "The house is one

thing, but the lake is the most natural looking man-made lake in Indiana, bar none."

For the Sundstroms, their dream home is not their forever home. The couple, whose two children are grown, have decided to list the house for sale for about $800,000 and start the next chapter of their lives. That will most likely mean two new homes—one in Indianapolis and one in Hilton Head, S.C., where their daughter lives.

Something different

Both Indiana natives, Paul and Julie met at Purdue University. As their kids grew up, they lived in one home on Allisonville Road, adding on over the years to suit their needs.
That "ultra-traditional" house, said Paul, was a kit home purchased at Sears & Roebuck Co. by the original owners in 1932. For their home on Lamb Lake, the Sundstroms went a completely different direction—sleek yet comfortable, modern yet warm.

That push to try something different came from local architect Jim McQuiston, owner of JWMcQuiston Architecture+Interior Design, who has worked with Sundstrom on several Oak Tree-built homes in the past.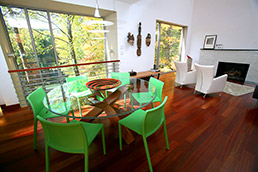 Paul and Julie Sundstrom avoided the "log cabin" look when building their lakeside home, choosing a European contemporary house designed by local architect Jim McQuiston. (IBJ Photo/ Perry Reichanadter)
"Jim inspired us to do that because of the work he had done for [other clients]," said Paul.

Square one was a small existing house situated at the top of a steep hill overlooking one of Lamb Lake's coves. Instead of tearing down the structure and starting from scratch, McQuiston was able to come up with a plan that would allow the Sundstroms to completely transform the house.

"What I hoped Jim would accomplish and did was to take an existing structure and design a house that was in keeping with the lay of the land," said Paul.

Using an adjacent empty lot that they also purchased, the Sundstroms added a generous amount of square footage to the home and completely updated the exterior to bring about a modern look that is integrated with the landscape.

"Lake homes are always very special in that the water is such a compelling feature," said McQuiston, who used the setting to create "lines that are very clean and very spare."

The exterior's simplicity serves as a backdrop for a few dramatic elements, including two large yellow vents at either end of the house and copper trim around some of the largest windows.

Lighten up

Once inside, it's those windows that command the most attention, both for their sheer size and for the view they afford. The commercial windows cover two stories and flood the home with natural light—exactly what the Sundstroms were after.

"We like light," laughed Julie.
Paul and Julie Sundstrom (IBJ Photo/ Perry Reichanadter)
In the kitchen, where both spend a lot of their time, the couple chose a South African wood for the cabinets, granite for the countertops and a glass tile for the backsplash. All the appliances are hidden behind cabinetry fronts, given the compact kitchen a streamlined appearance. "Paul and I both love to cook," said Julie. "We don't eat out a lot."

The kitchen opens up to a dining room and living room, where the minimal furnishings take a back seat to artwork chosen for the space.

"It's a great house to display artwork," said Julie. "We kept it simple on purpose so you can enjoy the artwork and all the architectural features in the house."
Framed prints are not the only artistic element on display. The Sundstroms have also incorporated photography, sculptures and two kimonos that belong to their daughter-in-law, a native of Japan.

Architecturally, a wood and steel staircase takes center stage in the main part of the house, giving access to the walk-out basement and the second story. The master suite on the top level includes a loft-like sitting area, a bathroom with his-and-hers vanities and a walk-in closet.

Limestone, Brazilian cherry and black granite are carried throughout the 4,000-square-foot house, which has four bedrooms, a media room in the basement and an oversized two-car garage. An extra garage was added for storage.

The Sundstrom home, also known as "The Loft at the Lake," was one of five homes featured in the Architects' Home Tour, presented by the Indianapolis chapter of the American Institute of Architects.•