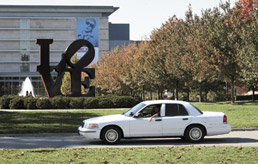 Security patrols the grounds of the Indianapolis Museum of Art. The IMA recently unveiled a new security model that uses visitor assistants and reserve police officers. (IBJ Photo/ Perry Reichanadter)
Nick Cameron observed flaws in security at the Indianapolis Museum of Art well before he accepted the job of chief operating officer.
When he arrived for an interview in August 2009, Cameron said he noticed how easily a visitor could walk past the front desk without so much as a greeting.
"You felt a sense of being completely unopposed by anyone and barely scrutinized by anyone," he said. "Deterrence is putting up the appearance the place is protected."
Cameron, COO since January, this month ushered in a security and visitor-relations overhaul that promised to be more effective while saving the cash-strapped museum $600,000 a year.
More than 50 gallery attendants are gone, and so is the front desk. Now a visitor pulling into the lot off West 38th Street might see a patrol car parked on the circle drive in front of the building. Visitor assistants, most of whom are local college students, are posted throughout the museum, its expansive grounds and new, 100-acre sculpture park.
The changes Cameron made aren't unusual, especially for museums looking to save money, museum-security consultants said. Across the country, gallery-roving guards are being cut and replaced by improving technology, other types of staff, or contracted security.
"In most museum budgets, security is a high-ticket item because of recurring salaries," said Steve Layne, president of Layne Consultants, a Denver museum-security firm. "In the budget cuts … security's usually the first one to suffer. That always means personnel."
Outsourcing is the most common strategy, Layne said. In a recent example, the Art Institute of Chicago in May laid off 65 staff members, including 50 in security. Spokeswoman Erin Hogan said the fired security staffers were allowed to apply for their jobs through the museum's contractor.
Creating controversy
The IMA's new security model has proved controversial because of the way it's financed. The museum hopes to hire as many as 100 IUPUI students through the federally funded work-study program, which would cover 75 percent of their wages. At the same time the museum announced that and other changes, it laid off 56 full- and part-time gallery attendants.
Now IUPUI officials are trying to decide whether the program violates the Education Department's rule against using federal funds to replace regular employees.
Cameron noted that including students in the security program had been in the works for months, and he said university officials knew it would be a fundamental change. IUPUI spokesman Rich Schneider said, "No one knew there was going to be layoffs before the announcement was made."
Cameron declined to say what he'll do if IUPUI backs out. The museum has already gone through a round of layoffs, furloughs and general budget cuts since the 2008 financial crisis. It's looking to further reduce its budget in the fiscal year ending June 30, 2011, from $21.8 million last year to $21.2 million.
Under Cameron's plan, the security personnel budget would drop from $2.2 million to $1.6 million this year.
The IMA argues it didn't violate federal rules because visitor assistants' primary role is customer service. Meanwhile, the museum is employing 66 visitor assistants out of its own budget, and it has allowed the fired gallery attendants to apply for the new jobs. Three of them did so and were hired.
No industry standards
Museums don't follow any prescribed standards for security. In fact, the one document adopted by the American Association of Museums starts out by noting that it's a set of "suggested practices," not standards. A spokesman for AAM, based in Washington, D.C., said no one was available for comment.
When it comes to staffing levels, the guidelines recommend employing at least a designated chief of security. While museums should have 24-7 protection by security personnel, it may be acceptable in some cases to use docents, receptionists or other staff.
"It really depends on the nature of the facility and what they feel they can live with," Layne said. Relying heavily on non-security staff is common at house museums, he said. The Museum of Nature and Science in Denver supplements its force with volunteers, he said. "They've done that for years."
Museums aren't much different from retail stores in the way they combine customer service and security duties.
"The truth is, everyone on the staff has a security role," Layne said. "They should all be involved in observing and reporting."
At The Children's Museum of Indianapolis, three-quarters of the 50-person security staff have dual roles in visitor relations.
"It's a very integrated system," museum CEO Jeff Patchen said. "You'll see someone meeting you and greeting you when you pull into the garage. They're doing their work as a security officer as well."
The Eiteljorg Museum of American Indians and Western Art uses contracted security guards, plus 12 full- and part-time gallery assistants. The guards get training in customer service, while the gallery assistants are extra eyes and ears, CEO John Vanausdall said.
(Both the Children's Museum and Eiteljorg said they haven't cut security personnel since the recession began.)
Scrutinizing the IMA, Cameron found the gallery attendants came up short on both security and visitor relations.
"The gallery attendants, in my observation, weren't doing too much," he said. "What they were doing is making people feel somewhat uncomfortable."
Cameron said the attendants responded to alarms, which can be triggered when a visitor leans in to look closer at artwork, but doesn't actually touch it. Because of those alarms, the attendants thought they played a "major security role," he said.
"It was really a scolding role."
Cameron said he also found the IMA deficient in its ability to respond to emergencies. The IMA has hired 14 reserve police officers who patrol the grounds. The museum kept 19 security staffers and deployed them in a variety of positions, including electronic surveillance and supervising visitor assistants.
The IMA has never seen a theft or major act of vandalism, though there has been some graffiti in the new sculpture park, Cameron said.
In August 2009, a 23-year-old Fishers man drowned in the lake that's now the focal point of 100 Acres: the Virginia B. Fairbanks Art and Nature Park. Local news outlets reported that the victim and his friends had been drinking and decided to go swimming at night. The future sculpture park was in its early stages of development at the time.
Later that same month, artist Mat Benote managed to sneak one of his own works onto a wall on the third floor. Benote hit several museums, including the Guggenheim, with his artistic statement/prank. He wasn't prosecuted.
Advancing technology
Rapidly improving surveillance technology is a big driver in staffing changes, said Steve Keller, president of Architect's Security Group in Ormond Beach, Fla.
"It's allowed museums to quit fooling themselves about these minimum-wage, minimally trained, half-asleep guards in the galleries," Keller said.
The latest systems tie cameras and alarms together in a way that doesn't require a person to be watching a room at all times, he said. If someone comes too close to an object, the camera will capture that image and display it in the control room while sending a silent page to the nearest guard.
The systems can even be programmed to filter out factors, such as super-reflective material, that might trigger a false alarm, Keller said. "They've gotten so sophisticated with this technology, you can alarm things you couldn't alarm before."
The IMA spent $160,000 on new cameras and recording equipment over the summer. Many but not all of the cameras were placed at 100 Acres.
Cameron declined to go into detail about the museum's electronic surveillance capabilities, but said he hopes to make further upgrades.
Cameron is a veteran of museum operations, having spent more than 30 years at the Metropolitan Museum of Art in New York, and this isn't the first time he's tried to make a fundamental change. As the Met's general manager over visitor relations and security in the 1980s, Cameron said he created a rule requiring new hires to have a college education.
That made the guard staff "a lot more customer-service-friendly," he said, and it opened the jobs to the many aspiring artists and actors living in New York.
The Met's union prevented any overnight changes, Cameron said, but the program is still in place. "It's actually become the predominant profile of the guard."•
Please enable JavaScript to view this content.