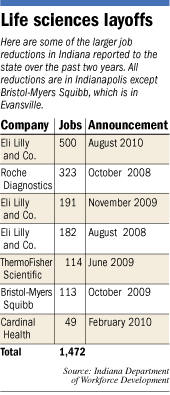 Three-hundred sent packing here, another 500 over there.
Layoffs by Indiana life sciences employers have added up to more than 1,400 over the last two years. And more may be on the way at such prominent employers as Eli Lilly and Co., which is struggling with expiring patents on aging drugs and a failure to win approval for new drugs to replace them.
That's bad news for a state that believes life sciences is among the best bets for luring investment and creating high-paying jobs. Without brains, there's little development.
To try to keep the talent from hiring moving vans, life sciences promotion group BioCrossroads snagged $85,000 in funding from the Indianapolis Private Industry Council to launch a website showcasing various jobs available in the state.
Coming from a life sciences trade group, the site, OpportunitiesIN, is unusual. In addition to life sciences positions, it pitches open slots in information technology, clean energy, and logistics and manufacturing.
The oddity isn't coincidence. BioCrossroads shares a common parent—Central Indiana Corporate Partnership—with other sector-specific promotion groups such as TechPoint, Energy Systems Network and Conexus.
Not everyone laid off from Roche Diagnostics, for example, is a scientist. So the site has offerings in fields ranging from sales to finance.
"We have a number of opportunities available for people who are looking to stay here in central Indiana," Todd Richardson, a senior vice president of e-mail marketing firm ExactTarget, says in a video posted on the site. The Indianapolis company is adding about 250 jobs here this year.
ExactTarget officials did not respond to inquiries as to whether they've actually plucked plums from the ranks of displaced life sciences workers.
But BioCrossroads Project Director Brian Stemme said, "There is a lot of opportunity here, in a variety of places."
Many who've worked in the life sciences have been so heads-down in their work that they don't realize what's available elsewhere in the state, Stemme added.
A visitor to OpportunitiesIN would learn that just down the road in Bloomington the contract service provider BioConvergence LLC has been growing quickly in drug development, testing and other services.
And Dow AgroSciences' CEO, Antonio Galindez, notes in a video that the Indianapolis-based company plans to add more than 500 scientific and corporate jobs in the next five years as part of a $340 million expansion here.
Even those with skills related to information management could find them transferable. DowAgro spokeswoman Kenda Resler-Friend noted the data-intensive processes involved in research conducted in places like the company's vast array of greenhouses.
"We really want to help other people be aware we are an option. They don't have to go to the East Coast or West Coast," she added.
Brain corral
Indeed, an outflow of Indiana's life sciences jobs is the last thing officials want, even if it means those workers moving into a related industry. One reason is because companies considering Indiana for a location pore over worker skill demographics. As such, "you definitely want to keep your educated talent base here," said Brooke Huntington, president and CEO of the Indianapolis Private Industry Council.
Another reason is that life sciences jobs, involving an estimated 50,000 people at 1,650 life-sciences-related firms statewide, are relatively lucrative. The annual wage of a typical life sciences job here in 2007 was $82,000, compared with $37,500 for the overall annual wage, according to a 2009 study of the life sciences industry by Indiana University's Kelley School of Business.
Some of the region's life sciences workers will be able to stay in or near their current field, thanks to a bevy of expansions.
Medco Health Solutions Inc. is investing $165 million in an automated pharmacy in Whitestown expected to eventually employ 1,300. California-based Beckman Coulter Inc., a developer and maker of centrifuges, announced more than 200 jobs in Indianapolis by moving a unit here.
New Jersey-based Covance Inc. is investing $126 million at the former Lilly laboratories in Greenfield, which Covance acquired in 2008 for $50 million. Besides picking up all but four of the 264 Lilly employees, Covance has grown the operation to about 450 workers and plans to hire about 100 more next year.
More recently, the Greenfield Covance operation has hired 30 to 40 people who were laid off from other life-sciences firms in Indiana, estimates Deborah Tanner, corporate senior vice president and president for Central Laboratory Services and Discovery and Translational Services.
"We've interviewed a number of individuals who've been impacted by reductions in life-sciences organizations," Tanner said.
Such expansions are especially important given a backdrop of uncertainty facing both large and small life sciences firms in the state, Stemme said. In addition to the overall sluggish economy are destabilizing issues such as the effects of health care reform and new regulation by the U.S. Food and Drug Administration.
Growth in IT
Ultimately, some of those laid off from life sciences jobs will seek work outside of Indiana. But the prospects aren't necessarily better elsewhere.
The domestic pharmaceutical industry has lost 90,000 jobs in recent years. The 2009 merger of Pfizer Inc. and Wyeth Pharmaceuticals alone could kill 20,000 jobs, according to some analysts.
But not central Indiana's IT sector, where companies such as Indianapolis-based Aprimo Inc., which makes marketing software used by such big companies as Bank of America and Warner Brothers, are hiring. Through September, the 400-employee company added 64 jobs, and is expanding worldwide.
Many displaced life-sciences workers are desirable because they bring a global perspective, having worked in foreign countries, said Aprimo spokesman Joel Reuter, himself an alumnus of Roche Diagnostics, in Indianapolis.
Even with a recession, "our IT sector has continued to hire," Mark Hill, co-founder of Indianapolis tech investment firm Collina Ventures, tells visitors to OpportunitiesIN.
Hill, also a director of BioCrossroads' sister organization, TechPoint, said opportunities abound in marketing and sales and project management, for starters.
Many of the tech companies are smaller than the big life sciences firms, allowing one to make more of an impact within the organization, as well, he said.
"There's a demand for really talented people."
Career change?
Logistics and advanced manufacturing also want well-rounded people, said Steve Dwyer, president and CEO of trade group Conexus Indiana. Employers are seeking to replace retiring baby boomers with those with greater skills, he tells visitors.
"I hope you stay in Indiana. We need you."
The OpportunitiesIN site even has an appeal to leave the corporate rat race. Also appearing on the website is David Harris, founder of The Mind Trust, an Indianapolis-based not-for-profit that aims to cultivate entrepreneurial solutions to improving education.
The Mind Trust also operates a venture fund that lured to the city several education charities, including New Teacher Project and Teach for America. Some of the initiatives aim to bring mid-career professionals into teaching. Of particular need are those with math and science experience. Indeed, according to IU's 2009 life sciences study, Indiana's concentration of postsecondary biological science teachers "was among the lowest in the nation."
Obviously, "all of these [life sciences] people aren't going to turn around to be teachers," Harris said, but added the prospect may well appeal to some.
"I see more people figuring out a way to utilize their skills here, primarily because they don't want to move," said BioCrossroads' Stemme.
Regardless of the extent to which OpportunitiesIN helps displaced workers find new work here—Stemme can't yet point to examples—the website is also useful as a marketing tool to lure prospective employees and companies from out of state, he said.
The concept is also likely to be replicated. Huntington said she hopes to do a similar project for Develop Indy, a group seeking to grow central Indiana's corproate climate.•
Please enable JavaScript to view this content.