City officials are hoping that privatizing the Major Taylor Velodrome, which now is in disrepair, will breathe new life into the cycling venue built in 1982 as a key part of Indianapolis' efforts to become a sports capital.
The city this summer issued a request for proposals to parties interested in operating the facility. And now, according to sources within the cycling community, city officials are contemplating two finalists: Marian University, and a group of cycling coaches led by former Velodrome employee and Marian cycling coach Ken Nowakowski.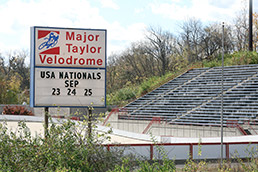 Marian University is one of two private operators vying for the Velodrome. (IBJ Photo/ Perry Reichanadter)
IndyParks spokeswoman Paula Freund in 2009 said the Velodrome needs "$750,000 just to bring it up to standard."
The city expects the winning suitor to cover all capital expenditures. The request for proposals lists 13 areas that need immediate attention, including the parking lot, entrance, lighting, sound system, roofing, and 2,900-person seating area.
Longtime Velodrome Manager Linda Fink was reassigned within IndyParks this fall. City officials said they hope to have a 10-year deal signed by early next year to operate the cycling track and surrounding Lake Sullivan Sports Complex northwest of downtown.

"We're seeking the privatization to utilize the facility to its fullest extent and offer residents and visitors a wider variety of amenities and events," IndyParks spokeswoman Jenny Burrough said.
Burrough said there are no plans to close, demolish or sell the facility. City officials said they couldn't comment further until they negotiate a privatization agreement.
Those in the cycling community said privatization can't come soon enough.
"This facility has not thrived under city management," said Mark Bettinger, president of the Central Indiana Bicycling Association, an Indianapolis advocacy group that also organizes rides around the city. "The facility has started to fall behind in its maintenance because the city has not allocated the money for it."
The city has been discussing privatizing the Velodrome, BMX track and skate park in the Lake Sullivan Sports Complex since early 2008.
Neglected landmark
Finding a group with deep enough pockets and the desire to take on operations, maintenance and capital projects at the aging facility could be a tall order.
The city wants to maintain oversight of the landmark sports venue, but the two finalists likely want some autonomy in developing not only cycling activities but also other events that could generate revenue, Bettinger said.
The Velodrome, which hosted events for the National Sports Festival in 1982 and Pan Am Games in 1987 in addition to myriad other national and international cycling events, has seen its operating budget squeezed tight in recent years—from $102,142 in 2008, to $80,297 in 2009, and $66,136 this year.
The city's entire parks department's budget also has suffered, declining more than $3.5 million this year to just below $22 million.
The city has been able to generate only $31,000 to $41,000 in revenue annually from the Velodrome, most it from rent and competitions. But IndyParks officials are hopeful a private operator can make the facility self-sustaining.
Part of the revenue-generation problem stems from a lackluster effort by the city and a sponsorship policy that siphons off half of every sponsorship dollar for the overall IndyParks budget, said Bob Brooks, co-founder of the Indiana Cycling Academy, a training center and mentoring program for central Indiana cyclists.
"I don't think there's a shortage of people and companies willing to support the facility if you have a dedicated and qualified group to run it," Brooks said.
Marian officials confirmed that they bid to operate the facility, but would not comment further. Nowakowski declined to comment, sighting a confidentiality agreement with the city.
Ambitious plan
In late 2008, Marian officials forwarded to the city a comprehensive plan to refurbish and transform the facility. In addition to improving the Velodrome, Marian proposed enhancing off-road riding infrastructure for BMX, mountain and cyclocross bikes, as well as a two-mile perimeter loop for walking, running and leisure riding. Combined with the trails in Marian's EcoLab, an outdoor nature preserve of sorts, the new loop would make available a walking/hiking trail of almost five miles.
Marian, which has a national-class collegiate cycling team, also submitted plans to develop the facility as a hub to support a park-and-ride program, linking the Velodrome to downtown, the north side and other areas via a network of bike trails. The complex, the proposal said, would be connected to various points around the city via IndyGo bus lines.
It is unclear if any or all of these elements are part of Marian's current bid.
Brian Gootee, owner of Gray Goat Sports, a cycling and fitness store on the city's south side, said upgrades at the facility could significantly enhance the city for residents and draw visitors.
"In the 1980s, when this facility was built, Indianapolis was fast becoming a cycling mecca, then it fizzled due to lack of funding and attention," Gootee said. "We have to make amenities a priority in this city. I can't tell you how many times a week we're asked where the infrastructure for bicycling in this community is. Those types of amenities are what make people want to live and work here."
Bettinger and Marian University cycling coach Dean Peterson met with Mayor Greg Ballard last month. Bettinger said the gathering cranked up his optimism that something will get done soon.
"We have an advocate in the mayor," Bettinger said. "He is a cyclist himself and he understands the importance of this activity and of this world-class facility. People forget, this is one of less than 20 velodromes of its caliber across the country.
"The mayor wanted to talk about the growth of our organization, bike paths and specifically developing youth cycling as a fitness activity and a sport here," Bettinger added. "Listening to the mayor, he supports cycling and this facility. He's simply in a situation where the city is short on funds."
Bob Locke, a longtime cyclist and a manager for Bicycle Garage Indy, thinks better Velodrome management will lead to an increase of events featuring Olympic-caliber competition.
"This facility has a history of drawing events with national- and world-class talent," Locke said. "But in recent years, there hasn't been the organization to get these events planned and held here. It's difficult to understand in a city that puts so much emphasis on sports why this facility has been so neglected."
In June 2009, the U.S. Cycling Federation dropped plans to hold the USA Cycling Masters Track National Championships in Indianapolis that August because local organizations couldn't come up with $18,000 to help operate the event. Instead, the competition went to Colorado Springs, Colo.
"The biggest spenders in cycling are the masters and that event draws hundreds of them," Locke said. "That not only hurt the city's economic impact, but is a real black eye to Indianapolis."
The effort to privatize the Velodrome is the latest in a litany of privatization efforts by Ballard. Those efforts include everything from the city's parking meters to attractions within Eagle Creek Park.
"The Velodrome is a very specialized facility," IndyPark's Burrough said. "We feel a private organization with expertise in this area could handle maintenance and facilitate upgrades to this facility's status. It could be a key step in assuring its long-term future."•
Please enable JavaScript to view this content.