Executive Director, Women's Fund of Central Indiana
Sphere of Influence: As executive director of the Women's Fund of Central Indiana (a special interest fund of the Central Indiana Community Foundation), Baker has awarded grants to dozens of innovative central Indiana programs supporting women and girls.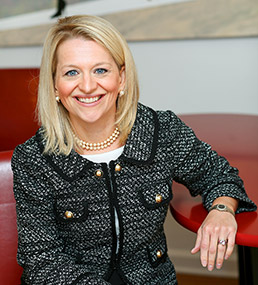 (IBJ Photo/ Perry Reichanadter)
During these tough economic times, Jennifer Pope Baker, executive director of the Women's Fund of Central Indiana, has managed an impressive financial trick. Under her tutelage the organization's endowment has grown from $3 million in 1998 to $11 million at present. That expansion allowed the fund to distribute some $3.2 million via 336 grants to 89 central Indiana organizations serving women and girls.
All this while enduring the same one-two punch delivered to pretty much every other not-for-profit in the state—an increased demand for services just as hard-hit donors grow reticent about shelling out cash. Baker thinks the organization's youth helped it weather the storm, because the fund hasn't yet exhausted its pool of potential givers. Plus, there are few people with whom the organization's mission doesn't resonate.
"While some donors may be more cautious, others are giving more because of their acute awareness of the growing needs," said Baker, 43. "We have lots of good stories of success and positive outcomes through our grants and our philanthropy and education programming."
Two of her most innovative concepts are the OPTIONS and GO programs. OPTIONS takes one class of 20 women between the ages of 25 and 45 each year through a philanthropy education program designed by Baker. The GO program has an even longer timeline. This philanthropy education class for children allows an adult to create a donor-advised fund for any child under 18, to start them on a lifetime of giving.
"In the next 20 or 30 years when today's GO participants are leaders in the community, I foresee that they will make positive decisions for women and girls without even thinking about it," Baker said. "They will have a giving plan and feel confident about how they want to participate in the community as a volunteer and as a donor." Both OPTIONS and GO are being copied nationwide.
She's also working to make Indianapolis the third community in the country to initiate the micro-lending program Grameen America, an offshoot of a similar concept founded as Grameen Bank in Bangladesh, which offers extremely small (at least by traditional standards) loans, mostly to women, to improve their education or found small businesses. Baker hopes that here, just as in Bangladesh, a little cash can go a long way. "This has the power to make multi-generational change," she said. "Women will be positioned to control their financial destiny and not be dependent on the goodwill of others. I can't think of a better gift to give to a woman: the ability to create a healthy future for herself and her family."
Such devotion to family is equally evident in Baker. She and her husband, Chris, have two children, Catherine, 10, and Charlie, 5. She spends her off-duty time with them, riding bikes, walking or visiting The Children's Museum, where she serves on The Children's Museum Guild.
"I feel like my personal and professional lives are entwined," Baker said. "I care deeply about making a difference for women and girls. I hope that my actions and words give others encouragement, hope, and a sense of what is possible in life."
___
Click here to return to the Women of Influence landing page.
Please enable JavaScript to view this content.