Senior Vice President of Events, Indiana Sports Corp.
Sphere of Influence: As senior vice president of event management for the Indiana Sports Corp., Baughman is regularly called upon to put Indianapolis' best foot forward in extravaganzas ranging from the 2004 FINA World Swimming Championships to the 2010 NCAA Men's Final Four. But her management, organizational and people skills will be tested as never before during the run-up to the 2012 Super Bowl.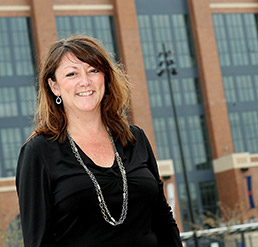 (IBJ Photo/ Perry Reichanadter)
The Indiana Sports Corp.'s senior vice president of event management has succeeded in a field that's not just full of, but choked with, competition. When the ISC was founded in 1978 it was the first sports commission actively seeking major athletic events in the nation.
Even by 1996, when Susan Baughman signed on, it was still the most prominent player in a tight-but-not-cutthroat field. "It took a few years for other cities to try to emulate the process, and become competitive," she says.
Today, however, Baughman, 42, faces intense competition from every major—and many smaller—municipalities seeking to lure big-name sports events at literally any price. That, coupled with event organizers' desire to wring every last buck from suitors, makes for a tough day at the office.
Fortunately, her hometown still has a lot to offer. "Indianapolis is a great city to sell," she said. "The great planning of those who came before us, who were developing the city, has created a walk-able environment. One where the event venues are in the heart of downtown, snuggled next to hotels, restaurants and retail. It's a dream for event planning."
It also doesn't hurt to have Baughman on the city's side. The Indiana University grad focuses on developing personal relationships with event holders; sniffing out and luring new events to Indianapolis; and personally managing high-profile gatherings herself. Because the ISC relies so heavily on volunteers, this can entail overseeing an unpaid management corps of more than 100. "Most of my time is spent planning events that have already been awarded to the City, like the 2012 Super Bowl," she said.
Not that she focuses exclusively on birds in the hand at the expense of those in the bush. In her field, such thinking would spell disaster.
"The staff at Indiana Sports Corp. spends a lot of time researching events we may want to bid on in the future, watching event trends, calculating budgets for potential events, and following bid cycles for events' owners," she said. "When we see certain events going up for bid, then we activate, research and reach out to other stakeholders in town to see if there is interest in hosting any specific events."
Baughman thinks relationships are key to her success. "My priority is to get to know people, introduce them to others, create a binding group that is fun to work with, so that work remains exciting and interesting," she said "If I enjoy the people I work with, I am sure to enjoy the project."
Besides putting on good shows, she also focuses on managing the calendar. In other words, insuring that a constant stream of major events are Indianapolis-bound, and that the contests all have the fan support, staffing and logistics needed to make them successes. "We want to make sure we pay attention to the needs of the event and make sure each is as outstanding as possible," she said.
Baughman, who is single, likes to spend her spare time with family and friends. She enjoys cooking, listening to music and burning CDs for friends.
___
Click here to return to the Women of Influence landing page.
 
Please enable JavaScript to view this content.