President, Cabello Associates
Sphere of Influence: The founder and president of the full-service marketing consultancy that bears her name spends a great deal of time giving back to the community. A first-generation American and the first in her family to attend college directly after high school, she speaks regularly about starting a business, educational opportunities and the importance of diversity in the workforce.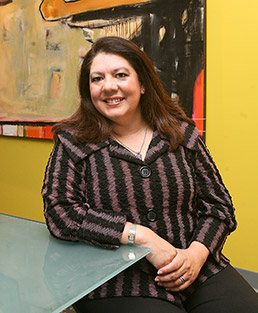 (IBJ Photo/ Perry Reichanadter)
When she isn't helping Fortune 500 firms develop corporate strategic plans, implementing national product/service launches or re-engineering sales and marketing processes, Kathy G. Cabello, president of Cabello Associates, can be found promoting educational attainment (particularly for Hispanic youth) and business entrepreneurship. She came by her passions early, as a Hispanic immigrant.
"I was lucky," she said. "My father, mother, siblings and other mentors encouraged, invested, and ultimately shared in my academic success. My experiences as a first-generation college student opened my eyes to the challenges and disparities that not only I experienced, but also the very few Latino students around me. Even as a student in college I knew that I had to do my part to ensure their success in high school and college. Today my passion is even stronger."
Cabello earned a Bachelor of Science degree in computer science/math from Eastern Michigan University (and, later, an MBA from the University of Notre Dame). She began her career as a computer engineer, developing systems for utilities and manufacturers. As the years went by she led larger and larger projects, developing a knowledge of—and interest in—strategy and marketing.
She launched into entrepreneurship when her last employer, DowBrands, LP, was acquired. Faced with relocating her family to the United Kingdom, she opted instead to stay in Indiana and strike out on her own. Thus Cabello Associates was born.
"In the beginning, I had to prove to potential clients that my firm had the knowledge and ability to compete and deliver results," she said. "The need to succeed and to show that a Hispanic woman could own and operate a viable company drove me daily."
Today Cabello devotes a great deal of time to mentoring Hispanic youth and singing the praises of entrepreneurship in general. "My mother taught me to be generous—to share so that others may grow," she said. "It gives me pleasure to mentor others, particularly young people in the early stages of their academic and business careers, as well as Hispanic business owners. If I can help them grow and avoid a pitfall, then there is one more business or person that is contributing to the strength and diversity of our community."
In addition to mentoring young girls and tutoring math students, she's involved in pre-college programs such as the National Society of Hispanic MBA's Project Stepping Stone. She also serves on the board of the Indianapolis chapter of the National Association of Women Business Owners.
In her spare time Cabello enjoys reading historical fiction, watching classic movies and attending Notre Dame football games with her husband, Eddy. They have two daughters, Gabriella, a junior at Ben Davis High School, and Marcela, a sophomore at Cornell University.
Click here to return to the Women of Influence landing page.
Please enable JavaScript to view this content.