President, Indianapolis Neighborhood Housing Partnership
Sphere of Influence: As president of the Indianapolis Neighborhood Housing Partnership, Carlstedt is charged with finding ways not just to place low- and moderate-income families in their own homes, but also to keep them there. A former director of the city's Department of Metropolitan Development, she has moved from working with the city's most high-profile public projects to myriad smaller efforts that help create a more financially secure population.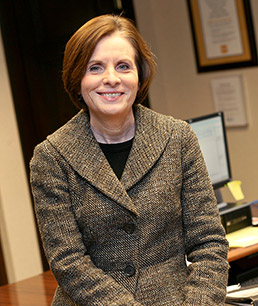 (IBJ Photo/ Perry Reichanadter)
Moira Carlstedt, 57, president of the Indianapolis Neighborhood Housing Partnership, spent the first years of her working life in the private sector. She never considered going "public" until she became director of the Department of Metropolitan Development at the behest of then-mayor Steve Goldsmith.
In 1998, she signed on with the INHP, a not-for-profit engaged in home ownership education, housing finance and community development. Her leadership allowed it to survive the upheaval caused by the mortgage crisis. Lately one of her biggest hassles has been keeping INHP clients abreast of exactly what mortgage companies demand these days from potential clients.
"Families we serve in our homeownership preparation program are challenged by changing expectations as to the requirements to secure an appropriate mortgage they can sustain over the long term," Carlstedt said.
Not that such difficulties have led to a slowdown in interest. Far from it. The INHP has experienced unprecedented demand for three reasons: historically low interest rates; an abundance of housing inventory; and a general recognition that success as a long-term homeowner requires preparation, and that it's never too soon to start down that road.
Carlstedt has spent much of her time introducing hardnosed private business practices into INHP's operations. Two of her biggest accomplishments are collecting data on people the organization helps in order to develop well-grounded, data-based strategies for the future. She also led the implementation of multiple loan pools to create INHP-direct mortgages for low- and moderate-income families. During her tenure she's executed five loan pools totaling more than $100 million in capital, making loans to more than 3,000 families between 2000 and 2010.
In the coming years Carlstedt sees two major challenges: preparing her clientele for home ownership in a world of ever-changing rules, and coping with ever-increasing demand for her group's services. "INHP must remain disciplined, accountable and transparent regarding our purpose and capacity to execute our mission," she said.
In her free time Carlstedt enjoys reading, hiking and spending time with her friends and family—husband Bill and their three grown children, Matt, Kate and John. "It wouldn't be uncommon to find me wandering one of the city's museums on a weekend," she said.
___
Click here to return to the Women of Influence landing page.
 
Please enable JavaScript to view this content.