Senior Vice President, Global Human Resources, Brightpoint Inc.
Sphere of Influence: Saying that Cyr has lots of irons in the fire is a supreme understatement. Since joining the global communications technology firm in 2003, Brightpoint's senior vice president, global human resources, has established a world-spanning HR team and rationalized the company's practices across timelines, continents and cultures.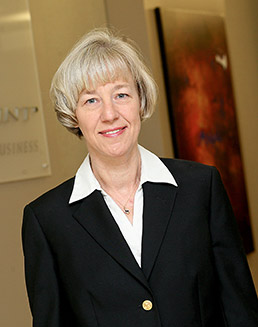 (IBJ Photo/ Perry Reichanadter)
Annette W. Cyr, 47, has had her hands full at Brightpoint since the day she signed on. During her tenure as the company's senior vice president, global human resources, she has coached and mentored employees around the globe, learning about their diverse cultures and special challenges. That's a tall order, considering that the company conducts business in 25 countries and employs some 2,700 staffers worldwide.
Throughout the firm's hectic growth she's guided the company to consistent, global HR policies that support Brightpoint's strategy and operational plans. Cyr says the key is to identify practices and processes that have to be handled consistently everywhere, but also to allow local managers to customize things that are best tackled on-site. That calls for extensive discussions and involvement by a wide range of factions to insure global "buy-in" with new systems.
"It's a delicate balance," Cyr said. "We strive to ensure that no matter where our team members work, they feel part of the global Brightpoint team."
Over the last few years Cyr has focused attention on leadership development and performance management. Committed to personal communication with her global HR team, she conducts monthly calls in which executives can share their thoughts on the business in general and HR in particular.
Such tactics have won her a "seat at the table" for big decisions.
"I am proudest of the engagement of HR by our key corporate and regional executives in all areas of decision making," Cyr said. "As an HR professional, it is very satisfying to work with colleagues who understand that our people define us and must be considered in critical decisions."
She doesn't expect the hectic schedule she's dealt with for the past few years to let up anytime soon. It's part and parcel of working for a fast-growing company. "The pace of change, both in our industry and generally in the business environment, will continue to challenge everyone," Cyr said. "The amount of data to review and understand is increasing so rapidly. We have to better prioritize than in the past."
Cyr likes to spend her downtime in Montana, where she and her husband, Bob, lived before moving to Indianapolis. They're both big fans of skiing and summer hiking. They have two grown daughters, Michele and Wendy.
Click here to return to the Women of Influence landing page.
Please enable JavaScript to view this content.