Chief Financial Officer, ExactTarget
Sphere of Influence: Dolan is a key figure at one of the city's most dynamic companies. She has transformed ExactTarget's financial operations, oversaw its 2007 IPO filing—later withdrawn—and spearheaded two of 2009's biggest, most successful venture capital procurements, all in the midst of a precipitous economic downturn.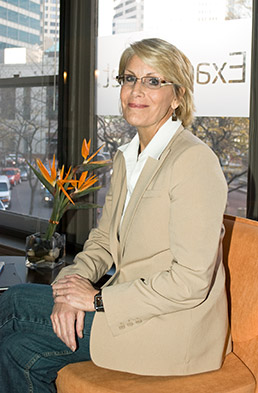 (IBJ Photo/ Eric Learned)
Unlike so many other CFOs, Traci Dolan hasn't spent the last few years battening down the hatches, waiting for better times. Instead her employer, e-mail marketing and interactive marketing provider ExactTarget, enjoyed an unprecedented growth spurt—something that created unprecedented challenges for Dolan, 53. In 2009 she oversaw the acquisition of $140 million in venture capital.
"The venture investment was driven by our track record of capital-efficient growth coupled with our history of innovation and ability to deliver real return on investment for our clients," Dolan said. "Amid globally challenging times, we continued those trends and investors took notice."
ExactTarget also drew on her help to expand nationally and overseas. In the past year she helped oversee the acquisition of enterprise Twitter platform CoTweet, plus London-based Keymail and Australia-based mPath Global. Under her leadership, ExactTarget has enjoyed 38 consecutive quarters of growth and expanded its payroll to more than 745 employees.
Besides her duties as CFO, Dolan is the company's chief administrative officer, managing ExactTarget's strategic planning and workforce optimization efforts—no small task for an operation with such a far-flung (and newly acquired) workforce. "As we grow here in the states and around the world, it becomes increasingly more challenging to instill and reinforce our strong, passionate culture with team members and partners worldwide," she said.
In addition to her work duties, Dolan serves on the board of directors of Noble of Indiana. In her spare time she enjoys traveling, reading, and spending time with friends and family—namely husband Greg and stepson Christian.
___
Click here to return to the Women of Influence landing page.
Please enable JavaScript to view this content.