CEO and Medical Director, Wishard Health Services
Sphere of Influence: Harris oversees the sprawling Wishard system, which includes more than 1,000 physicians and provides health care to almost two-thirds of Marion County's uninsured. It is America's third-largest safety net health care system, with more than 1.2 million outpatient visits each year. Roughly half of Indiana's physicians receive training at Wishard.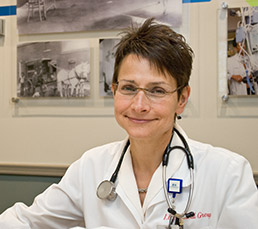 (IBJ Photo/ Eric Learned)
At a time when securing funding for big public projects was both controversial and problematic, Dr. Lisa E. Harris, CEO and Medical Director, Wishard Health Services, managed to pull off a miracle of sorts. When a plan to issue the tens of millions in taxpayer-backed debt necessary to build a new Wishard Hospital was placed on the ballot last year, the measure received a breathtaking 85 percent "yes" vote. In 33 of Marion County's precincts, no opposing votes were cast at all.
How did it happen? Attribute much of it to Harris' ability to run a tight ship, both fiscally and administratively. When she became CEO in 2004, Wishard struggled with a nearly $77 million deficit. Today the budget is balanced and the system has reduced its reliance on property tax dollars by two-thirds since 2004.
When the time came to garner funds and support for a new hospital, Harris, 53, and her associates built a coalition of politicians and business leaders to back the bond issues needed to make the $754 million project a reality. Harris even attended some 200 community meetings in the run-up to the vote. And it didn't hurt that Wishard's parent organization, Health and Hospital Corp. of Marion County, banked some $150 million to apply to the project and is working to raise another $50 million from private donors.
Building a new hospital from the ground up on West Michigan Street is both a dream and a nightmare. For instance, Wishard's resources include one of only two Adult Level 1 Trauma Centers in Indiana, the region's only adult burn center, the state's busiest emergency department and Indiana's only psychiatric emergency department. All of these must make a seamless transition from the old digs to the new.
Not surprisingly, Harris prefers to concentrate on the "dream" aspects of what promises to be an epic transition. "Building from the ground up while remaining fully functional in our current facilities allows us to provide uninterrupted services through 'moving day,' sometime in December of 2013," she said. "It's critically important for a hospital that consistently operates at greater than 95 percent occupancy."
Though transitioning to the new Wishard is at the top of her "to do" list, Harris said she can't afford to take her eye off other issues of vital importance. "While we're obviously pouring a great deal of energy into building entirely new hospital facilities from the ground up, we will need to maintain our focus on primary care and prevention as we know that our biggest opportunity to impact the health of our community is to help people stay well in the first place," she said. Those efforts include building, in collaboration with the IU School of Medicine and the IU School of Dentistry, a new primary care site to offer diagnostic testing and physical therapy, plus serve as a training hub for primary care physicians.
Wishard will also continue its more than four-decade partnership with the Regenstrief Institute, a private, not-for-profit, IU School of Medicine-affiliated research organization heavily involved in medical informatics. "This relationship has produced, among many other things, the foundation for electronic medical record systems in use today around the globe," Harris said. "We will continue to push the envelope on this innovation and use our groundbreaking work to respond ten-fold to the challenges not only before us, but before health care organizations worldwide."
When she isn't on the job, Harris enjoys being active and outdoors—which usually means taking a run with her dogs. Her husband is Greg Kelleher.
___
Click here to return to the Women of Influence landing page.
Please enable JavaScript to view this content.