Diversity Manager, Smoot Construction
Sphere of Influence: In her role as diversity manager for Smoot Construction, Holder has monitored the participation levels of minority-, women- and veteran-owned businesses in some of the state's biggest development efforts. She's overseen MBE/WBE programs for more than $800 million in projects, including Lucas Oil Stadium, the new JW Marriott hotel and the new Wishard Hospital.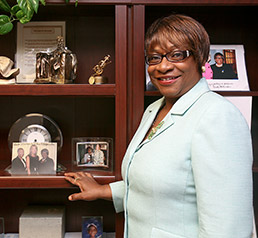 (IBJ Photo/ Perry Reichanadter)
Smoot Construction diversity manager Barbara Holder is a second-generation civil rights advocate. Her father, the late Rev. K.T. Robinson, picketed East Chicago's city hall to call for stronger minority hiring practices. Today Holder advances his philosophy not through marches, but by insuring that women and minorities get a substantial slice of the construction projects she represents.
"My dad embedded in me the simple philosophy that no one can ride your back unless you bend over," Holder said. "The marches, the civil rights meetings, the sit-ins, the walk-outs and watching my dad encounter injustice and prejudice firsthand instilled in me the sense of determination to make a difference, the tenacity to stand tall when others choose to sit, and the commitment to be the change I want to see."
Through her consulting firm, Barbara Holder Consulting Services, she's helped numerous companies develop and implement affirmative action and equal employment opportunity programs. Such moves, she believes, positively affect not just public perceptions, but the bottom line as well.
"When corporations embrace diversity—of people, of knowledge and of resources—they secure their hold within their respective markets," Holder said. "The returns on their investments are increased because their employees and their customers see themselves in the company and become more loyal to and supportive of an organization that 'gets' them." Her efforts to further diversity earned her the Affirmative Action Officer of the Year Award from the late Mayor Harold Washington of Chicago.
The theme carries over into her charitable activities as well. Holder spearheaded the Indiana State NAACP WIN (Women in the NAACP) statewide celebration, "Remarkable Women Improving the Nation" in 2010. For the past two years she's also overseen Coats for the Cold, which provides winter clothing to those who can't afford it.
She also mentors students and young professionals who are thinking about entering the building trades. Holder served as a board member for the ACE Mentoring Program of Indiana, which encourages high school students to pursue careers in architecture, construction and engineering. She's also participated in Project Stepping Stone, which helps Hispanic high school students prepare for college. Perhaps most tellingly, Martin University offers the NAACP Barbara Holder Scholarship to honor her commitment to eradicating disparities faced by women and minorities.
"Daily, I make a conscious effort to emulate the image that I wish to see in my community, within my place of worship, my family, my profession and the world," she said. "I live by one creed: In order to make a difference, you must be the difference you want to make."
Holder has two adult children, Tammi and Michelle, and two grandchildren, Kourtlen and Kyrah. In her spare time she enjoys theater, listening to classical music and jazz, traveling and, most of all, rediscovering her love for playing the violin.
___
Click here to return to the Women of Influence landing page.
Please enable JavaScript to view this content.