President, Community Hospital East
Sphere of Influence: The president of Community Hospital East brings a lifelong interest in helping the needy to her duties as administrator. During her career she's done everything from oversee the opening of the Jane Pauley Community Health Center to working as a staff physician in a Michigan homeless shelter.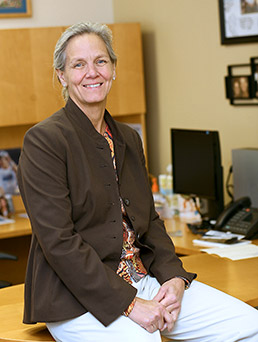 (IBJ Photo/ Perry Reichanadter)
Upon taking the post as president of Community Hospital East, Dr. Robin H. Ledyard, 49, set about opening lines of communication—both with the hospital's staff and with the community it serves. It sprouted from her longstanding interest in better serving the disadvantaged and those without ready access to medical care.
"I feel everyone should be concerned about this," Ledyard said. "A healthy nation should be what everyone wants. Without trying to assure that all walks of life receive basic health care, we cannot trust we have a healthy society."
To that end she's helped implement numerous programs, including the growth of Community Health Network's school-based clinics. She personally took the role of medical director at the Hawthorne Elementary School Wellness Center, a partnership involving Community Health Network and the Metropolitan School District of Warren Township. She also supports such projects as parish nursing, which provides health care and wellness services to area church congregations.
Last year's opening of the Jane Pauley Community Health Center was a capstone of that effort, bringing together a health care network and a school system to provide services to hundreds of patients—services that previously simply weren't available. She's also a board member of the Gennesaret Free Clinic, a largely volunteer health care agency that serves the homeless and working poor in clinics located in homeless shelters and food pantries.
She's particularly proud of her effort, along with current Community Health Network vice president of community benefit and economic redevelopment Dan Hodgkins, to develop school-based clinics. The work led to the founding of Learning Well Inc., a not-for-profit charged with improving the health and school performance of Marion County students through access to school-based health care services.
Still, tough times could lie ahead. Indeed, Ledyard sees doing more with less as one of her biggest challenges. "Like many industries health care must try and figure out how to provide the same high quality care at lower costs," she said. "I see the management of health care moving to more of a corporate culture. But we cannot forget the fact that we take care of people."
In her spare time Ledyard likes to bike, hike and run with her family—husband, Tom, and daughters, Hannah, a junior at San Diego State University, and Jessica, a senior at University High School.
___
Click here to return to the Women of Influence landing page.
Please enable JavaScript to view this content.