Judge of the United States District Court for the Southern District of Indiana
Sphere of Influence: Magnus-Stinson is only the fourth female federal district judge in Indiana history (or third, depending on where one places her in relation to Tanya Walton Pratt, who was appointed to a similar position at the same time).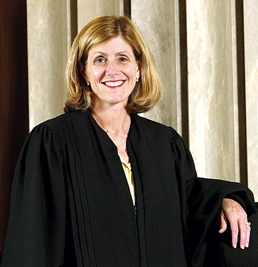 (Photo provided)
When Jane Magnus-Stinson, 52, was sworn in on June 14, 2010, as judge of the United States District Court for the Southern District of Indiana, she instantly made history. She, along with fellow nominee Tanya Walton Pratt, doubled the number of female federal district judges ever to serve in Indiana.
Before earning her current, lifetime appointment, Magnus-Stinson (a 1979 Butler University graduate and a 1983 Indiana University School of Law at Indianapolis graduate), gained years of experience in the lower courts. Immediately preceding her present position, she served as a magistrate judge in the Southern District of Indiana. Before that she was appointed judge of the Marion Superior Court, then was twice reelected to the position, serving from 1995 to 2007. "In terms of the Indianapolis criminal justice system, I am most proud of the multi-agency, bipartisan efforts, of which I was a part, that accomplished the successful resolution of the decades-old jail overcrowding crisis," Magnus-Stinson said. Before that she worked as counsel and deputy chief of staff to Gov. Evan Bayh—the man who, as a U.S. Senator, would recommend her to the President for nomination to the federal bench.
She considers it a personal goal to work with her colleagues to increase the diversity of the court. That effort is already under way, via an outreach to area law schools to increase the diversity of law clerks. Magnus-Stinson doesn't have to imagine the sorts of problems minority or female attorneys can face, because she lived through them herself.
"As a young woman lawyer and litigator coming up in the 1980s, I was in a distinct minority," she said. "So I worked hard to prove myself both a worthy advocate and adversary. I was confronted with blatant sexism from time to time and always tried to find a way to combat it. Sometimes I used the situation as a teaching moment, even if it meant teaching judges. Sometimes I would make a direct reply, and sometimes I would use humor."
Over the years Magnus-Stinson has had plenty of teaching moments, though most concerned the minutia of the law rather than sexism. She's a frequent instructor on legal issues, teaching trial advocacy in both national and international forums. She's worked in various capacities for the Indianapolis Bar Association, including serving as vice president in 2004. She also chairs the Jury Instructions Committee of the Board of Managers of the Indiana Judges Association, where she's coordinating a complete revision of the Indiana Criminal Pattern Jury Instructions.
She could also teach a course in effective time management. For years she's juggled a long list of professional and personal obligations—a list that's only gotten longer with her new position. "The significant workload of our court shows no signs of letup," Magnus-Stinson said. "My chamber's staff and I will use our best efforts to provide timely and understandable opinions, grounded in the law." On the personal front, she and her husband, Bill Stinson, are also shepherding their two children through junior high and high school.
When she isn't handing down decisions, Magnus-Stinson is chauffeuring her kids to after-school activities. She also attends book club meetings, sings in her church's women's choral group, walks and works out, and cheers on the Butler basketball team.
"The support of my family and friends has helped me immeasurably through whatever struggles I have faced, and has instilled in me the importance of being a good friend," she said.
___
Click here to return to the Women of Influence landing page.
 
Please enable JavaScript to view this content.