Senior Vice President of Human Resources, Eli Lilly and Co.
Sphere of Influence: As senior vice president of human resources for Eli Lilly and Co., Mahony is the company's senior-most leader responsible for the firm's efforts to expand diversity. A native of the United Kingdom, she holds both a Ph.D. in pharmacy and an MBA from the London School of Business.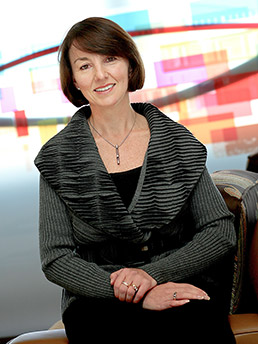 (IBJ Photo/ Perry Reichanadter)
Sue Mahony, 46, often shares the story of how her grandmother helped motivate her to achieve. "Whenever I thought I couldn't do something, she would say, 'Susan, there is no such word as can't,'" she recalled. "She taught me that if you set your mind to something and work hard, it's amazing what you can achieve. And that there is often more in our control than we think."
Mahony's grandmother also never shied away from speaking the truth, even if it hurt. It's something her granddaughter tries to emulate by providing honest but respectful feedback to employees. Among a great many other assignments, she served as general manager of Lilly Canada until 2009 and was global brand development leader for the blockbuster drug Cymbalta.
These days she's become the company's most senior leader responsible for expanding Lilly's attention to diversity. The issue matters, she says, for a couple of practical reasons. First, attracting and retaining a diverse workforce is important for a company in a diverse business environment. Secondly, such varied perspectives could provide the novel insights that lead to new medicines.
It's equally important to promote diversity among health care users as well. "In general, fewer minority patients participate in clinical trials, resulting in more limited information on medicines' safety and efficacy in those populations," Mahony said.
Lilly has developed a clinical diversity strategy to better understand patient differences that may affect outcomes and to help increase the enrollment of racially and ethnically diverse populations in U.S. clinical trials. This strategy will help the company better understand the efficacy, side-effect profiles and risks in minority groups—the fastest-growing segment of the U.S. population.
Lilly may need all the help it can get over the next few years, when it faces patent losses on some key products. "This will challenge us as an organization and as leaders," Mahony said. "I believe the biggest challenge and opportunity that I and other leaders face is to ensure that our employees are inspired and engaged through the changes and challenges that we will face as a company. Retaining, developing and engaging talent through these changes is a priority of mine."
In her off hours Mahony and her husband, John, spend a great deal of time shuttling their son, Thomas, and daughter, Rebecca, to soccer matches. Family vacations are usually spent skiing or on the beach. "My idea of perfect relaxation is reading a book in the sun with a glass of wine," Mahony said.
___
Click here to return to the Women of Influence landing page.
Please enable JavaScript to view this content.