Executive Director, Indianapolis Metropolitan Planning Organization
Sphere of Influence: The executive director of the Indianapolis Metropolitan Planning Organization has literally changed the face of Marion County. Miser had a hand in developing such projects as the Monon Trail, the Indianapolis Cultural Trail, and most recently IndyConnect: Central Indiana's Transportation Initiative Process.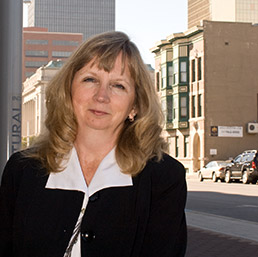 (IBJ Photo/ Eric Learned)
Mass transit has been a constant theme throughout Lori Miser's career. Since moving to Indianapolis in 1990 she's worked in a variety of transit-related positions. As executive director of the Metropolitan Planning Organization, she sees one of her main roles as insuring that central Indiana residents understand their long-range transportation needs so the city can develop plans to address them.
"A balanced system that includes a variety of travel options is important for efficient growth and development in our region," Miser said. "I am passionate about helping to achieve that balance locally because it's a win-win for everyone."
She thinks creating more options for getting from point A to point B is just one of the advantages provided by a robust public transit grid. Marquee projects like the Monon Trail also set Indianapolis apart from other locales. "If you're a young professional who can choose to live anywhere, these types of amenities can help separate the good places from the great places," Miser said.
She sees the ambitious Indy Connect project, which sets out a grand plan for the future of Indianapolis mass transit, as an opportunity to educate central Indiana residents about their transportation needs. Though the project's light rail component gets the most press, no particular transit mode takes center stage. "The goal is to develop a balanced transportation system that best meets regional needs," Miser said.
Perhaps the plan's most important contribution has been to bring aboard strong private sector interests (under the umbrella of the Central Indiana Transit Task Force). Those outside voices provided not only useful points of view, but also powerful advocacy—and advocacy may be the key to getting things done.
"An important lesson learned from other successful cities is that transit needs a champion," Miser said. "While intuitively we know about the importance of a strong roadway system, not everyone understands the benefits of transit. If you don't use it, how does it benefit you?" In her view, the answers include benefits to the environment, improvements in the general quality of life, and an increase in options for moving around.
But the main benefit is economic development. "With a strong transit network we can address a number of job access and workforce development issues," she said. "More people working translates into a better economy for all of us, period. Having a champion that understands the big picture value of transit and is willing to communicate that to the public and elected officials is key to moving this initiative forward."
Miser thinks that in the next quarter century local transit will change radically. Perhaps most importantly, it won't be seen as the option of last resort for people who either don't have cars or can't drive. Bus service will cover more territory more frequently, using stops that are sheltered from the elements and accessible from sidewalks and multiuse paths. And there will probably be some light rail. "As illustrated in other cities across the country, rail transit can provide attractive economic development benefits to an area, especially near transit stations," she said.
In her free time Miser enjoys gardening, reading, camping, IndyCar racing and watching her youngest son, Jesse, a North Central High School senior, play soccer. Her other son, Alex, is a senior at Indiana University. Craig Miser is her husband of 24 years.
___
Click here to return to the Women of Influence landing page.
Please enable JavaScript to view this content.