Executive Director, Mapleton-Fall Creek Development Corp.
Sphere of Influence: As executive director of the Mapleton-Fall Creek Development Corp., Nytes has taken the MFCDC from near-bankruptcy to a multimillion-dollar not-for-profit that's changing the face of the formerly neglected neighborhood whose name it bears. Entire blocks have been transformed thanks to Nytes' organizational skills and commitment to community engagement.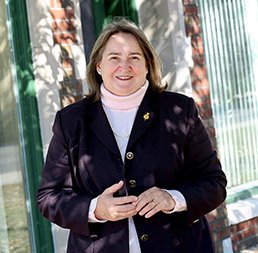 (IBJ Photo/ Perry Reichanadter)
Jackie Nytes, 58, has resurrected not only the organization she leads, but the neighborhood it serves. Before she assumed leadership of the Mapleton-Fall Creek Development Corp., the group teetered on the edge of bankruptcy. She managed to restore the MFCDC's image as well as its books.
"We had a steep hill to climb in terms of assembling information and rebuilding the organization's financial position to where we could go forward and grow," she said. "We lived very modestly as an organization with all of our focus on honoring our creditors, and delivering on any failed promises that were out there so that people would have faith in us again. It was difficult, but I was struck by the willingness of our partners to give us a second chance."
The group took that second chance and ran with it. Nytes healed the MFCDC's fractured reputation, then rallied splintered neighborhood groups to develop a plan for targeted redevelopment in the near-northside enclave. Coalition building is a talent she has displayed during her three terms as District 9's City-County Councillor and in previous positions as CFO and associate director of the Indianapolis-Marion County Public Library.
"This is something that people often tell me they feel I have some skill at achieving," Nytes said. "Perhaps because I am cursed with the tendency to see all sides of a situation rather than digging in too quickly on one side or the other."
Her audacious plans for Mapleton-Fall Creek have revived the area, a once-grand inner-city neighborhood that had fallen on hard times. New construction and a flood of new residents have changed that. But the process continues.
Nytes thinks that in a decade the neighborhood's diverse housing stock—from Tudor Revival near-mansions to humble rental properties—will be occupied by an equally diverse group of homeowners and renters who can walk to neighborhood shops and parks.
"Some residents will work in the area and others will catch a nearby bus to the rail line that takes them to a job out of the area," she predicted. "Area churches will be filled on Sunday with folks who live here. There will be five or six more small parks that kids feel safe playing in and seniors like to pass time in. The neighborhood will celebrate its rich history and people will view it as a place they are proud to call their home."
In the nearer term, Nytes will remain focused on keeping the organization's financial underpinnings sound—an especially important issue during tough times. "Resources are likely to be tighter the next few years, and my focus will need to be on sustaining the organization financially while continuing to challenge and reward my team members as they work to deliver the services we are charged to provide the neighborhood," she said.
In her spare time she enjoys reading and attending area arts events with her husband, Michael O'Brien. She's also hosted some 100 foreign exchange students as an International Homestay host family since 1987. She and her husband have a son, Patrick O'Brien, a Purdue University senior.
___
Click here to return to the Women of Influence landing page.
Please enable JavaScript to view this content.