Executive Vice President and Market Manager, Government, Not-for-Profit & Healthcare, JPMorgan Chase
Sphere of Influence: Quintana is one of the principal architects of JPMorgan Chase's national model for serving government, not-for-profit and health care entities. She manages approximately $3 billion in deposits and has provided more than $1 billion in financing.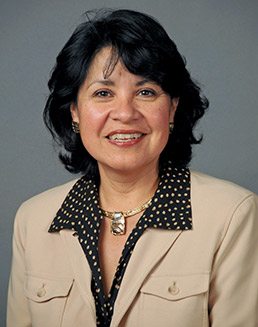 (IBJ Photo/ Perry Reichanadter)
Maria M. Quintana, 53, has put in more than three decades with JPMorgan Chase and its predecessor entities (beginning with Indiana National Bank). She knows all about hard work, and what it means to seize the American Dream. Her father, Jesus Quintana, came to America in 1949 after a hard freeze destroyed the fruit trees in the Rio Grande Valley in south Texas.
Maria Quintana and her seven brothers grew up in the Indianapolis inner city. She started working at the neighborhood Dairy Queen at 14, earning enough cash through that and other jobs to finance her Indiana University degree (followed by an MBA from Indiana Wesleyan University). "I had the good fortune to have a couple of senior male leaders who took me under their wings and helped guide my career," she said. Quintana reciprocated a few years ago, when she helped put together a formal mentoring program for JPMorgan Chase's credit analysts.
Quintana also wants to improve the business environment in general for women and minorities. "As a Hispanic woman, I am particularly mindful of the cultural issues facing Latinas in the workforce," she said. "The most frequent complaint I have heard from women of color is their lack of progress, being misunderstood and perceived as an outsider. Figuring out how to overcome some of those barriers was certainly challenging for me. This unique insight has hopefully provided value to those I have mentored over the years, and has helped to provide senior management with some perspective as well."
Quintana began her career in credit card services before moving on to branch management, then to ever more responsible positions. She landed a management position in the relationship manager training division for First Chicago NBD, prior to being chosen as the executive sponsor for commercial banking merger activities, overseeing the integration of First Chicago NBD with Bank One. Shortly thereafter she did the same thing again, leading the team of hundreds that converted Bank One to Chase.
The economic downturn of 2008 and 2009 was a huge challenge, creating an abysmal business environment that Quintana had never seen before and hopes never to see again. During the tough times JPMorgan Chase's healthy balance sheet let her respond energetically to the Auction Rate Securities issues her not-for-profit and government clients dealt with. They were allowed to refinance existing debt—all while new clients were being brought in.
JPMorgan Chase continues to deal with the fallout from expected and already-enacted banking regulations. Quintana says that people "a heck of a lot smarter than me" are figuring out how to deal with the liquidity, capital, and leverage requirements of BASEL III (a new international regulatory framework for banks).
But in her neck of the woods, it's all about coaxing the market back to health and offering competitive pricing. "In today's environment clients are forced to slash budgets and get the lowest price," Quintana said. "Every bank is out there struggling to bring in business and offering aggressive pricing." Back in the old days (say, three years ago), the big factors for banks were understanding a client's business, product capability, and being proactive. Price was always a distant fourth or fifth. But today it's one or two.
Quintana plans to survive and prosper using the same techniques that have served her so well to date—hard work and networking. "Our bankers have heard me use these phrases time and time again: Know what matters, focus on the big picture and keep your blinders on," she said. "I have found that during the most challenging times doing all three helps to keep me on the straight and narrow."
When she isn't on the job, Quintana, who is single, enjoys traveling and spending time with her large extended family. She also serves with numerous not-for-profits, including as treasurer for The Children's Museum of Indianapolis. She's a trustee of the IU Medical Group, Independent Colleges of Indiana, the Indianapolis Marion County Building Authority and United Way of Central Indiana.
___
Click here to return to the Women of Influence landing page.
Please enable JavaScript to view this content.