Dean of the College of Education, Butler University
Sphere of Influence: As dean of Butler University's College of Education, Shelley is in a unique position not just to shape future teachers but to shape teaching itself. Heavily involved in education policy and legislation on both the state and national level, she's served since 1994 on the Indiana Professional Standards Board, which oversees teacher licensing and teacher education program accreditation.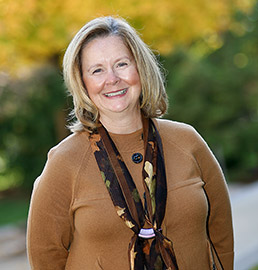 (IBJ Photo/ Perry Reichanadter)
"If I had a magic wand, the first thing I would change in the educational system is the funding formula for schools," said Ena Shelley, 58, dean of the College of Education at Butler University. "Why should some children attend public schools that aren't air-conditioned, have overcrowded classrooms and lack supplies, while others born in another zip code have access and, often, excess? The inequities in school systems perpetuate inequities in our society."
Since she doesn't have that magic wand, Shelly has made a career of bringing incremental change to Indiana's underperforming school systems. An Indiana State University graduate, she joined Butler's College of Education in 1982 as an assistant professor of early childhood education. Interestingly, when appointed dean of the college in 2005, one of her conditions for accepting the job was that she continue teaching. Today she focuses on early childhood education—particularly kindergarten education.
Her administrative projects have tackled the spectrum of K-through-12 learning. In 1995 she organized a long-running partnership between the college of education and the Metropolitan School District of Lawrence Township that sought not just to educate students, but to deliver cutting-edge techniques to teachers as well. "We truly created a professional development school where teachers, university students, and university faculty were co-learners and co-researchers," she said.
Lawrence Township is also a testing ground for her interest in Reggio Emilia. Shelley is an expert in the Italian-developed system for teaching children in public school settings. The system encourages discovery and exploration by identifying and pursuing the kids' own interests.
"My work with the Warren Early Childhood Center and St. Mary's Child Center became connected to my work with Lawrence, and we created the Indianapolis Reggio Collaborative," Shelley said. The partnership, which is sanctioned by the North American Reggio Emilia Alliance (NAREA), offers a prime example of how public school districts, a private preschool, and a university can collaborate to share best practices.
Her work has also touched Indianapolis Public Schools. A Butler College of Education and IPS partnership inspired the Shortridge Magnet High School for Law and Public Policy. Another project currently in the works is to bring the Reggio Emilia program to K-5 education at IPS School No. 60. "I am hoping to find private funding from the business sector to have preschool available in the school, since sadly Indiana is one of eight states that does not offer such support," Shelley said.
In her spare time she loves reading, gardening, cooking, and spending time with her husband, Michael, their children, Brandon and Heather, and their two granddaughters, Heaven and Faith.
___
Click here to return to the Women of Influence landing page.
Please enable JavaScript to view this content.