U.S. District Court Judge, Southern District of Indiana
Sphere of Influence: In October of last year Tanya Walton Pratt was sworn in as the first African-American federal judge in Indiana history, and only the third woman on the Southern District bench. But being in the spotlight—and on the spot—is nothing new for her.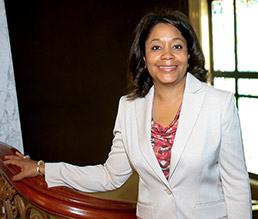 (IBJ Photo/ Perry Reichanadter)
She started making waves in her judicial career years ago, first serving as supervising judge of the Marion County Juvenile Detention Center, where she enacted several important reforms. And during the year-and-a-half she spent as probate judge of Marion County, she publicly expounded on the need to adopt children in foster care. "Helping children find the permanency of a home and a family is rewarding and important work," Pratt said.
She acknowledges that law and the profession of judging can be stressful. "When I first became an elected judge in 1996, I was often surprised at the magnitude of decisions that I had to make," Pratt said.
She spent 12 years presiding over major felony criminal cases ranging from burglary to rape to murder. "Making tough decisions in both the criminal court and the civil courts has helped define me as both a person and a judge," she said. "Fortunately I have the ability to leave work issues at work."
Not surprisingly she feels her experiences have matured her. Pratt's current position is a lifetime appointment, and she clearly realizes the effects her actions have on the lives of others, causing her to hone her analytical and decision-making skills. "It calls upon me to use my own sense of justice and integrity, to provide equal justice for rich and poor, and to conduct the office impartially under the constitution," she said.
Pratt, 50, describes federal district courts as the workhorses of the federal judiciary. She thinks the biggest challenge in the coming years will be handling the Southern District's traditionally heavy caseload. She figures her strong work ethic will power her through the learning curve. "The cases are exciting and new and every day is a challenge," she said. "A welcome challenge. I am doing what I think I was put on this earth to do. And I am grateful to do something that I'm passionate about and that I think is profoundly important."
However, she thinks her biggest contribution may be as an example to others. She points out that luminaries as diverse as John F. Kennedy and Sarah Evans Barker have remarked on the fact that bringing diverse talents, energies and views to any endeavor—and particularly the bench—only helps its credibility.
"The continued legitimacy of the court system and the underlying American concept of fairness requires diversity for our federal and state courts," she says. "The significance of being the first is that it encourages others to reach the heights of our profession."
In her off hours Pratt enjoys spending time with her family: husband, Marcel, and daughter, Lena, a 19-year-old Howard University sophomore. Pratt also likes cooking, travel and genealogy.
___
Click here to return to the Women of Influence landing page.
Please enable JavaScript to view this content.