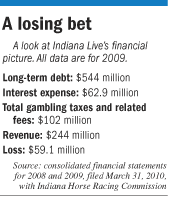 The owners of Indiana Live racetrack and casino failed to make an interest payment due Nov. 1 on $375 million in debt, providing additional fodder for credit analysts already worried about its financial condition.
As IBJ reported last month, the Shelbyville venue has been the subject of analyst attention given its massive debt load. All told, South Bend-based Oliver Racing LLC owes $544 million, mostly in bonds.
Moody's Investors Service said in March that the capital structure "is not sustainable in its current form," and analysts from ratings agency Standard & Poor's have speculated that default is imminent.
Both Indiana Live and Indianapolis-based Centaur Inc., owner of Hoosier Park in Anderson, borrowed heavily after the General Assembly in 2007 allowed the horse tracks to add slot machines in return for a $250 million licensing fee.
The slots parlors, which opened the following year, have drawn smaller crowds than projected, in part because of the recession. Centaur slid into Chapter 11 bankruptcy in March of this year and is selling off holdings in Colorado and Pennsylvania to reduce debt.
Please enable JavaScript to view this content.